STUFF
Everyone I know has been raving about the new season of Eastbound & Down. Here's a cool billboard spotted in the LA area.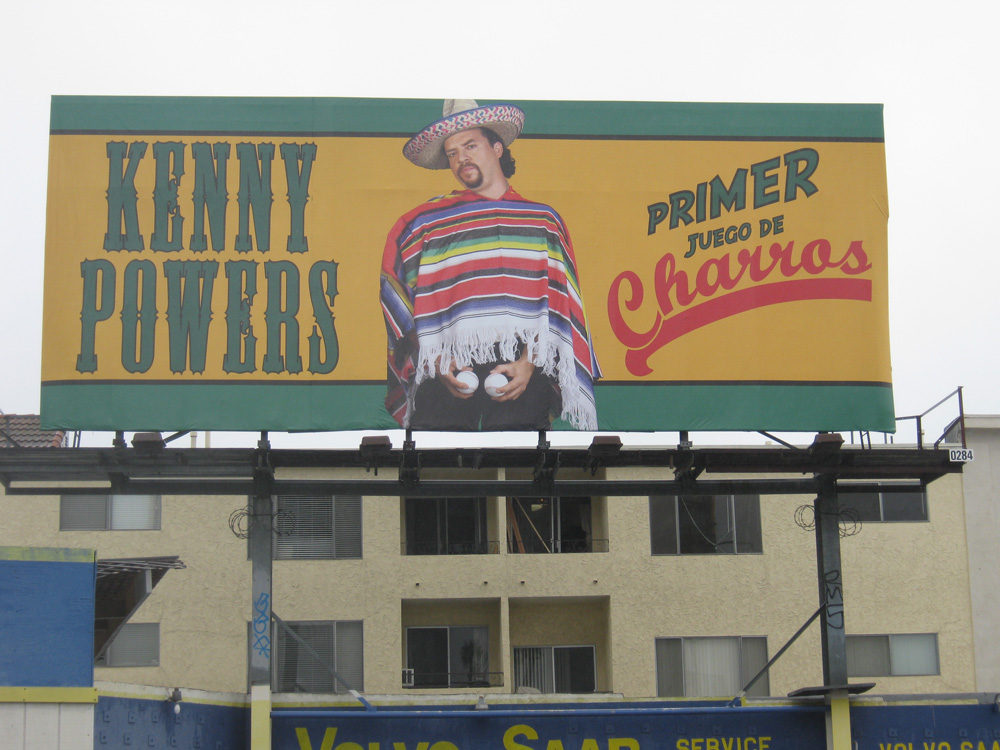 Jim Benson of TV Time Machine announced that: the hilarious 1962 ABC TV sitcom, I'm Dickens He's Fenster will be released on DVD in 2011. All 32 episodes of I'm Dickens He's Fenster (starring John Astin and Marty Ingels) have been digitally remastered and the two volume DVD release (starting with Volume One, Season One) will feature all-new video interviews and audio commentary with cast and crew, in addition to a wealth of bonus material. Visit the I'm Dickens He's Fenster blog at: dickensandfenster.com/
A lot of people will be looking forward to that DVD release. Speaking of which, I got The Larry Sanders Show complete series that debuts in a few weeks on DVD. I'll do a longer review but it is sensational, another winner from Shout! Factory.
Wednesday, October 6, 2010 - 10:46am
WOULD YOU LIKE TO RESPOND?
CLASSIC TV SHOW RETURNS?


Dallas may be returning with new episodes on TNT. The producers are trying to get Larry Hagman, Linda Gray and Patrick Duffy to reprise their roles and Keifer Sutherland may also be a regular as JR's son John Ross.
Dallas is one of my guilty pleasures so I think that could be good news. The remake will focus on JR's son and Bobby and Pam's adopted son, Christopher - who, if I'm not mistaken, turned out to be JR's kid by some affair. Or something like that. See what the Dallas stars look like today here. God, Victoria Principal's face is a mess and Priscilla Presley's mug is a horror show! What happened to growing old gracefully?
Monday, October 4, 2010 - 9:15am
WOULD YOU LIKE TO RESPOND?
WIN THIS!
The season premiere of Caprica 1.5 is Tuesday night at 10pm on Syfy - tell me what you're most looking forward to in the upcoming season and you could win our random drawing for the complete Season 1.0 DVD of Caprica and a T-shirt!
Joe Kruzynski responds to Kevin Butler's bio of Officer Joe Bolton: WPIX broadcast a special segment about Joe Bolton on the 10 P.M. newscast of Sept 8th and a morning newscast of Sept. 9th. Joe Bolton's daughter was heard on the show, as well as 2 gentlemen from The Fort Lee Film Commission.
There's an auction on Sunday featuring paintings by North Carolina kid show legend The Old Rebel aka George Perry. These are lovely oil paintings and there are a couple of the Old Rebel and Lonesome Lee the Clown. They'll probably go for a song, which is a shame because George Perry's son is ill and needs money. They really are marvelous works and deserve to find a good home. It's 10-10-10 at 2:00pm - Brick Alley Auctions 2020 West Green Drive, High Point. NC. 27260 Don't miss this!
Monday, October 4, 2010 - 9:15am
WOULD YOU LIKE TO RESPOND
SATURDAY STUFF
Stephen J. Cannell (The Rockford Files and dozens of others) has died at 69 - can you believe all the celebrity deaths lately? Eddie Fisher, Tony Curtis, director Arthur Penn and Greg Giraldo in just the last week or so. That's a lot of talent.

Funny, brilliant, classy - that was comedian Victor Borge. Here he does one of his remarkable musical routines as performed on The Dean Martin Show (introduced by The Golddiggers).
Speaking of old school comics with accents, Bill Dana's Jose Jiminez character was popular on TV in the 1960s, he even turned up in the late-1980s on The Smothers Brothers Show on CBS. Here's a Jose Jimenez cartoon from 1966 to enjoy this Saturday morning. Not terribly funny but the theatrical cartoons of the 1960s, Paramount or Warners, were generally dreary affairs. I remember being disappointed if one came on before the movies as a kid - the just couldn't compare with the Looney Tunes cartoon reruns on Saturday morning TV. It wasn't just that the animation was threadbare - it was - but they weren't at all funny. Just noisy.
Bill Dana has his own web site!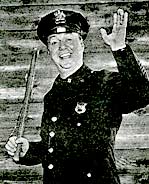 How did the Lamestream Media miss this? September 8, 2010 marked the 100th birthday of former NYC based musical entertainer, radio & TV broadcaster and one of NYC kids' TV's most beloved and popular host-performers - "Officer Joe" Bolton. You can read Kevin Butler's new tribute to Officer Joe Bolton here.
Saturday, October 2, 2010 - 9:15am
WOULD YOU LIKE TO RESPOND
THE LATEST AND GREATEST
There's a cool new web series called The Hive you should definitely check out. It's the story of some potentially troubled young people who find life, death and drama down South. Episode one 'Changes' has just debuted at www.catchthebuzz.tv. Lots of pretty faces and a murder mystery to boot. And they say there's nothing to do on the net...
This is a great show biz story, Norman Lear tells us how he sold Sanford & Son to NBC - on a CBS soundstage. Classic!
I'm no gun enthusiast but I think Pizza Hut is wrong on this - as far as I'm concerned this guy is a hero for reluctantly pulling his gun and killing two of the three assailants that were pistol whipping him and his manager at a restaurant in Charlotte, NC. It's dangerous out there for food delivery drivers almost everywhere and if they need a gun for protection I say pack one! I sure as hell would. I live in a mid-sized city and scarcely a day goes by that I don't read in the paper about a delivery driver robbed.
It's the pumpkin season (and I don't like pumpkin) but it's also the time of year when some people start thinking about Christmas - it's way too early for me but for some it's the start of the yuletide season. If you're one of those folks I have a new page with Christmas TV moments from the 1970s with more to come.
The new version of Hawaii Five-O might be a hit. Boardwalk Empire lost 31% of it's audience in Week 2 but Eastbound and Down's return brought bigger numbers for HBO this year.
Wednesday, September 29, 2010 - 9:30am
WOULD YOU LIKE TO RESPOND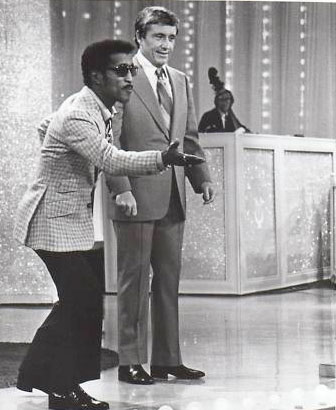 1970's VARIETY SHOWS
So many entertainers had variety and talk shows in the 1970s, many people don't know that Sammy Davis Jr. had a weekday syndicated program in the same vein as Merv, Mike and Dinah. Here's a link (it won't embed) where Sammy talks with Redd Foxx.
Filmed from Vegas and Harrah's Lake Tahoe with orchestra leader George Rose, Sammy & Company never caught on and was gone after two seasons (1975-1977) but what a great DVD release that could be. This was Sammy at his peak and there were a wealth of guest stars to provide fascinating television.
Chita Rivera, Richard Pryor, Lola Falana, Wayne Newton and dozens of other casino entertainers appeared although I don't recall if fellow Rat Packers Dean & Frank ever appeared. Perhaps this series was a bit too Vegas-style for middle America, too nighttime for the daylight. It didn't air in the area I grew up in, maybe Sammy being black made some Southern stations hesitant to pick the show up. But for two years the television eye captured an immortal entertainer at his peak hosting a wealth of amazing guest stars, let's hope the tapes survived.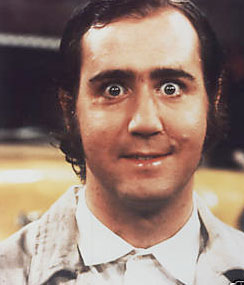 Speaking of short lived shows hosted by legends, Van Dyke & Company aired from September to December of 1976 and it contained some brilliant moments. Dick Van Dyke's variety series failed to catch on but the production introduced Andy Kaufman to primetime. (Andy Kaufman had become a sensation on Saturday Nite Live a year earlier.) Producers Bob Einstein and Allan Blye were smart enough to let Andy be Andy - here he breaks out his stunning Elvis imitation.
Dick Van Dyke, Carl Reiner, Andy Kaufman and Bob Einstein. This was one trippy show.
Taxi writer / director / producer James Burrows talks about the challenges and rewards of working with Andy Kaufman on that sitcom.
Sunday, September 26, 2010 - 11:55am
WOULD YOU LIKE TO RESPOND?
Read more TV Blog entries here!