* Classic & Current Television Blog *
REMEMBERING TV POW!
TV Pow! was played on local kid shows across the country in the late-1970s / early-1980s; it was done with a modified Fairchild System F system equipped with simple games like Space Battle and Intellivision Football that were displayed on the TV screen for all to see.
Contestants would phone into the station and, if they were the lucky caller, 'play' a video game live by yelling "Pow!" when they wanted the guy at the controls to shoot. Mostly it consisted of kids screaming, "Pow!pow!pow!pow!" continuously and indiscriminately. Still, this feature was much loved by kids, stoned teens and hyped-up college kids.
Someone posted a clip of someone playing TV Pow! (or TV Powww!) from Barney's Army in 1982, this was the last installment of TV Pow! on the show hence the added sturm und drang.
Share your memories of TV Pow!
Sunday, February 14, 2010 12:34pm
WOULD YOU LIKE TO RESPOND?
BLOG RERUN ABOUT TV RERUNS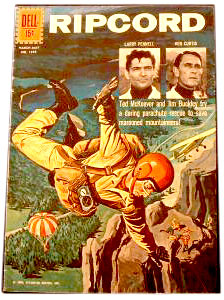 From the mailbag, Joseph House writes: In 1999, you had Ripcord in your oldies section that included a sound-byte of the title song. One of the only vestiges of the show that existed. It was the prototypical skydiving drama, in many ways the same thing to skydiving as Jonny Quest was to action adventures. I saw the show as a kid, & it was how I learned about skydiving but I know more about the show from trivia & what IMdB stated about it than from my memory of watching it. It's one of those shows I was captivated by as a kid and would like to get a perspective of what to think of it now. It seems like a waste to drown it in the sea of obscurity. I'm surprised recordings of the show haven't been preserved by skydiving clubs for posterity. I suppose if a saw an episode, I may find out why it got consigned for extinction. But its mustard seed impact on aviation entitles it to a more dignified sendoff. It was cutting edge skydiving while skydiving itself was in its infancy and the filming of the episodes was history in the making. Somebody really fixed something that wasn't broke when TVP's idea of progress was to remove RC's theme song from its roster. Restoring it to its slot among the TV archives will be greatly appreciated.
IMdB has pretty good details about the show. But it's all postings. No sound bytes or clips. A lot more fuss is made over Andy Griffith, Gilligan's Island, I Love Lucy, Leave it to Beaver, & The Flintstones than over Ripcord. Some of these are constantly recycled through all the oldies stations. Seems like too many of them show all the same shows, while some of the rarer gems like this one, 77 Sunset Strip and Sea Hunt, seem to be one week wonders at best. At least the latter 2 sometimes get shown.
Thanks for reminding me of that page, Paul - you can find it here.
Thanks to what we didn't have ten years ago - You Tube - we can get a glimpse of those great syndicated shows. Here's the first part of an episode of Ripcord starring Larry Pernell & Ken Curtis.
As a youngster growing up in the 1960s shows like this would be found on Saturday or Sunday afternoons. If Ripcord, Whirlybirds or Sea Hunt was on it was a treat - there was very little to watch on TV back then if you weren't a fan of fishing or wildlife shows like Mutual of Omaha's Wild Kingdom which seemed to be on all the time. Here's the first part of an episode of Whirlybirds.
Sunday, February 14, 2010 11:50am
WOULD YOU LIKE TO RESPOND?
TWENTY FIVE YEARS AGO
For those of you who were watching Saturday morning TV in the mid-1980s, here are some Saturday morning TV commercials from 1985.
From November 23rd, 1985 - this clip starts with the end credits to Dungeons & Dragons with the CBS bumpers; Go Bots, McDonald's & Pepsi commercials; In The News; and the start of Land of the Lost.
Saturday, February 13, 2010 1:00pm
WOULD YOU LIKE TO RESPOND?
SOAPS
Susan Walker writes: I read your post about soap opera themes and had to smile. I have the same memories!

My grandmother was dedicated to the soaps on CBS (WBTV 3 in Charlotte). Each afternoon was dedicated to Betty Feezor, then "As the World Turns", "The Guiding Light", and "The Edge of Night". To this day hearing the theme songs from ATWT and Edge of Night bring back the memory of the smells of hot spray starch and/or steam. My grandmother had a housekeeper named Bernice who loved her soaps as well, so on the days she came to work, she and my grandmother would watch the soaps while Bernice ironed.

My mother watched those shows as well when I was small - and from time to time, she'll still mention the Hughes family on ATWT and how much she loved Grandpa Hughes' character.
Here's something from a 2007 episode of As The World Turns that you wouldn't have seen back in the day:
Saturday, February 13, 2010 6:20am
WOULD YOU LIKE TO RESPOND?

1960s SOAP OPERA THEMES
For some reason I started thinking about the Soap Opera themes I used to hear off in the distance when I was growing up. The Edge of Night came on CBS in the afternoons so this is the theme I remember best as a young kid. It reminds me of dinner on the stove (the kids ate early) and laundry being pressed with starch spray.
The one Soap I watched was Dark Shadows, I would rush home from school in time to catch the second half, if I was lucky. You see, school let out at 3:30 and that's when Dark Shadows aired on ABC. Well, not on our ABC affiliate - I had to use the TV in my parent's room with the 'rabbitt ears' to pick up a station 100 miles away.
As The World Turns was part of CBS' winning mid-afternoon Soap line-up following Search for Tomorrow and The Guiding Light, both of which ran for only 15 minutes in the mid-1960s.
The Guiding Light was popular for 57 years on television but was cancelled by CBS on 9-18-09.
"And now... Search For Tomorrow."
Thursday, February 11, 2010 7:45am
WOULD YOU LIKE TO RESPOND?
TV ON DVD REVIEW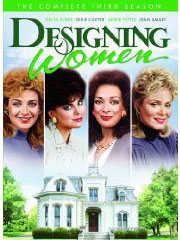 Designing Women: Season Three
I did not watch much television in the 1980s. I had a life! In fact, I could prolly count on one hand the number of TV shows I watched more than once - the first season of Mama's Family (Betty White & Carol Burnett!), Filthy Rich, Dynasty, Roseanne, Murphy Brown, and for some unknown reason, Designing Women.
Now, I doubt if I watched more than a handful of episodes of any of those last three programs at that time. I think I was dating someone with a TV or something. I couldn't tell you if I actually enjoyed those shows, at that point watching television was such a novelty I probably didn't care one way or another. : : Read the entire review : :
Thursday, February 11, 2010 7:00am
WOULD YOU LIKE TO RESPOND?
FUNNY / NOT FUNNY
You know Charlie Murphy ("I'm Rick James Bitch!") - well, he had a bizarre dream about our President.
An overwhelming 69 percent of voters in a TVGuide.com poll said they used to watch Jay Leno, but will not watch anymore after what happened to Conan O'Brien. Looks like Jay better have one hell of an opening week planned!
Thursday, February 11, 2010 5:35am
WOULD YOU LIKE TO RESPOND?
DO YOU SPEAK ENGLISH?
Tuesday, February 9, 2010 10:57am
WOULD YOU LIKE TO RESPOND?
LOCALS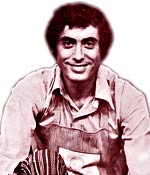 John Baker tells us about a once in a lifetime event: Gene London is planning a fan event in the area tentatively for April... a stage presentation,screenings of some episodes of the show, a tour of the Reading museum where he is currently showcasing pieces from his Hollywood collection. Aso quite possibly a luncheon... and meet and greet and Judy Bell the actress that played Gene's girlfriend on the show is participating.
Fans of Gene London should mark their calendars for this event, I'll pass along any more details I get.

Ron Geddes writes: I still visit your Romper Room pages on the TVparty website. I just happened to find more information (about the Anglia TV programme in England) if you feel like adding it to the 'Romper Room in England' page. It's at 78rpm.co.uk/anglia.htm#romp (My info about the Anglia programme is still OK I think.) Just wondering if 'Romper Room in the UK' would be a more accurate name for the page by the way. But either way, and thanks for the website!

Bill Haver writes about a Boston local favorite: I remember the Big Brother Bob Emery show very well because, at the tender age of 6 years old in 1959, I did a live 'Cracker Jack' commercial with another little girl on the show. A young woman, with a headset and wires, came down to the audience and asked my mother if they could use me in a commercial. This was long before "release" contracts and we didn't get paid other than with the thrill of being onstage with big Brother Bob! We were both dressed up, respectively, in Cowboy and Cowgirl costumes that day and brought up on stage. He sat at his table with us standing on either side and there were 2 huge bowls and 2 huge boxes of the product standing up on the desk. Brother Bob asked us: "Do you kids like 'Cracker Jack' popcorn?" My mother told me I blurted out: "I love it!" and grabbed at the bowl and the other little girl just spoke softly: "Yes". They did a second (and final) take after they asked me to do and say the same thing and asked the girl to just say "yes" a little more louder. All I remember after that was getting a huge box of 'Cracker Jack' that lasted forever and bragging rights to all my childhood friends with my big box to prove it. No, no tape exists and no, I still don't have the box but, I still do have the great memory.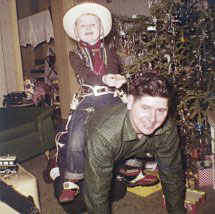 Of course, we use to get to see all these local Boston "stars" live in appearances at 'Pleasure Island' amusement park in Wakefield, MA in the 60s. I attached the costume I wore that day that I got for Christmas of 1958.
And finally a question from John Johns: I think it was in the 1970's that an animated Christmas show aired and thinking it was cute, I took a couple of screen shots of it. As far as i know, it only was shown once and I have never been able to find out anything about it, it's just as if it never happened. BUT, Attached is one of the pictures I took of the tv screen, proving the show did exist.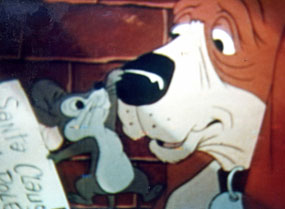 Can you help me find out about this show? I think the show was called "A Dog and Mouse Christmas" or "The Dog and Mouse Christmas".

Tuesday, February 9, 2010 8:35am
WOULD YOU LIKE TO RESPOND?