* Classic & Current Television Blog *
JUST AXING
It was 2 years ago that a federal jury found the owner of the Enzyte company guilty of conspiracy to commit mail fraud, bank fraud and money laundering. You know those ads for Enzyte, the "natural male enhancement" pills that were advertised relentlessly on TV? The commercials with Smiling Bob, who has a "sack full of pride?" I know the ads were running for at least a year after the conviction but it just occurred to me - are the ads still airing? They were so ubiquitous, the only time I see broadcast TV is when I'm in public or at someone's home and they couldn't be avoided - but it just occurred to me I may not have seen them lately.
Monday, May 3, 2010 - 9:09am
WOULD YOU LIKE TO RESPOND?
TALKING ABOUT SHOW BUSINESS
Did you know Lucille Ball taught a class on comedy? What an experience those lectures must have been for aspiring filmmakers and actors. For a taste of that the daytime talk show America Alive aired an entire episode with Ms. Ball live in an academic setting with students from UCLA in the audience asking questions of the 'professor'.
Lucy offered some solid advice, nothing earth shattering, and there are the usual inane attention whores in the audience, but it's a revealing glimpse into this comedy genius' method. Host Jack Linkletter (Hootenanny) was joined by Lucy's husband Gary Morton and David Sheehan. America Alive aired live for an hour on NBC from July 1978 until January 1979, this entire episode is on You Tube. I hope more of this series exists out there somewhere.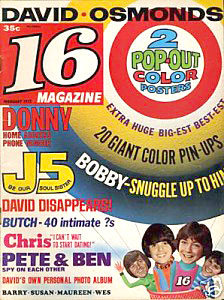 Back in the early-1970s Bobby Sherman, David Cassidy, The Jackson 5 and Donny Osmond were America's top pop idols. There were also the second tier teen stars with bright eyes, girlish hair and white teeth frantically reaching out for approval from the covers of Tiger Beat and 16 magazines. Jack Wild, Jan-Michael Vincent, Butch Patrick, Leif Garrett, Andy & David Williams, Rick Springfield, Brandon Cruz, Trent Lehman, Mike Lookinland - even Jonathan Frid (TV's Barnabas Collins) were offered up in innocently provocative full color pin-ups for teen girls to tear out and tape to their bedroom walls.
The Hudson Brothers were part of that wave of teenybopper dreamboats thanks to a summer variety series in 1974 followed by a Saturday morning show that fall and a minor hit single, 'So You Are A Star'. You can read all about The Hudson Brothers here and watch clips from their shows.
Riding the Tube I discovered an interview with one of the Brothers, Brett, talking about his moment in the sun. He has a refreshing take on fleeting fame and the Brothers' friendship with John Lennon.
In another portion of the interview Brett Hudson expresses his gratitude for having worked with so many nice people in the industry. In a time when bitterness and slagging off your past associations is epidemic it's encouraging to hear someone's positive take on show business.
Today in BestofTVblog: Those old time country music shows of the 1960s & '70s with Flatt & Scruggs and Dolly Parton & Porter Wagoner.
Saturday, May 1, 2010 8:25am
WOULD YOU LIKE TO RESPOND?
OUT THE INBOX
Jump over to MySpace and vote! Maria Lauren, formerly of the Dean Martin Golddiggers writes: My daughter has just posted a fun on-line audition for the hit TV series "Glee!" YOU can help make it happen! She is the first Marianna posted and she sings, "Lean On Me." She took the initiative to submit herself... I applause her tenacity!

Boston's favorite stand up comic Ken Reid writes regarding yesterday's post: It was odd to me that the death of LaFontaine seemed to get a lot of press but the death the year before of Percy Rodriguez got almost none. To me, Rodriguez is the greatest voice over guy of all time. His body of work rivals LaFontaine and he was a lot more versatile. He voiced just about every horror movie trailer in the 70s and 80s, did all of Terry Gilliam's movie trailers and I even heard him voice KFC and Kraft Foods ads in the 80s.
He is probably most remembered for Jaws, but some of my favorites he did were Phantasm II ("The Ball is back!"), Popcorn ("by a bag and go home in a box"), Crawlspace ("between the wall and hell, crawlspace") and possibly the greatest, most entertaining trailer for a wonderfully terrible movie ever, "Neon Maniacs"
He did a lot more mainstream things as well. For years I've been trying to find a list (or compile my own) of all the trailers Rodriguez did, but have had no luck.
Neon Maniacs? How did I live so long without ever hearing of that one? I was working too hard in 1989, I guess. The guy I was working for at the time, Tony Seiniger, created the ad campaign for Jaws a decade before I landed there. And Rocky Horror Picture Show, I'll bet you remember that image as well.
Today in BestofTVblog: - Win $25,000 for watching TV! What pop group, together for almost 30 years, is no more? You'll be surprised (that they were still together). And a fab interview with Chicago's Bill Jackson (Gigglesnort Hotel)!
Friday, April 30, 2010 6:25am
WOULD YOU LIKE TO RESPOND?
THE DON OF HOLLYWOOD
There's a Facebook page trying to collect signatures from 1,000,000 people who think that Don Lafontaine deserves an honorary Oscar: Renowned movie voice-over legend Don Lafontaine has been as much a part of the Hollywood movie industry as De Niro, Spielberg or indeed James Cameron. Surely the man deserves an Oscar and/or a star on the Hollywood walk of fame?
Don Lafontaine was the movie trailer voice-over guy with the deep voice ("In a world...") who passed away in 2008. What a pro, that guy made so much money every day it would make your head spin. How long does it take to record a few lines of text in the vocal style you created? Not long - and then it's off to the next job.
When I worked in motion picture advertising I always knew when Don was in the building because there would be a limo waiting at the east exit for him. Most of the stars when they came by the studio drove themselves, Tom Cruise came by motorcycle but Don always had his limo. When everything went digital he took to recording at home, no wasted hours traveling around Los Angeles; that was far more time consuming than the jobs themselves. Of course, like all of the original cartoon characters, we'll be listening to imitations of Don's voice for the rest of our lives. Most people will never realize he's gone.
This is from a few years ago, you may remember it - Don gathers 5 of Hollywood's greatest motion picture voice-over talents for a limo ride to the Key Art Awards.
Thursday, April 29, 2010 9:45am
WOULD YOU LIKE TO RESPOND?
THURSDAY FUNNIES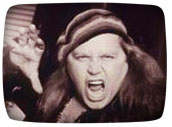 I wasn't a huge fan of Sam Kinison when he was alive. It was only after he died, almost exactly 18 years ago, that I really took a look at the comic and came to appreciate what he accomplished. A former Pentecostal preacher, Kinison's in your face style was a wake up call to stand up comics who had become complacent with that Jay Leno-style observational humor. A true original - and there aren't many you can say that about.
I met Sam backstage at a "Missing Persons" concert in LA around 1991 (well, Dale Bozzio and a bunch of young guys backing her up but it was billed as Missing Persons). A gigantic presence, he was literally surrounded by beautiful Playboy model type young ladies and he was well fuuuuuuucked up. Why not, right?
In this section from his special Family Entertainment Kinison talks about the consequences of hard partying.
Talk about getting messed up - he was blasted on a Howard Stern radio show in 1988 and ripped into Bobcat Goldthwait in a surprise phone call. The two comics hated each other, Goldthwait felt like Kinison stole his act and vice versa. Howard tries to make peace between the two with his patented passive aggressive methodology; we'll pick up the verbal thrashing in the middle:
Today in BestofTVblog: The latest entertainment news - "I can't believe they invited me back after the awful things I said. Let's see how far I can go this time."
Thursday, April 29, 2010 6:50am
WOULD YOU LIKE TO RESPOND?
MAKE US WELL BY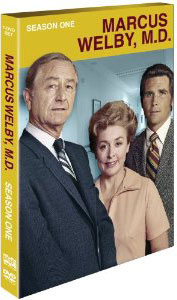 I have the new DVD release of Marcus Welby, M.D. season one here to review but I don't think I'll watch it. I've never been a fan of medical dramas, I just don't find hospitals and doctor's offices to be hospitable settings for entertainment. Of course, I'm in the minority probably.
Marcus Welby was a seminal classic TV show for a number of reasons. First it brought Robert Young back to weekly TV after his eight year run on Father Knows Best (1954-1960) and his flop follow-up Window on Main Street in 1961.
Second it ushered in an era of more believable medical dramas, with some attention to how things were actually done.
The series introduced James Brolin (Hotel) who became a popular TV dramatic actor for the next four decades; Brolin won the Emmy Award for Outstanding Performance by an Actor in a Supporting Role for this first season.
And Marcus Welby was one of the few hit shows ABC had at the time. The show debuted in the top ten and was number one the year after. It was one of only two ABC shows in the top 20 that first season, it was the top rated show on the network until the Six Million Dollar Man debuted in 1973.
Remarkably, Marcus Welby, M.D. aired for a seven years in the same time slot, Tuesday nights at 10:00. But the show looked stodgy to me at the time, I was a kid and this was not a particularly golden time for TV dramas which tended to revolve around cardboard characters whipped around by pedestrian storylines.
That said, for fans of the show, this DVD release should be a welcome addition, no one does it better than Shout! Factory so the picture and sound are bound to be first rate. There's an episode here directed by a young Steven Spielberg who was under contract at Universal TV at the time. Also included, the original TV movie that aired in 1969 and launched the series. Here's a preview:
Today in BestofTVblog: Who's not dead? The latest entertainment news.
Wednesday, April 28, 2010 9:30am
WOULD YOU LIKE TO RESPOND?