* Classic & Current Television Blog *
STUFF
I just noticed that June 9th will mark the twelfth anniversary of the day TVparty became a .com (it started a couple of years earlier as part of an umbrella site that no longer exists). I would have done it earlier but I didn't have the $35.00!

D. Jan Cella writes: I never saw the show having grown up in Cincinnati in the 50's but my father worked at WLWT, an NBC affiliate station. Being the publicity and promotional manager for the station, he would being merchandise home and one item he brought home was a Captain Bob's Bell. I still have it in the box although it's in fair to poor condition. The bell is fine – never taken out of the box. I don't know if someone with memories of the show would like it in their collection of old TV show memorabilia.

Bill Cosby admitted on Letterman that he stole one of George Carlin's routines.
Ken Levin discusses stealing jokes at his blog.
Sad story - Peter Falk (Columbo) has been place in Conservatorship, meaning he can't handle his own affairs because of advanced dementia.

I've been looking for this forever - Bette Midler is red hot on the Rolling Stone Magazine 10th Anniversary TV special. You gotta wonder how much of her comedy bit they cut out.
Tuesday, June 2, 2009 - 1:00pm
WOULD YOU LIKE TO RESPOND?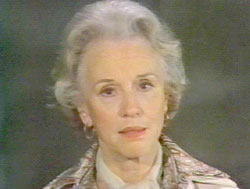 BLOG RERUN
Remember the Bicentennial Minute? It aired each weeknight at the 9:00pm hour on CBS from 1974 until 1976; 60 seconds detailing a factoid from our nation's history 200 years ago from that date.
Each segment was narrated by a different star and they were sponsored by Shell (finally something good from an oil company). Every major star you can think of took part in the series. In this one, Oscar winner Jessica Tandy does the honors.
These spots are pretty rare, I was surprised no examples could be found on You Tube (until very recently). If I get enough requests I'll load up the only other one I have with Bella Abzug - but I doubt she's as popular as Ms. Tandy. Thanks once again to A. J. McWhorter from Television Archives.
Tuesday, June 2, 2009 - 10:00am
WOULD YOU LIKE TO RESPOND?
SILLY
It prolly won't be up for long but here's Sasha Baron Cohen as Bruno landing his naked ass angelically on Eminem's face Sunday night - how funny is that?!? I can't wait for the Bruno movie, Eminem is such a twat - this event was staged to get them both in the news. Where's Eminem been these last couple of years? On a drug binge according to the rap star. How lovely.
Monday, June 1, 2009 - 9:50am
WOULD YOU LIKE TO RESPOND?
THIS 'N' THAT
This is interesting, a 1975 press conference held by Sonny & Cher. Embedding is disabled but it's a fascinating peak into the past as CBS announces that the duo will return to primetime despite their divorce.
Check out this ad for a TV movie - the illustrator is the great Bill Elder who you may remember as one of the original 1950's MAD guys, before MAD was a magazine, when it was a comic book. At this time, 1978, he was working on Little Annie Fanny with Harvey Kurtzman for Playboy.
Sunday, May 31, 2009 - 7:50am
WOULD YOU LIKE TO RESPOND?
John Wayne appeared on a Bob Hope Special where he performed in a skit as Archie Bunker then gave Bob a hard time about the whole thing.
Friday, May 29, 2009 - 7:11am
WOULD YOU LIKE TO RESPOND?
Read more Blog entries here!