YOU KNOW YOU WANT IT
This Knight Rider replica is for sale. This car has orginal molds, a brand new engine, it has a new rear end also a new transmission 700R4 with 3 stage shift kit 2,000 stall converter with lock up and overdrive. This car has over $65,000 invested in it over 10 years, its new inside and out. The guy is selling due to moving and a baby on the way. Click here to see all of what this car offers and to contact the buyer.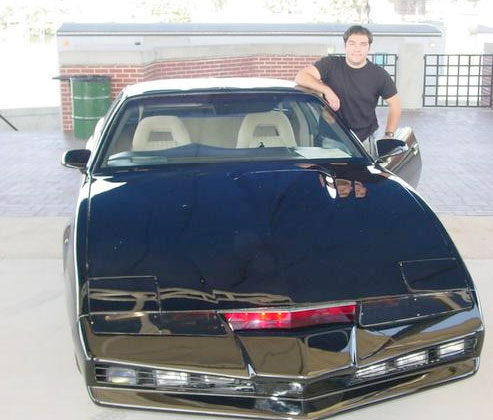 Saturday, August 7, 2010 - 9:55am
WOULD YOU LIKE TO RESPOND
HA!
Need a few laughs today? You may know my old reliables - one of which is The Carol Burnett Show. In this skit Eunice decides to forgive her sister Ellen after a stirring church sermon fills her heart with love.


Kevin Butler writes about another TV milestone for New York City viewers: September marks the 50th anniversary of the debut of WABC TV Channel 7's last local kids show The Tommy Seven Show.
Seen weekday evenings beginning on Monday September 12, 1960 the series was set against the backdrop of an inner city neighborhood and featured the misadventures of a sad faced, talking tramp clown named "Tommy Seven" (played by entertainer Ed Bakey) who worked as a street vendor, selling his wares to the kids in the neighborhood. He was aided and abetted by his duck pal "Milton" (who was simply the sounds of a duck quacking which was accomplished by a stage hand using a duck call device off camera).
"Milton" lived inside of Tommy's cart but he never came out and he always interrupted the clown when he was talking to the viewers.
Tommy would engage his viewers in songs, comedy skits, stories, craftmaking, and informational segments all wrapped around reruns of the MGM Hugh Harmon/Rudy Issling and Tex Avery movie cartoons.
The show was also the first NYC based children's program to feature reruns of The Courageous Cat & Minute Mouse and Q.T. Hush TV cartoons (the voices for the characters that appeared in these films were performed by character actor/mimic and my dear friend Mr. Dallas McKennon). These became the most popular cartoons in the NYC viewing area.
The series would later move to a weekday morning timeslot where Tommy Seven would entertain and inform a studio audience of kids; he would also host a Saturday afternoon edition of the show which first aired on Ch. 7 beginning on April 29, 1961.
For a time Mr. Bakey was unable to host the show and the series featured guest hosts Chubby Jackson MC'd the weekday evening edition of the show a character known as Dr. Fun (whose acting credits and name are still unknown to this day) would serve as a guest host/ performer of the weekday morning and Saturday afternoon versions of the program.
The weekday morning edition of The Tommy Seven Show went off the air on Friday May 24, 1963; the Saturday edition was cancelled on July 15, 1961.
Friday, August 6, 2010 - 8:18am
WOULD YOU LIKE TO RESPOND
Read more TV Blog entries here!