YOU KNOW YOU WANT IT
This Knight Rider replica is for sale. This car has orginal molds, a brand new engine, it has a new rear end also a new transmission 700R4 with 3 stage shift kit 2,000 stall converter with lock up and overdrive. This car has over $65,000 invested in it over 10 years, its new inside and out. The guy is selling due to moving and a baby on the way. Click here to see all of what this car offers and to contact the buyer.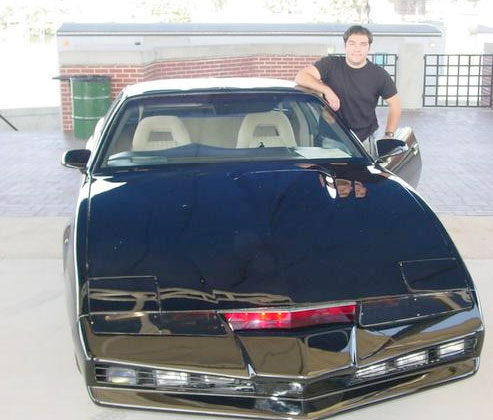 Saturday, August 7, 2010 - 9:55am
WOULD YOU LIKE TO RESPOND
HA!
Need a few laughs today? You may know my old reliables - one of which is The Carol Burnett Show. In this skit Eunice decides to forgive her sister Ellen after a stirring church sermon fills her heart with love.


Kevin Butler writes about another TV milestone for New York City viewers: September marks the 50th anniversary of the debut of WABC TV Channel 7's last local kids show The Tommy Seven Show.
Seen weekday evenings beginning on Monday September 12, 1960 the series was set against the backdrop of an inner city neighborhood and featured the misadventures of a sad faced, talking tramp clown named "Tommy Seven" (played by entertainer Ed Bakey) who worked as a street vendor, selling his wares to the kids in the neighborhood. He was aided and abetted by his duck pal "Milton" (who was simply the sounds of a duck quacking which was accomplished by a stage hand using a duck call device off camera).
"Milton" lived inside of Tommy's cart but he never came out and he always interrupted the clown when he was talking to the viewers.
Tommy would engage his viewers in songs, comedy skits, stories, craftmaking, and informational segments all wrapped around reruns of the MGM Hugh Harmon/Rudy Issling and Tex Avery movie cartoons.
The show was also the first NYC based children's program to feature reruns of The Courageous Cat & Minute Mouse and Q.T. Hush TV cartoons (the voices for the characters that appeared in these films were performed by character actor/mimic and my dear friend Mr. Dallas McKennon). These became the most popular cartoons in the NYC viewing area.
The series would later move to a weekday morning timeslot where Tommy Seven would entertain and inform a studio audience of kids; he would also host a Saturday afternoon edition of the show which first aired on Ch. 7 beginning on April 29, 1961.
For a time Mr. Bakey was unable to host the show and the series featured guest hosts Chubby Jackson MC'd the weekday evening edition of the show a character known as Dr. Fun (whose acting credits and name are still unknown to this day) would serve as a guest host/ performer of the weekday morning and Saturday afternoon versions of the program.
The weekday morning edition of The Tommy Seven Show went off the air on Friday May 24, 1963; the Saturday edition was cancelled on July 15, 1961.
Friday, August 6, 2010 - 8:18am
WOULD YOU LIKE TO RESPOND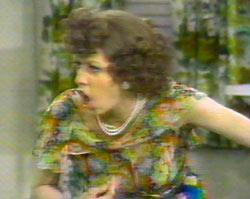 1973-74 FALL SEASON
Some of my favorite TV shows of all time aired in 1973, many of them on CBS. Here's the network's fall preview for that year - "This Year Like Last Year, the Best is Right Here, on CBS" was their not-so-catchy slogan. Indeed CBS had a great year in 1972-73 with several top-rated, high quality shows debuting that season.

RETURNING COMEDY SHOWS
(I'd happily watch any of these sitcoms today)
All in the Family - Season four, leading off the network's winning Saturday night lineup.
The New Dick Van Dyke Show - Third and last season. I really liked this show, especially this year when the production moved to Hollywood and Dick became a soap opera actor. Hope Lange was wasted on this series, she had very little to do as Dick's wife.
The Sonny & Cher Comedy Hour - Last season for this top ten smash - the couple divorced so Cher got her own show on CBS and Sonny was banished to ABC.
Here's Lucy - The last year for Lucy. Did she quit or was she pushed?
The Mary Tyler Moore Show - Year four.
M*A*S*H - Year two, the series was very low rated the season before. CBS took a chance that the show would be a hit if it just got seen. Between All in the Family and Mary Tyler Moore the program zoomed from the bottom to the top of the ratings.
Maude - Season two, kicking off Tuesday nights.
Bob Newhart Show - Year two of one of the best sitcoms ever.
The Carol Burnett Show - Year seven.

NEW COMEDY SHOWS
Calluci's Department - Flop starring James Coco as a New York City unemployment office supervisor.
Roll Out - Military sitcom following Calluci's Department on Friday night with a predominantly black cast. One of the first casualties of the season. Roll Out was replaced by Good Times which became an instant hit.

RETURNING DRAMA SHOWS
Hawaii Five-O - Year six.
Medical Center - Year five.
Mannix - Of all of CBS's private eye shows this was the only one I watched. Mike Connors was so cool as Joe Mannix, riding around in his Plymouth 'Cuda 340 convertible. For some unknown reason, Paramount never released the series' first and last seasons into syndication.
Barnaby Jones - Second long-running CBS TV series for Buddy Ebsen after The Beverly Hillbillies. For someone to succeed in a drama after being so heavily type cast in a broad comedy was unusual to say the least.
Cannon - William Conrad and CBS went way back, he played Marshall Dillon when Gunsmoke was a radio program.

PART TWO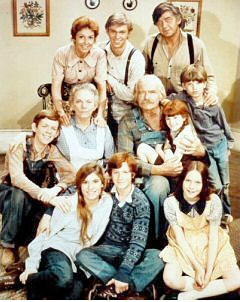 (RETURNING DRAMA SHOWS)
The Waltons - Year two.
Gunsmoke - Year nineteen, the penultimate season.

NEW DRAMA SHOWS
Kojak - Big hit for CBS this year starring Telly Savalas, filmed in the streets of a bankrupt, dirty New York City.
The New Perry Mason - CBS unwisely re-cast the title role with Monte Markham thinking Raymond Burr was too old. They were wrong, Burr returned as Perry Mason in a series of highly rated TV movies years later.
Shaft - Richard Roundtree reprised his legendary film role but Shaft didn't make a ripple on TV with tamed down storylines and typical TV cop show plots.

Hawkins - Jimmy Stewart really wanted a weekly series for the money and stability it offered people like Lucille Ball. He tried several times and this was his latest failure, this time as a crusading lawyer. Why TV audiences didn't warm to the beloved film actor was a mystery.

CBS Movie - CBS scored big with their broadcast of Planet of the Apes this season, leading to a weekly series the next fall. Recent blockbusters being shown on TV was a relatively new phenomenon in 1973.

PART THREE
More movie promos, these broadcasts were ratings gold for all three networks.
CBS Sports - Tennis and golf were very popular on CBS in 1973.

Specials - Barbra Streisand, Ed Sullivan, Peanuts, Perry Como, Carol Burnett, and Carroll O'Connor all had specials on CBS in 1973. The Autobiography of Miss Jane Pittman was one of the finest tele-films of the entire decade.
CBS really was "easy on the eyes" in 1973!
Wednesday, August 4, 2010 - 11:33am
WOULD YOU LIKE TO RESPOND
Read more TV Blog entries here!