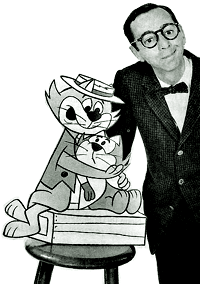 "I was just looking through the Saturday-morning cartoons page on the site, and a question came back that I've been wanting to "ask the experts" for a long time.
"One of my favorite cartoon shows as a '60s kid, (and still one of my favorites, by the way) was "Top Cat." Obviously it was modelled on the "Sgt. Bilko" series, just as "The Flintstones" was modeled on "The Honeymooners."
"Top Cat's main character even sounded like Phil Silvers, and of course Maurice Gosfield from the "Bilko" series did the voice of Benny the Ball, the "runt" of Top Cat's gang. In the closing credits to "Top Cat," the actor doing the voice of TC was always given as "Arnold Stang." I never heard of him anywhere else. Who was he? Was it a pseudonym for somebody more famous?" - Kelley D
Who was Arnold Stang? If you watched TV in the fifties and sixties, you'll know who he is when you see him - or hear him.
He played the milquetoast, weakling or annoying little schmuck parts on dozens of sitcoms, one of many working television supporting players that never found major stardom but always had steady work. He was distinctive because of his puny stature and whiny, exaggerated New Jersey accent.
You might know Arnold Stang as the voice of the cartoon character Top Cat (1961-62, NBC) or as Milton Berle's sidekick during his "Uncle Miltie" days (1953-55). He was also featured in a number of short-lived series, including Doc Corkle, the first casualty of the 1952-53 season (lasting only three episodes) and the 1955 syndicated show Molly (aka 'The Goldbergs') as the shipping clerk.
Stang was also a regular on the sitcom Broadside during the 1964-65 season. 'Broadside' was from the creator of 'McHales Navy' and centered around the women of the Navy (WAVES) circa World War II - who find themselves transfered to an island in the South Pacific to run the motor pool in an otherwise all-male environment.
'Broadside' had an all-star cast - Kathy Nolan ('Real McCoys'), Dick Sargent (the second Darin on 'Bewitched'), and the wonderful Sheila James (Zelda on 'Dobie Gillis') with Stang playing the ship's manic chef Stanley Stubbs.
The program hung on only one season, ABC revived the basic concept, re-cast and repackaged 'Broadside' as Operation Petticoat in 1977. It bombed again.
Arnold Stang had a long career in the movies, appearing in Man with the Golden Arm with Frank Sinatra and was co-star of Hercules in New York with Arnold Schwarzenegger.
---
"Arnold Stang is alive and well and living in a retirement community in Needham Mass. I rec'd a phone call from a listener to our show when I mentioned that today 9/28/06 is Arnold's birthday.

"He told me that he had the pleasure to meet him at Thanksgiving a few years ago and that Mr. Stang is still sharp, and a very funny, sweet man."
- Paul Bellefeuille
co-host and Arnold Fan
Morning Express FolkRadio WUMB
---
You can sign up for 646-364 training program to pass your 1z0-144 exams. We also offer best quality self study resources for 350-030 & LPI Certification, have you ever heard about 6401.1; they are stunning in IT world.
---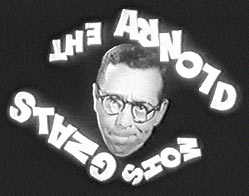 This clip is from the unsold pilot of The Arnold Stang Show - an attempt to find a format for the second banana actor in the late-fifties.
In the proposed series, Arnold Stang gives advice to the viewing audience. Each segment was only five minutes long and used intercut footage from motion pictures to illustrate Arnold's points.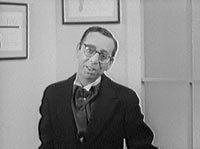 In the first episode, Arnold instructs ladies on how to deal with a runaway husband. Looking back with hindsight, this segment is shockingly insensitive as the woman is repeatedly slapped to the ground. I suppose we would have to travel back into time to figure out what the producers possibly could have been thinking! To add insult to injury, this may have been meant for the kid show market. The theme song is cool, though.

Arnold Stang still does voice-over work today. Don't blame him - he probably never saw this travesty all edited together...
---
"Living in the U.K, a lot of the shows you mention we've never seen over here. I read your article about Arnold Stang,the voice of T.C. and I've got a couple of bits of totally useless information about the show "Top Cat".
In 1959 or there abouts Philips released a 45 single of Arnold performing "Ivy Will Cling" and "Where you calling from Charlie?" For some reason or other it was very popular in East London at that time.
"The other piece of information I would like to share with you is about "Top Cat". When it was shown in the U.K for the first on ITV, our original commercial network, it was known by its original name. When it shown by the BBC, which is noncommercial over here, it was known as "Boss Cat".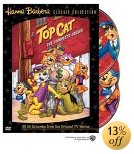 The reason was simple - for years over here one of the leading brands of cat food was called "TOP CAT".
"All the best." - Peter Wackett.