MELVIN MONSTER COMICS
by Billy Ingram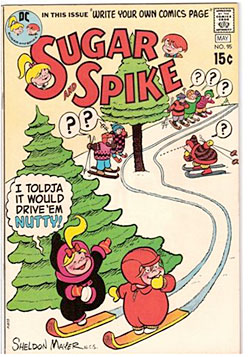 I mentioned in an earlier post that I collected comics when I was a kid, by the time I quit in 1977 I had practically every Marvel & DC superhero comic from 1965-1975 along with a bunch of other publishers. I wasn't a fan of the humor books which were most unfunny but I did buy Sugar and Spike by the great Sheldon Mayer, he was in a league of his own.
But there was a humor comic I bought one time only that I thought was delightful - but I never saw another issue. I couldn't exactly rememer what it was, I knew it was about a monster and that a Stanley had something to do with it. I would occasionally purchase a copy of DC's Stanley & His Monster but that clearly wasn't it. I came to learn later that it was Dell Comics' Melvin Monster that I had been searching for.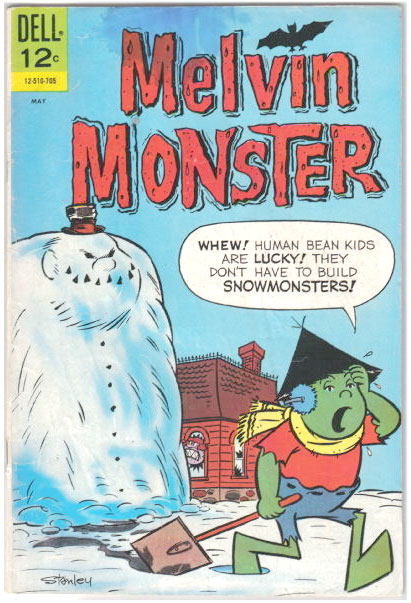 Melvin Monster #8 - 1967
Melvin Monster, written and drawn by John Stanley, ran for 10 issues from 1965 - 1969 (the last issue was a reprint of #1). 10 issues in 4 years is a pretty spotty run for a comic book, so it's no wonder I never ran into another issue. There was a 2 year gap between the series ending in 1967 and the #10 reprint.
Unbelievably, there's a new hardback reprinting the series and I recently bought the first edition just to see if my youthful longing was justified. It was, in spades! What a delightful read this is, a lusciously designed book who's only flaw is that the covers aren't reprinted for some reason that isn't explained. I didn't know I could still enjoy comics as much as I am reading these gems.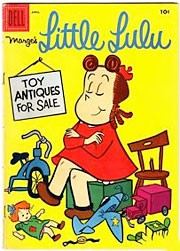 Stanley was best known for his Little LuLu comics that began in the 1940s; they are also a delight and are reprinted in paperbacks for your modern reading pleasure. Stanley wrote and drew the early issues and later wrote the fanciful stories for Irving Tripp to illustrate throughout the 1950s while continuing to draw the covers himself.
Stanley also wrote and drew many of the classic Nancy and Sluggo comic books although he didn't do the lame newspaper comic strip. Those strips are collected in a new hardback as well.
Some artists do their best work in later years and I think that was the case with John Stanley.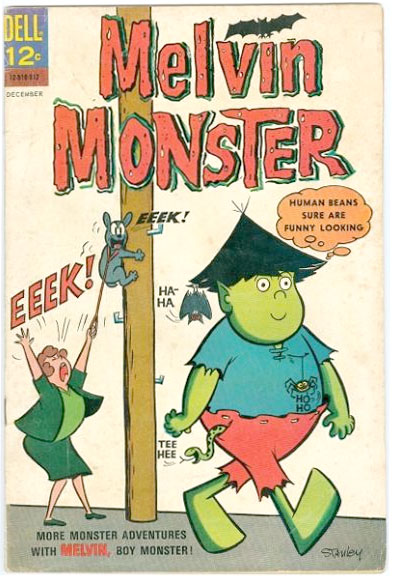 Melvin Monster #3 - 1965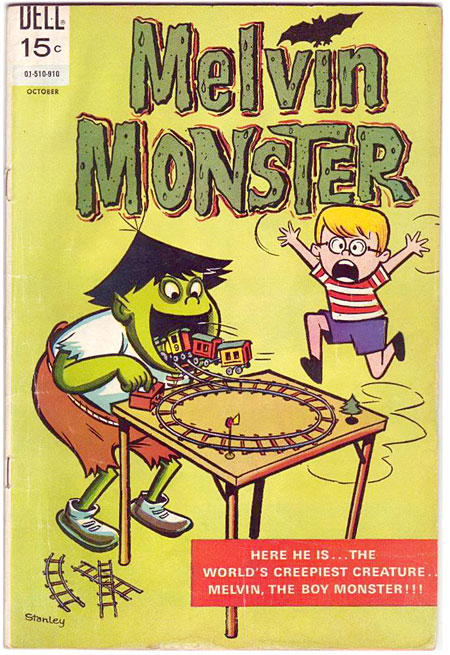 Melvin Monster #10 - 1969
(Same cover as #1)
Melvin Monster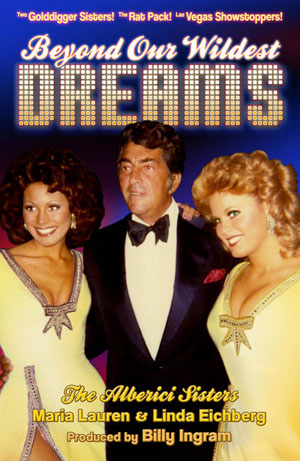 New book produced by TVparty's Billy Ingram!
Beyond Our Wildest Dreams - Facebook

Buy the Melvin Monster
comics hardback reprints here!
Product Description
The classic children's comic strip in a handsome new archival series, designed by Seth

John Stanley is celebrated as one of the great children's comics writers for his work on the Little Lulu series. In fact, the Lulu work is a small part of his output; he drew and continued to write many other comics—notably his work on the 1960s teen comics from Dell (Thirteen, Dunc and Loo, and Kookie) and his monster comedy strip, Melvin Monster.
Drawn & Quarterly is planning to launch an extensive reprinting of much of Stanley's work in discrete volumes. The first in this series is the two-volume Melvin Monster collection featuring all ten issues about the oddball monster boy who just wants to be good, go to school, and do as he's told. Designed to fit nicely with Drawn & Quarterly's reprinting of Tove Jansson's Moomin series, these comics are great reading for all ages. Stanley's reputation as a great storyteller and visual comedian is richly deserved—few golden- or silver-age comics stand the test of time the way these comics do.
About the Author
JOHN STANLEY (1914–93) was a journeyman comics scripter in the 1950s and 1960s. He is most famous for his scripts for the majority of the Little Lulu comics produced by Dell, and is considered by many comics historians to be the most consistently funny and idiosyncratic writer ever to work in the field. He left comics bitterly sometime in the late 1960s, never to return.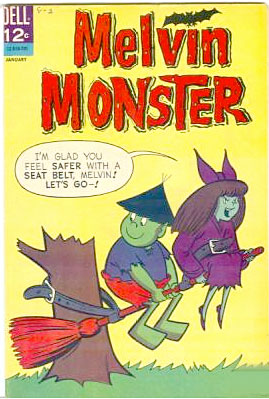 Melvin Monster comics #6 - 1966 Dell Comics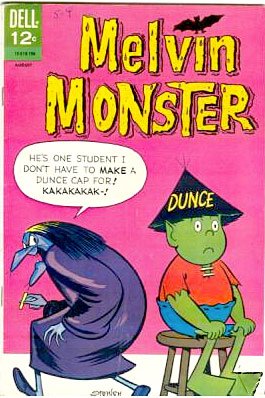 Melvin Monster comics #9 - 1967 Dell Comics