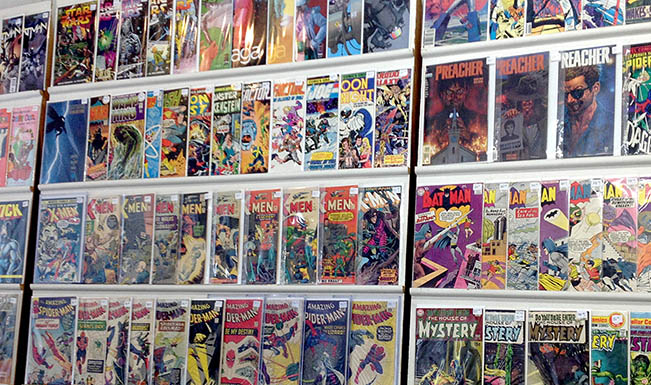 The Secret Origins of Comic Book City
By Billy Ingram
Like Billy Batson wandering into a darkened abandoned subway tunnel, I was lucky to witness that period when comic book collecting emerged from being a shameful pastime to achieving a genuine level of respectability, considered a better investment than the stock market. A copy of Amazing Fantasy #15 (first appearance of Spider-Man) purchased at the going rate in 1969, around $25.00, could fetch upwards of $500,000 today.
In the late-1960s, a teenager collecting comic books was considered symptomatic of a severe case of arrested development. Not something readily admitted to while attending Mendenhall Junior High where I met John Hitchcock, a collector into Marvel while I was diehard DC. There weren't many of us four-color freaks around, comics discovered on school grounds would be confiscated and destroyed.
Another notable comic connoisseur, out of the 5 or 6 in the entire school, was Pierce Askegren who, after a year at Mendenhall, moved to Virginia. In 1979, he began writing horror tales for Vampirella and Creepy, he even wrote me into one of his fables, 'Hell's Playground'. After being viciously attacked in print by author Harlan Ellison in 1980, Pierce Askegren retreated from the pop culture scene, returning a decade later to pen short stories and novels based on Marvel Comics characters including Spider-Man and The Avengers. He passed away in 2009.
A Shazam! moment for us came around 1971 when College Hill resident Clay Kimball appeared on The Bob Gordon Show, channel 12's Sunday afternoon rerun-fest during which Bob would interview colorful locals. Astonishing as it was to see an adult comic aficionado on TV, it was equally unnerving watching Bob Gordon manhandle those 10 cent treasures on the air. Clay Kimball left his stamp on local comic collecting - quite literally. As a youngster, he rubber stamped his name on the inside front cover of every comic book that passed through his hands.
Kimball, Hitchcock, and myself attended the state's first comic conventions put on 3 or 4 times a year beginning in the late-1960s. Held in the backyard of brothers Edwin and Terry Murray's home in Durham, twenty or so folks would show up to pour over what are now million dollar rarities like Action Comics #1, watch a movie serial, then eat dinner.
Fifty years ago, this hobby could lead you to some sketchy places, like Sam & Mack's Newsstand where new releases were displayed next to raunchy porn mags. For some unknown reason, new comic books in Greensboro came out a month later than they did in anywhere else.
"You'd look for comics wherever you could find them," collector Raymond Tucker recalls. "There was a Flea Market at Holden and Spring Garden, 2 older guys who were mostly booksellers had a box with comics for about a buck apiece. I bought an EC science Fiction comic there from that dollar pile. There was one lady with a big moving van who would park in a parking lot, she had stacks and stacks of pre-code [1940s-'50s] comics for 50 cents apiece."
Hitchcock remembers a house with comic books for sale on High Point Road at the end of a dirt driveway with a large Weeping Willow out front, "You'd knock on the door and hear people yelling and screaming in there. Inside, there was a lady in a wicker chair with a tackle box who looked put out that we were even there. Behind her was a dog barking like it wanted to rip your throat out. She'd bang on the door and yell, 'Shut up dog!'" That family sold all of their comics, Playboy magazines, and books to Curtis Wright who then started Atlas Book Exchange, the first of his many locations over the next 3 decades was on West Market next to Straughan's Bookstore.
The city's first comic book store popped up in 1973, where Sno-White Cleaners is now, near the corner of Walker and Elam. Back issues were placed inside ziplock bags and hung with pins from a clothesline. "I think it was called Book Nook," Tucker says. "I was able to pick up early Neal Adams' Batman in Brave and Bold for 50 or 75 cents. He didn't have a tremendous amount of stock. Although there was another store with that name that came later."
"The owner had a goatee, a big gut and a cigarette with an ash about a mile long on it," John Hitchcock remembers. "He was not friendly, very condescending." Back Issues generally sold for under $3.00, that is until a customer showed the shopkeeper a copy of the Overstreet Comic Book Price Guide. "After that," Tucker says, "the guy wanted highest book value for his comics." That shop closed after about 6 months.
"The first convention, if you could call it that, I went to was in Winston Salem, off Knollwood Road" Tucker says. "There was a strip mall there and they had about a half dozen people with long boxes with comics set up there to sell. This was 1971, maybe '72."
Clay Kimball put on the area's first comic convention in 1973 at Friendly Center Auditorium, his guest was Chapel Hill sci-fi pulp writer and Captain Marvel scribe Manly Wade Wellman. Overzealous tax assessors shut down Clay's conventions after 3 shows, "We couldn't believe the city went after this little thing that was only making everybody happy," Hitchcock tells me.
Greensboro's first full service emporium, Acme Comics, opened in 1982 on the corner of South Elm and McGee, the next year they sponsored the first of many comic-cons with big name guests including Archie Goodwin, Will Eisner, and Jack Kirby.
In 2012, at the urging of Acme Comics, the Greensboro City Council voted unanimously to give The Gate City a new nickname — Comic Book City, USA. It's entirely fitting with 4 comic book retailers inside the city limits, an unusually large number, not to mention Greensboro is point of origin for a number of notable artists including DC legend Murphy Anderson (Superman, Atomic Knights), Randy Green (X-Men), and Chris Giarrusso (Encounter).
Meanwhile, John Hitchcock's own shop, Parts Unknown the Comic Book Store, celebrated its 30th anniversary in 2019.
Clay Kimball liquidated his entire collection before passing away in 2009. His cousin Elvin Perkins tells me, "Aunt Buncie was extremely poor and depended on charity from organizations, neighbors and family. Clay never forgot that and left over $160,000 to feed and care for those in need."
What's that they say about heroes not needing a cape?