JOE KUBERT'S MID-1960s
SUPERHERO COMIC BOOK COVERS
by Billy Ingram
In the 1940s Joe Kubert was known for illustrating the costumed superhero adventures of such colorful characters as Hawkman, Johnny Quick, The Justice Society, The Flash and more.

By the mid-sixties Kubert became primarily known as a war comic artist although his connection to Hawkman remained; he was the first artist on the revival in 1964 and he illustrated some magnificent covers along with a stray Hawkman yarn or two in the years that followed.
For a brief period Joe Kubert was tapped to do a smattering of covers for the superhero books and I found them odd but compelling, a real departure from what had come before.

There was a raw sense of excitement to these covers that DC comics normally lacked.

Detective # 348 & 349 / FEB 1966

These two consecutive Detective covers adhered more closely to the traditional character models than most of Kubert's covers that followed - but this was not the bulky Bob Kane Batman found in #348's interior art. He certainly bore no resemblance to Adam West who was starring in the TV series at the time - but that's because these covers were commissioned right before the show debuted in January of 1966.

Before Neal Adams arrived on the Bat-scene Joe Kubert brought a 'Dark Knight' quality to his portrayal of Batman with these two illustrations, even Robin looks more heroic and menacing than usual.

Unless I'm wrong Kubert's brief flirtation with superhero covers ended here - until 1968 when the artist once again tried his hand at a number of DC's greatest characters.
1968 - 1969 Joe Kubert Superhero Covers

Hawkman # 27 / The Atom & The Hawkman #39 - 45 / SEP 1968 - NOV 1969

Returning to the character he helped make famous two decades earlier, Joe Kubert was brought in to do the cover for the last issue of Hawkman He continued illustrating the book's outsides when two of DC's lowest-selling mags were combined into one.

Kubert even illustrated a two-part story inked improbably by Murphy Anderson. The combo of Kubert's expressive scratching layered with Anderson's smooth inking style was unlikely but pleasing.

These dramatic renderings weren't enough to turn sales around, the two-in-one experiment lasted only 1 year.
Superman 216 / MAY 1969

Superman finds himself on the Viet Nam battlefield so who better to draw this awkward scenario than the master war artist himself. The combination of charcoal and ink was extremely effective at conveying a murky mood. This was Kubert's one and only Superman cover but this looked nothing like The Man of Steel to me, even the S insignia looked off-kilter.

Each one of these covers was mesmerizing partly because Kubert's heroes looked so gaunt and greatly more stressed than your typical DC character. That was part of the power of his work, Kubert had the ability to convey emotion on a level most comic book artists couldn't approach.

This, the DC Special and Challengers of the Unknown covers below are the only ones not commissioned by editor Julie Schwartz.

Justice League #72-73 / JUN - AUG 1969

These two consecutive covers offer a chance to see Kubert's take on a number of DC heroes in addition to some of the Golden Age greats he drew early in his long and illustrious career.

Okay, so Jack Kirby's Superman was too far from the character model but Kubert's isn't?!?
Flash # 190 / AUG 1969

Kubert illustrated 3 high impact covers in a row for The Flash. The stories, written by Frank Robbins and drawn by Ross Andru & Mike Esposito, weren't nearly as strong as the set-ups.
Strange Adventures # 220 / OCT 1969

Joe Kubert contributed a number of powerful covers for Strange Adventures and From Beyond the Unknown, again for Julie Schwartz, but this was the only one featuring a space age hero - in this case Adam Strange.

Notice how beautifully composed this image is, again charcoal and ink are at play here for added effect.

DC Special # 5 / DEC 1969

This All-Kubert tribute issue was amazing with choice reprints and new material by the master.

Challengers of the Unknown
# 66 and #69 / MAR & OCT 1969

The second of these treatments is amazing imagery.

All of the Challengers' covers during this period, mostly by Neal Adams, were dynamic but the stories inside were sadly pathetic from both a story and art perspective.

You have to wonder, since most of these covers appeared around the summer of 1969, if Editorial Director Carmine Infantino made a conscious decision to see if Kubert's art caused an uptick in sales.

Those weren't the only ones. Joe Kubert covers in the summer (cover dates July-October) of 1969, other than his four war titles, include: Strange Adventures #219; From Beyond the Unknown # 1; and Showcase #83-85 (#85 starts Kubert's masterpiece Firehair).

Kubert returned to the Challengers with issues 76 (NOV 1970) and, years later #79, illustrating concepts from the Jack Kirby reprints inside. What a great package!
JOE KUBERT'S MID-1960s
SUPERHERO COMIC BOOK COVERS
Joe Kubert passed away August 12, 2012
SEE ALSO: Joe Kubert's Firehair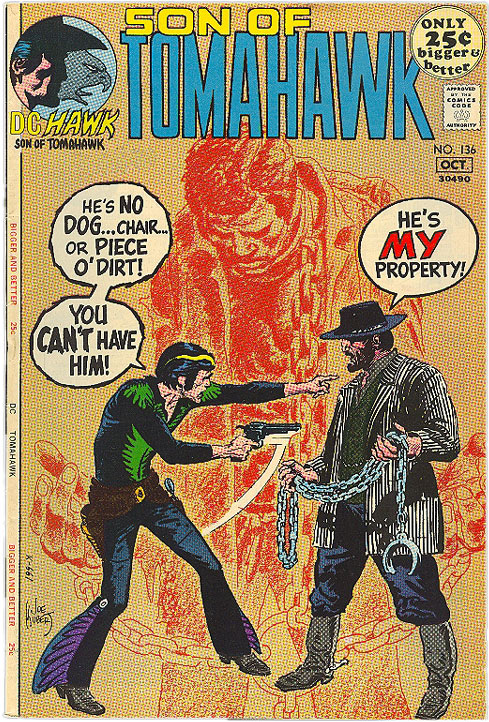 MORE AWESOME JOE KUBERT COMICS
FROM THE SIXTIES !