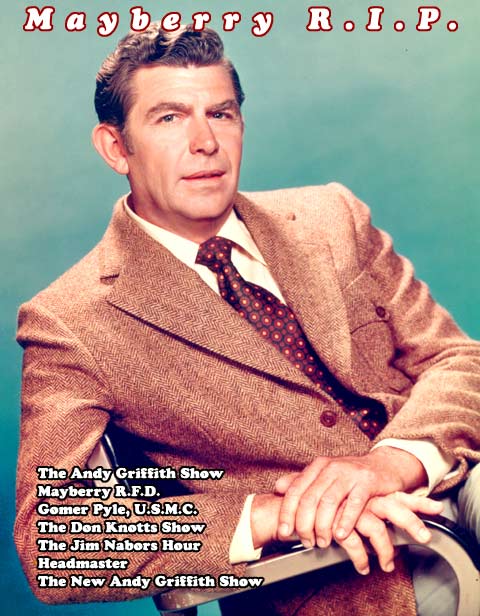 The Andy Griffith Shows: Part One
Part Two / Part Three / Part Four / Part Five

The New Andy Griffith Show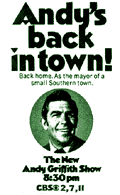 Debuting Jan. 8, 1971, The New Andy Griffith Show was long on Southern hokum but woefully short on laughs.
Intentionally, there were few surprises - and that was the show's undoing. If Headmaster strained to be relevant, the new Andy show was belligerently irrelevant.
The pilot was written, created and produced by Aaron Ruben who guided the first five seasons of The Andy Griffith Show and Gomer Pyle, U.S.M.C. and directed by Lee Phillips, who directed almost all of the last two seasons of TAGS. Earl Hagen crafted the theme song and incidental music to be nearly identical to his efforts for TAGS and Mayberry RFD.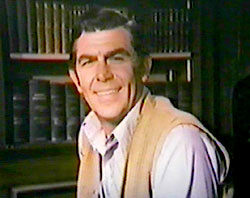 This time the setting was a mid-sized North Carolina town called Greenwood (pop. 12,785, ten times the number of people that lived in Mayberry), with Griffith portraying Andy Sawyer, a returning hometown boy who instantly becomes the town's new Mayor Pro-tem.
Andy Sawyer was the model family man, always agreeable and understanding, spending lots of quality time with his young 'uns - the kind of dad who takes his eight-year old daughter on a three hour bus ride so he'll have someone to talk to. In other words, the exact opposite of any father I ever encountered growing up in the South.
Dressed in a humble yellow ochre vest, white shirt and gray slacks, Andy Sawyer was much simpler and more deferential than Andy Taylor ever was; often the lines they gave Andy to mouth would have been more appropriate coming from Goober Pyle.
Lee Meriwether was remarkably cast (but underutilized) as Andy's wife. Meriwether was already well-known to TV audiences as a former Miss America who went on to play Catwoman in the Batman movie and Dr. Ann MacGregor on Time Tunnel from 1966-67. More importantly for Griffith, she had been Andy's wife in Angel in My Pocket.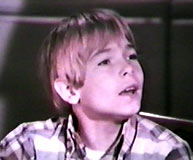 Marty McCall (left) and Lori Rutherford were seen as the 2.5 kids. Of course, there was a live-in relative - Lee's sister Nora played by Ann Morgan Guilbert (Millie Helper on The Dick Van Dyke Show and Yetta on The Nanny). Instead of matronly and supportive like Aunt Bee, Nora was constantly complaining, neurotic, meddling and superstitious.
Rotund country comic Glen Ash was cast as town councilman Buff McKnight. Don Knotts discovered Ash, introducing him to TV audiences when he hosted The Hollywood Palace in 1968. As a result, Ash made the rounds on The Leslie Uggams Show, Gomer Pyle, U.S.M.C., Mayberry RFD, The Glen Campbell Goodtime Hour, Petticoat Junction and others during the 1969-70 season.

LAUNCHING THE NEW ANDY GRIFFITH SHOW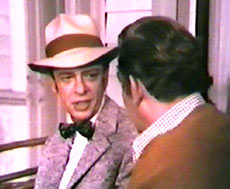 For safe measure, The New Andy Griffith Show brought Don Knotts together with George Lindsay as Goober Pyle and Paul Hartman as fix-it man Emmett Clark in a memorable (but confusing) first episode that reunited the former costars of the original Andy Griffith Show for the first time in two years.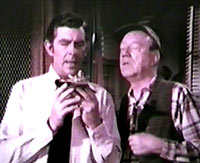 In that episode, Emmett and Goober travel from Mayberry to Greenwood to ask their old pal Andy to use his influence with the city to rezone a plot of land each of them wants to start a new business.
Strangely, the Mayberry residents don't recognize Don Knotts' unamed character, even though he's wearing the same salt and pepper suit that Barney Fife favored on The Andy Griffith Show; heck, he even wore that suit to Andy and Helen's wedding on Mayberry RFD! Was Barney in the Witness Protection Program?
In the second episode, written by TAGS vets Jim Fritzell and Everett Greenbaum (who also wrote the hit movies The Ghost and Mr. Chicken and The Reluctant Astronaut for Don Knotts), Glen Campbell was the guest in an old chestnut of a plotline - Buff McKnight claims to be friends with Glen Campbell and can get him for the town's centennial show, but Glen... you can guess the rest.
In the third episode, with Elliot Lewis (The Lucy Show) directing, little old lady Miss Gossagg (played by regular Ruth McDivett) wants to erect a memorial fountain in the town square and Andy is forced to supervise the project.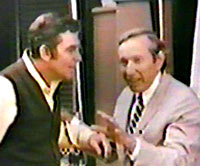 Besides McDivett, other bit players from The Andy Griffith Show were seen frequently on this program. Burt Mustin, Forrest Lewis, Owen Bush and writer Everett Greenbaum (seen right) all played various townsfolk on both the new and original series.
It was painfully obvious from the start that this production was trying too hard to be The Andy Griffith Show in a larger town. The scripts were flat and predictable; audiences weren't buying into the derivative premise. Besides, you don't parade around with two different wives in the same season, at least you didn't back then.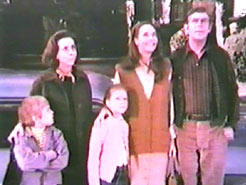 "Headmaster was a very bad show," Griffith stated in 1971. "And because of Headmaster, The New Andy Griffith Show simply did not have an audience."
Once again, Nielsen ratings for the first episode hit number 12 - then quickly slid back down into the sixties. The series was cancelled on May 21, 1971. Headmaster reruns were scheduled to play out the summer until The New Andy Griffith Show(s) were removed from the schedule.
Similarly, The Don Knotts Show proved no match for The Mod Squad on ABC and The Beverly Hillbillies on CBS. It was scrapped after one season.
The Jim Nabors Hour dropped out of the top twenty-five for the 70-71 season and it too was cancelled.
As if that wasn't bad enough, CBS axed the entire town of Mayberry that year as well - despite the fact that Mayberry RFD was the number-four rated show for the first two seasons and finished a solid fifteenth for the final year.
In a surprise move, CBS cleared the schedule of all of their highly-rated down-home comedies (like Green Acres and Beverly Hillbillies) in the fall of 1971 to make way for shows appealing to more urban viewers, programs like All In The Family, Arnie and The New Dick Van Dyke Show. That strategy worked brilliantly.
Andy wasn't needed anymore; Opie had grown up and Aunt Bee moved to Siler City. After eleven years on Monday nights, Mayberry itself receded into the past.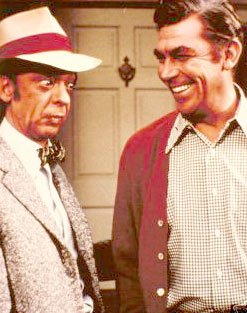 READ: PART FIVE:
Return to Mayberry!
What happened to the cast and - Aunt Bee, the reclusive cat lady?!?

The Andy Griffith Show: Part One
The Andy Griffith Show: Part Two
The Andy Griffith Show: Part Three
The Andy Griffith Show: Part Four
The Andy Griffith Show: Part Five