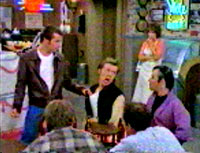 I recently viewed the pilot of the classic ABC comedy Happy Days and was shocked to discover that Fonzie appeared in only two small scenes with only a couple of lines.
Was this the same Fonzie I grew up watching, who was always available to give Richie, Potsie, and Ralph advice about life and girls? Who riveted the nation by attempting jump fourteen garbage cans behind Arnold's Drive-In? Who comforted kids all over the country by donning spectacles, no matter how "uncool" it looked? Whose leather jacket hangs in the Smithsonian Institution?
Henry Winkler's rise to superstardom while playing Arthur Fonzarelli is a story in itself. Certainly in the history of television many actors have become household names while acting in a network series. But never before had a series totally and shamelessly revamped its story lines, changed its method of production, even tinker with cast billing in order to exploit the phenomenal popularity of a supporting character.
For those of us old enough to remember, nostalgia for the '50s was big in the '70s. American Graffiti touched a nerve in American adults by reminding them that their adolescent sock hops, hot rods, and greasy hair were true symbols of their former freedom. It didn't take television networks long to realize that American Graffiti needed to be in American living rooms every week.
ABC ran a pilot that appeared on Love American Style entitled "Love and the Happy Days," the story of Richie Cunningham (Ron Howard) and his pal Potsie Webber (Anson Williams) in 1950's Milwaukee. The series Happy Days premiered on January 15, 1974. Initially, Potsie was naive Richie's guide through the real world. In order to avoid a cloning of Wally Cleaver and Eddie Haskell, the network convinced producer Garry Marshall to introduce a counter viewpoint to that of the high school boys. That idea evolved as the ducktailed, leather-jacketed dropout known as Fonzie.
Time Magazine refused to be fooled by the token hood, slashing the show to ribbons in its review. Happy Days is the American Graffiti rip-off with none of the sensitivity and sensibility that made the film memorable. The program is full of period references - Mickey Spillane, stuffing phone booths, etc., but there is never a reference to the human heart."
The American public didn't seem to be fooled either, as Happy Days limped along in 42nd place in the Nielson ratings during its first season. The series gradually gained momentum as the audience became familiar with the cast: Richie and Potsie, the Cunningham family (although big brother Chuck disappeared after the second season, never to be heard from again), and the high-strung, red-haired Ralph Malph.
But the show's rise in popularity with Fonzie's greater presence in story lines was hard for the network to ignore. In addition to holding court at Arnold's, Fonzie began appearing at more social functions such as dances and parties, even "dropping back in" to Jefferson High in one episode. He became a semi-regular at the Cunninghams' dinner table, cementing his place as an honorary member of the family in the classic Christmas episode when, too proud to admit to being alone for the holidays, he nevertheless allowed himself to be brought into the Cunninghams' home to share in their celebration.
Winkler, a graduate of the Yale School of Drama, made Fonzie's character three dimensional. In the first two seasons Winkler portrayed Fonzie's "cool" as understood and understated: though he was known as the toughest hood around, Fonzie was soft-spoken and operated under a quiet code of ethics that treated everyone equally. I often wonder what kind of Fonzie the former Monkee Micky Dolenz, who was second in line for the part, would have made.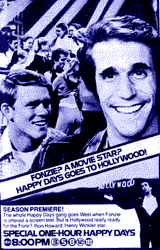 ABC felt a legitimate Fonzie movement starting in TV land and decided to seize the moment. After Garry Marshall (and Henry Winkler) rejected the idea of a spinoff, network president Fred Silverman strongly suggested that he amplify the character of Fonzie. When the 1974 fall season opened, Fonzie had moved into the apartment over the Cunninghams' garage so he would be handy for most any plotline.
The network changed the method of filming the show from one camera on a soundstage to multiple cameras filming a performance in front of a live audience. Fonzie suddenly became something of a loudmouth, drawing hoots and hollers from the audience every time he gave his signature thumbs-up and let out a big "Aeeeyyyhhh..."
The friendship between Fonzie and Richie cemented while the characters Potsie and Ralph retreated into team buffoonery. In two seasons, Winkler's billing went from closing credits to fifth and finally to second right behind Ron Howard, leapfrogging over veteran actors Tom Bosley and Marion Ross. Howard begged Marshall not to give in to the network idea to change the title of the show to "Fonzie's Happy Days." The network's blatant exploitation of Fonzie worked worked for the bottom line, however, as Happy Days shot up to number 1 for the '76-'77 season.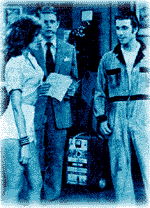 That season must have been an exciting year in Henry Winkler's life. Winning the hearts of millions of fans, he became the center of a Beatlesque mania sweeping the country. He suddenly found himself the object of marriage proposals from women of all ages, suddenly found his face reproduced on everything from T-shirts to tableware, found himself being mobbed on the streets and ushered into exclusive restaurants. Yet when reading articles profiling Winkler at the time, his humility is quite striking.
He constantly reminded fans that Fonzie was just a television character, that in reality he was a five-foot, six-inch, 130 pound Jewish guy who knew nothing about motorcycles.
Winkler also believed that he had a certain responsibility toward his fans. In an essay for Newsweek magazine entitled "The Importance of Being Fonzie," Winkler wrote, "I owe my fans my skills, my best efforts, my care, and my performance. When you have as large an effect as I find myself having, you have new responsibilities." To his credit, Winkler wished to make Fonzie a role model. Unfortunately, network writers translated this desire into granting Fonzie unconquerable, almost superhuman powers. Remember how he started the jukebox with his fist, and how girls came running at the snap of his fingers?
Winkler's prognostications for his career are also interesting. In several 1978 interviews he mentions playing Fonzie for "a couple of more years" before turning to feature films, an indication that in spite of Fonzie's popularity, he had given all he could to the role.
He achieved his goal of moving into feature films both in front of and behind the camera, making it all the more puzzling how Winkler endured the role for six more years until the show's last telecast on July 12, 1984. Fonzie became quite the pillar of the community during those years, becoming operator of Bronco's Garage, co-owner of Arnold's Drive-In, and shop teacher at Jefferson High.
After all, not just any greaser has his leather jacket hanging in the Smithsonian.