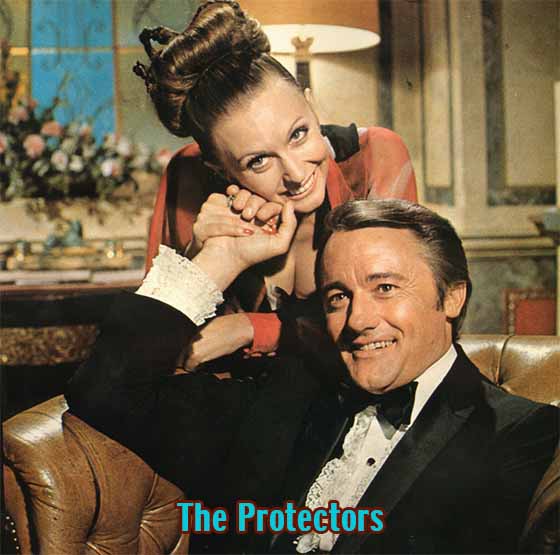 by Cary O'Dell
It seems you just can't keep an International Man of Mystery down for long. It was only four years after the end of Robert Vaughn's career-defining role as Napoleon Solo in "The Man From UNCLE" and his return as another great globe-trotting operative in the series "The Protectors."
"The Protectors" was a half-hour, ITC-produced, UK-imported, first-run syndication action-adventure show that aired for 52 episodes from 1972-1974.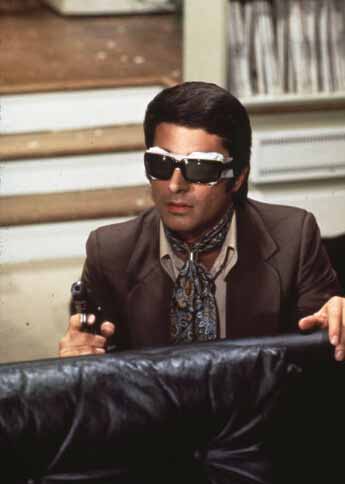 The Protectors of the title were an elite three-person team of private eye-types whose unique set of skills could be purchased by anyone in need of protection or investigation. The de facto team leader was the suave American but British-based Harry Rule (Vaughn).
He was assisted by the glamourous Contessa Caroline di Contini, a widowed member of the Italian nobility who mainly specialized in unearthing art fraud. She was played by Nyree Dawn Porter.
The third member of group was Paul Buchet (played by the handsome Tony Anholt), based out of Paris, who had a gift for gadgets, gizmos and computers but could throw a punch if the action required it.
And the action often required it. Since every episode of "The Protectors" was only 30 minutes long--actually less than that once each installment is stripped of its opening and closing credits and commercials--there was very little time in every episode for filler or nonsense. Get to the story, get to the action! One has to appreciate the great economy of this show's storytelling. It's quite refreshing as is the inventive direction that hallmarks most of the series--the directors make the most of all their interesting locations if it be the canals of Venice or an ordinary construction site in London.
"The Protectors" was the creation of TV impresario Gerry Anderson, who, until then, was best known for his series "Stingray" and "Thunderbirds," both of which used his "Supermarionation" process--basically marionettes with electronically-controlled moving parts. "Protectors" was only Anderson's second series (after "UFO") to feature actual live actors.
Anderson and the show's producer, the legendary Lew Grade, got very lucky with their wonderful cast. Vaughn not only knew his way around the spy game and was a household name but could bring to the small screen every bit of debonair-ness the show required. The classically beautiful Nyree Dawn Porter (who had become known to American audiences a few years prior due to her work in the BBC-produced, PBS-aired "The Forsythe Saga") was the height of glamour in her role. And not only was she extraordinarily chic in a 1970s way but so completely proficient with a pistol and in hand-to-hand combat that I hereby add her to the cannon of 1970s TV Superwomen alongside Angie Dickinson, Lynda Carter, Teresa Graves, Lindsay Wagner and all of "Charlie's Angels." And Tony Anholt was every bit the young matinee idol.
Along with those factors, the program made the most of its ability to travel all over Europe. Though most episodes take place in England, many others travel to Italy and France--the show almost serves almost as a travelogue.
The show even had a groovy closing theme song. "Avenues and Alleyways," sung by Tony Christie, closed out each "Protectors" episode. It made the UK charts in 1973.
Still, at the time of its production and immediately after, Vaughn was less than complimentary towards the show. In one interview immediately after the show completed its run, he called the series "sh--." In latter day interviews, he decried everything from British production schedules to the show's budget which he felt was more devoted to travel and star perks than to good scripts.
But, later in his life, though, perhaps soften by time and/or the result of fan feedback, Vaughn toned down his criticism.
Certainly the show offered an wonderful array of impressive guest stars for him and the rest of the cast to act against. During its just two seasons on the air, "Protectors" featured performances from the likes of Eartha Kitt, Judy Parfitt, Stephanie Beacham, Milo O'Shea, Kate O'Mara, Peter Firth, Nigel Green, Ian Hendry, Ralph Bates, and Margaret Lee along with a nearly who's who of great British character and stage actors.
Though at one time far from unusual, half-hour action adventures programs are very rare these days and were quickly falling out of favor even at the time of "Protector's" productions so the show is rather unique in that regard. If some stations wanted an hour of action to program rather than just a half, ITC offered "Protectors" alongside another half-hour show, "The Adventurer." That latter series starred Barry Morse and Catherine Schell who, both, later, separately, would star on "Space: 1999." Of course, "Space" would also add Tony Anholt to its cast in its second season.
"Protectors" was brought to viewers by the good people of Brut cologne, the popular men's scent. But, after two seasons, Brut's manufacturer, Faberge, decided to pull its sponsorship and that foretold the end of the series.
Post-"Protectors," Vaughn continued with his long, varied career. Beyond being Oscar nominated and Emmy winning, Vaughn was a highly accomplished man. A political activist before it was fashionable, he spoke out strongly against the Vietnam War before almost any other notable show biz name and, in 1972, wrote and published a book, "Only Victims," about the Hollywood Blacklist. (The book had begun as his college dissertation for his Ph.D. in communications.) Vaughn had at least one very good memory from the set of "The Protectors"--he met his wife, actress Linda Staab, there when she guest starred on an early episode. They married in 1974 and remained married up to Vaughn's death in 2016.
Nyree Dawn Porter continued to work mainly in her native England. Her final role was playing the great ballerina Dame Margot Fonteyn in "Hilary and Jackie" in 1998. She died in 2001.
Sadly, Tony Anholt died the following year, 2002. After "Protectors," he appeared in the second (and last) season of "Space: 1999" and then in a variety of British-based TV series. His lookalike son, Christien Anholt, is also an actor most famous stateside for his role in the syndicated series "Relic Hunter" (1999-2002).
All 52 episodes of "The Protectors" are out on DVD and they can also be found the streaming platform Tubi.