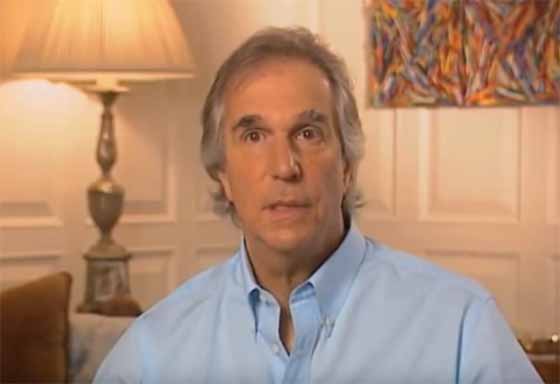 Henry Winkler on the Happy Days Pilot
Created by Garry Marshall, 'Happy Days' was one of the most successful sitcoms of the 1970s, of all time really, airing first-run from January 15, 1974 to September 24, 1984 on ABC, with a total of 255 half-hour episodes over eleven seasons.
Almost immediately 'The Fonz' character took off, making actor Henry Winkler the titular star of the show. In fact, the network wanted to change the name of the show to 'Fonzie's Happy Days' but Winkler refused. He felt it wasn't fair to the true star of 'Happy Days' Ron Howard who played Richie Cunningham.
Winkler described auditioning for the role in the pilot for 'Happy Days' as an unknown actor, "During this time I'm auditioning and I go to Paramount for a new series, I walk in the room, the greenroom where the actors wait to go to be called. Every actor had been on television, I had seen all of these people, they're all famous. And me."
After pleasantries were exchanged, "I get called in. I figured well, honesty is a great policy. 'This sweat stain is in direct correlation to the fear running through my bodies, I just thought I would let you know.' I had six lines, I'm reading with a guy, I made a decision I was going to make the guy sit down. I'd be the only one standing in the room. I do the six lines, he sat down, I threw the script up in the air and sauntered out of the room. On my birthday they called and said, 'Would you like to play this character?'"
What's the first life change Henry Winkler made? Breaking up with his girlfriend. "Im starting a new life!"
For more of the story watch this clip. More interviews at: EMMYTVLEGENDS.ORG
Henry Winkler lent his voice to a cartoon called 'Fonzie and the Happy Days Gang' produced by Hanna-Barbera Productions and Paramount Television, broadcast on Saturday morning over ABC from November 8, 1980 until November 28, 1981.
Wikipedia described the animated version: "The series focuses on Fonzie, joined by an anthropomorphic dog named Mr. Cool, and his friends as they are visited by Cupcake, a girl from the future who pilots a malfunctioning time machine. After Fonzie repairs the machine, a subsequent accident causes the group to become missing in time. The series focuses on Fonzie and his friends as they land in various periods in time, attempting to return to their own. The introduction to the series was narrated by Wolfman Jack." Yes, it was as bad as it sounds.
After that animated series ended Fonzie and Mr. Cool were introduced into another Saturday Morning cartoon, Laverne & Shirley in the Army, which premiered October 10, 1981. The show was subsequently renamed 'Laverne & Shirley with the Fonz.'