WHATEVER HAPPENED TO
MANNIX'S GAIL FISHER?
by Billy Ingram

Mannix was one of the most successful of the many private eye shows that were so popular in the late 1960s into the 1970s. Some of the episodes are quite effective, many are boiler plate TV dramas of the era, but one thing that struck me was the superb cinematography with unusual camera angles and inventive setups.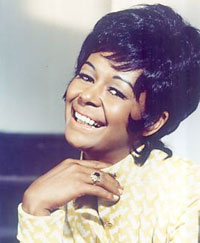 I was especially fond of Mannix' secretary Peggy played by Gail Fisher. Odd how Gail Fisher virtually disappeared from TV after Mannix was cancelled in 1975.
She was an actress with grace and style at a time when you could count on one hand the number of black women who had ever been regulars on a network TV show.
She'd won an Emmy for her role, the first black actress to do so, and was nominated a total of four times while Mannix was on the air. Fisher was nominated for a Golden Globe four times as well, she was the first African-American woman to win and she did it twice.
She couldn't get another TV gig?
Gail Fisher developed a troubled personal life including problems with drugs, no doubt fueled by the industry's lack of interest. She made headlines in 1978 after she was busted for possession of pot and coke and for using an illegal phone device.
She guest-starred in a 1980 episode of The White Shadow. Gail Fisher died in 2000 of kidney failure. She was 65.
No doubt about it, the Mannix theme song is one of the most exciting in TV history.
Here's Gail Fisher in happier times, when she was a guest on Match Game '74.