MAKE ROOM FOR GRANDDADDY
by Billy Ingram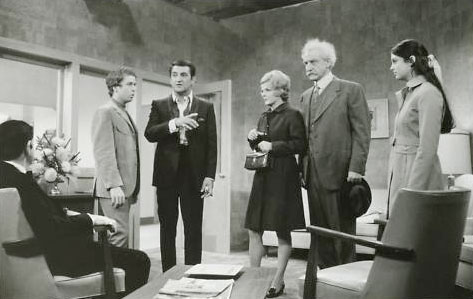 1970-71 ABC Sitcom
Make Room For Granddaddy was one of the rare times a long-running television program returned to primetime. The original, Make Room For Daddy aka The Danny Thomas Show, ran for 11 years, 1953-1964, first on ABC then on CBS.
The success of Make Room For Daddy on CBS no doubt helped persuade ABC to greenlight a sitcom starring Thomas' daughter Marlo, a TV unknown. That Girl debuted in 1966 and, though the breezy comedy never finished in the top 25, it was a was a comparative hit for a network in dire need of a popular programs.
HERE'S A SAMPLE OF THAT GIRL FROM THE FINAL SEASON. HOW CAN YOU TELL? IT'S THE ONLY SEASON THAT HAD LYRICS ADDED TO THE THEME SONG.
While That Girl was on the air Danny Thomas produced two Make Room For Daddy reunion shows with the original cast, he was the first to do so. In 1969 the one-hour special Make Room For Granddaddy aired on CBS, picking up the story of the Williams family 3 years later. It earned boffo ratings so CBS happily offered Danny Thomas a weekly slot for the updated series. Thomas agreed but ultimately decided against it when he saw the lousy timeslot CBS had in mind.
As before, the success of That Girl had to factor into ABC's decision to pick up Make Room For Granddaddy for the fall of 1970. The original cast all returned including Marjorie Lord as wife Kathy and Angela Cartwright as daughter Linda but Rusty Hamer as son Rusty was rarely seen and a new redheaded grandchild living in the Williams household was added for the cute factor.
Secondary characters played by Sid Melton and Hans Conried were occasionally seen along with new regular Rosie Greer as Danny Williams' new pianist.
Old school guest stars like Lucille Ball and Bob Hope turned up most weeks which gave the series a Here's Lucy feel, that show was a top ten hit on CBS. Despite a strong timeslot, airing between Courtship of Eddie's Father and Room 222, the series seemed hopelessly outdated and was pulled before the end of the season.
Here's the fall preview:
And here's the Make Room For Granddaddy theme song, notice the 'modern' graphics.
Danny Thomas did a little bit better (but not much) on another network, NBC, with The Practice which limped into a second season before being axed after 13 episodes.