MAKE ROOM FOR GRANDDADDY
by Billy Ingram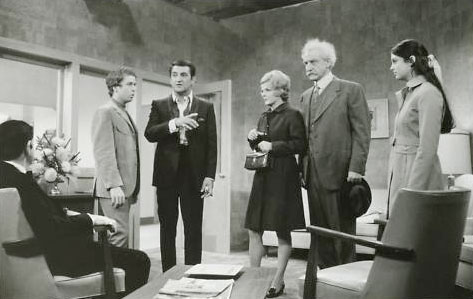 1970-71 ABC Sitcom
Make Room For Granddaddy was one of the rare times a long-running television program returned to primetime. The original, Make Room For Daddy aka The Danny Thomas Show, ran for 11 years, 1953-1964, first on ABC then on CBS.
The success of Make Room For Daddy on CBS no doubt helped persuade ABC to greenlight a sitcom starring Thomas' daughter Marlo, a TV unknown. That Girl debuted in 1966 and, though the breezy comedy never finished in the top 25, it was a was a comparative hit for a network in dire need of a popular programs.
HERE'S A SAMPLE OF THAT GIRL FROM THE FINAL SEASON. HOW CAN YOU TELL? IT'S THE ONLY SEASON THAT HAD LYRICS ADDED TO THE THEME SONG.
READ ABOUT MAKE ROOM FOR GRANDADDY HERE!

MAKE ROOM FOR GRANDDADDY
Cast of MAKE ROOM FOR GRANDDADDY:
Danny Thomas ... Danny Williams
Marjorie Lord Marjorie Lord ... Kathy Williams
Angela Cartwright Angela Cartwright ... Linda Williams
Michael Hughes Michael Hughes ... Michael Wilson
Rusty Hamer Rusty Hamer ... Rusty Williams
Sid Melton Sid Melton ... Charley Halper
Amazon Prime - unlimited streaming
of your fave TV shows and movies!
Get your FREE 30 Day Trial!
PR4 & PR5 Pages for Advertising