When Lucy Got Fired

It's a common theme in life, getting fired from a job leaves you devastated but just around the corner is great success that would have passed you by had you not kept going. This was a story Lucille Ball claims to have never told before. Her daughter Lucie Arnaz is also on the panel of this Dick Caveat interview, it's clear she had never heard this story before.
Cast in one of Florenz Ziegfeld's vaudeville extravaganzas at the tender age of 16, Lucy was cut after 5 days of rehearsal, the longest she'd ever held a job.
"I had already written home and told everybody I was a Ziegfeld girl, " Lucy says. "It sounded great in Jamestown, New York. I was out, out on the street, literally, even the theater's gone now. I was right out there on the street, wherever the Ziegfeld Theater was. And I was crying, I just wouldn't leave the area, wouldn't leave the premises. Everybody else had gone home but I just stood there crying."
That's when she decided to throw herself in front of a limousine that fortunately wasn't traveling very fast. Otherwise, Lucy would have lost out on a mighty fine career in the movies, radio, on Broadway, as well as conquering television.
BONUS: Here's an entire Merv Griffin Show devoted to Lucy. This show aired in August of 1981, featuring not only Lucille Ball but her fabled I Love Lucy writers, Bob Carroll Jr. and Madelyn Pugh.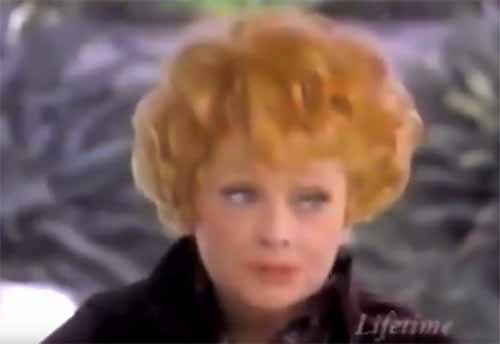 Lucille Ball and
Barbara Walters Interview
"I'm not sure that I want to
be without some lack of confidence. If you are too sure of yourself, you don't grow. You may feel confident in some things, but other fields come up as a challenge. And if you don't anticipate trouble, you will be in trouble."
- Lucille Ball