'TVparty is hands down the best site on the Web for classic TV.'
- Discovery Channel
Past TV Blog Entries: RESCUE KITTY GOES NUTS! /Filthy Rich / Police Squad / Christmas Blog / Lost Christmas Specials of the 50s & 60s / 1970 TV Shows / Strother Martin / Joya Sherrill / Super Circus / 1950's The Big Show / Saturday Morning TV Memories / Hilarious Outtakes / The Smothers Brothers Revisited/Thanksgiving TV Shows / Thanksgiving Day Parade TV History / Thanksgiving TV Cartoon Specials of the 1970s /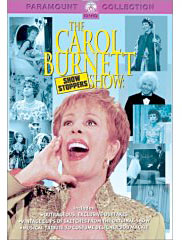 Classic TV
shows on DVD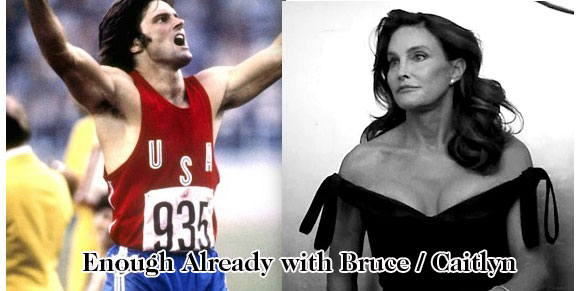 by Jim Longworth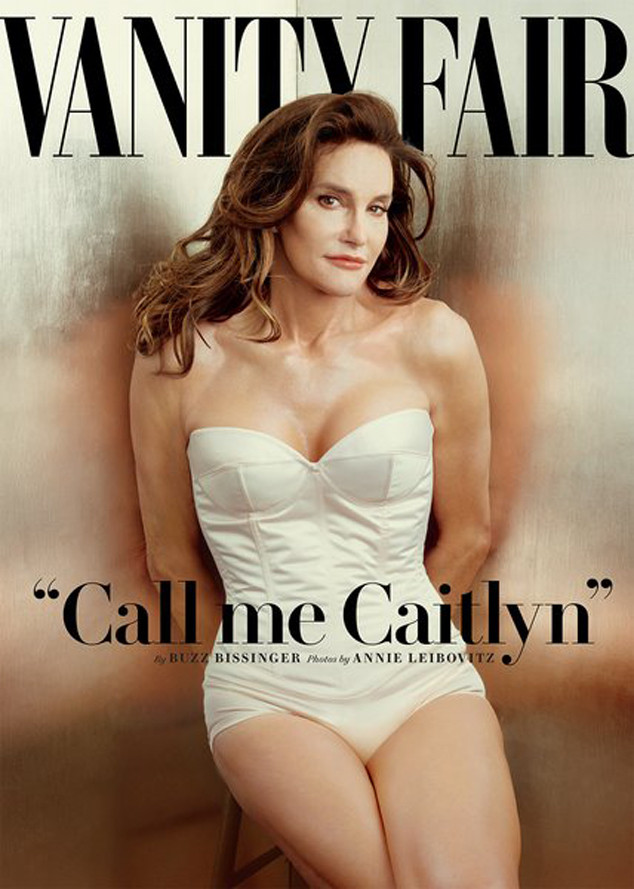 Back in 1976 Bruce Jenner's likeness was everywhere. He was on magazine covers, cereal boxes, and posters, and appeared on talk shows, variety shows, and in movies. Having just won the Olympic gold medal in the Decathlon, and named as the AP's Male Athlete of the Year, Jenner was a sports hero of the highest order, and the attention heaped upon him was well deserved. Today nearly forty years later, you can't look anywhere without seeing Jenner's image again, only this time around, he's in the news BECAUSE of his likeness, and not because of an outstanding achievement.

In those intervening four decades, Jenner hooked up with the Kardashian Klan and learned first-hand from wife Kris and step daughter Kim how to orchestrate, manipulate, and sustain an outlandish event then turn it into a cash cow. For Kris and Kim it was a sex video. For Bruce it was slowly transforming into what he refers to as a woman, and calling himself Caitlyn. I have resisted writing about the Jenner story for three reasons. I didn't want to further legitimize the Kardashian circus machine which so enthralls the American public. I didn't want to be labeled "transphobic." And I didn't want to disrespect those who have struggled quietly to become transgender. But after the ESPY's gave Bruce/Caitlyn the Arthur Ashe Courage Award earlier this month, I could no longer sit back and stay silent.

First of all, there is nothing courageous about a multi millionaire, hen pecked White guy taking hormones and wearing a dress for Vanity Fair. Even worse is that the politically correct ESPY crowd (most of who probably never met Arthur Ashe), passed over some very deserving people with real courage to honor Bruce/Caitlyn. I'm sorry, but I find the whole thing to be a disrespectful publicity stunt that dishonors Mr. Ashe's memory.

I was fortunate to spend a Saturday afternoon with Arthur back in the Fall of 1988. Some mutual friends of ours, Drs. Sandra and Stephen Vaughan, were hosting a private party to celebrate the publication of Arthur's groundbreaking trilogy, A Hard Road to Glory, and it was a chance to honor the man and his achievements. We all knew that Arthur had undergone heart surgery several years earlier, but none of us knew that the great humanitarian had contracted AIDS from tainted blood used during his operation. In fact, as best I can recall, Arthur himself had only learned of his fate a month or so prior to our meeting. Anyway, about a half hour before the party, a knock came at my office door. It was Arthur. He had just gotten off the interstate, and wanted to make sure he had the correct directions to the Vaughan's house. He was quiet and soft spoken that day, which was par for the course for Arthur. But he also seemed a bit distant and sullen, and that was not normal for the tennis great. I gave him directions, then followed in my car to the event. Several years later we all learned why Arthur was overly quiet that day. Hell, he was probably still in shock. His plan was to keep the AIDS diagnosis private, but, faced with being outed by a journalist from USA Today, Arthur finally and reluctantly went public in 1992.

It wasn't the first time Arthur had dealt with adversity. Forty years earlier Ashe had been denied access to the Whites-only city tennis courts in his hometown of Richmond, Virginia. He spent the rest of his life fighting racism, even to the point of being arrested for protesting apartheid. Overcoming racism took one kind of courage. Facing a horrible death took another kind of courage altogether.
Ashe had both kinds.

Some columnists and commentators have speculated that, were he alive today, Arthur would embrace Bruce/Caitlyn's "courageous" transformation, but I disagree. Arthur didn't suffer fools, frauds, or showboats lightly. Jenner is first and foremost a celebrity in the Kardashian mold. He is not a hero. He is not a role model, and he is certainly not courageous. Lauren Hill was courageous. She died in April at age 19 after playing basketball while battling cancer. Noah Galloway is courageous too. He competes in adventure runs despite having lost an arm and a leg in Iraq. Either Lauren or Noah would have been fitting recipients of the Arthur Ashe Courage Award. But then, neither of them was a millionaire showman like Bruce/Caitlyn.

And lest you think mine are the ramblings of an old, out-of-touch heterosexual guy, be advised that even some in the LGBT community are none too pleased with Bruce/Caitlyn's grandstanding either. They point out that, unlike most of the estimated 700,000 transgender people in America, Jenner hasn't lived with the fear of losing a job, being beaten up at work, or denied opportunities to support a family.

I can't possibly know what it's like to overcome racism, and thus far I don't know what it's like to face a death sentence, so I suppose I don't really know what courage is. But I sure as hell know what courage ISN'T, and that's posing for Vanity Fair.

---
Jim Longworth is a television talk show host, columnist for YESWeekly, and author of the TV Creators series of books for Syracuse University Press
Hit Shows of the Seventies: Hitchhiker's Guide to the Galaxy / Gene Roddenberry in the 1970s / 1977-1978 Superhero & Science Fiction TV Shows / Funniest SNL Skit Ever! / Prisoner: Cell Block H / Why John Amos Left Good Times / Reviving Match Game / How Betty White's 'Happy Hommaker' Came About / Remembering Cindy-Williams / Creating The Rockford Files / TV Dads Talk Sex & Fatherhood / TV Shows We Watched 50 Years Ago / How Maude Came About / Rare Audio of Bette Davis' Broadway Bound Flop 'Miss Moffat' / Orson Welles' Last Interview / Remembering Ed Asner / Bruce Vilanch on Writing for Donny & Marie / Writing For Fernwood 2 Night / Kris Kristofferson vs Barbra Streisand on A Star Is Born? Kinda... / Remembering Gavin MacLeod / Cher Reviews Her Iconic Outfits Since 1965 / Best Columbo Episodes / Star Maidens Sci-Fi Series / Interview with Cindy Williams (Lavern & Shirley) / One of the Most Controversial Episodes of All In The Family / Outside Chance / The Night Johnny Carson Broke Down / Gavin MacLeod on His MTM Castmates / Norman Mailer & Muhammad Ali / Charles Nelson Reilly Flops on Broadway / Chuck Norris vs Eva Gabor / Dear Detective / Dirty Sally / The Protectors / Chevy Chase Talks Hollywood Cocaine Parties / 1977 Season Show Openings / Love Boat's Oscar Winning Guest Stars / Henry Fonda's 4 Favorite Films / Tom Snyder Interviews Star Trek Cast & Harlan Ellison / The Corner Bar / Tim Conway's 'The Dentist' Sketch / Henry Winkler on His Happy Days Audition / Patrick Duffy of Dallas Interview / Time Express / Wonder Woman Leaves Paradise Island / 1972-73 TV Season / George Burns on the Carson Tonight Show in 1989 / Best Season of Dallas Ever? / Cloris Leachman Remembered / Ken Berry Interview / Why Barney Miller Ended / Vivian Vance Almost Joined the Cast of Rhoda / Marilu Henner Talks About Andy Kaufman / Cher on Mike Douglas 1979 / TV Show Book Tie-Ins / 1972 Jackie Robinson Interview / Dr. Strange 1978 TV Movie / Kathy Garver Interview / Space: 1999 / Paint Along with Nancy Kominsky / Mary Kay Place Albums of the 1970s / The Supremes - Mary Wilson vs Diana Ross / When Bruce Dern Killed John Wayne / 1974 Tom Snyder Our Gang Special / Remembering Ken Berry / Bruce / Caitllyn Jenner? / Billy Crash Craddock Interview / Melissa McCarthy Almost Quit Acting Days Before Landing Gilmore Girls / Bar Rescue's Wildest Customers! / TV HITS - By the Numbers / Alex Baldwin On His TV and Film Roles / Ray Charles' BIG Problem With TV / Top Ten Sitcoms of the 1970s / James Cameron Made No Money for Titanic / Growing Up In The Playboy Mansion / Ed McMahon Drunk on the Air! / Lucy Interviewed by Barbara Walters / Valerie Harper Cancer / Jeff Bridges Breaks Down His Iconic Roles / Dallas vs Eight is Enough / 1974 MAD Magazine TV Special - Never Aired! / Iconic M*A*S*H Restaurant Coming To Kroger? / When Lucy Got Fired / Partridge Family and Brady Bunch at Kings Island theme park 1972-73 / Awkward Talk Show Moments / Allan Blye Interview / Jack Benny's Last Tonight Show 1974 / Patricia Heaton's Audition for Everybody Loves Raymond / Ed Asner Interview / Norm Macdonald vs OJ Simpson / Tony Kornheiser Interview / Freddy's Nightmares TV Series / Emmy Award Multiple Winners / Nathaniel Taylor aka Rollo Lawson / Mary Kay Place Albums of the 1970s / That Girl & TV's Single Working Women / Can You Identify These Stars? / Betty White vs Joan Rivers / Paul Lynde's Greatest Hollywood Squares Zingers / Sonny Comedy Revue / Star Trek Animated / Dark Shadows / Hal Linden Interview / Dark Shadows Movies / Dark Shadows Novels / The Night Stalker / One of the Funniest Carol Burnett Show Skits Ever / Fred 'The Hammer' Williamson / Johnny Carson interviews Lucille Ball / Dawn Wells / Betty White : An Appreciation / Bette Davis' 2 Best Interviews 1971 / Barbara Eden Interview / Gavin McLeod / Spider-Man 77 / The Next Step Beyond / The Music Dark Shadows / 1970 TV Shows / Mike Connors Remembered / Mike Wallace, Virginia Graham & Jim Longworth / Dick Clark / Woody Allen Hosts Tonight Show 1971 / Carson Tonight Show / Alan Alda Interview / Jackie Gleason Show / 1973 TV Shows / Thriller / Post Modern Sitcoms / Elvis in Greensboro / Remembering Dick Van Patten / TV Dating Shows / The Jacksons TV Show / Fall Previews of the 70s / Lance Link, Secret Chimp / Star Wars Holiday Special / Alias Smith and Jones / 1977 Year in Review / Top Ten 1970-76 / The Rockford Files / All in the Family / Sam Hall (Dark Shadows) Interview / Actor Ed Nelson / Death of Archie / Battlestar Galactica / Wonder Woman / Network Jingles / Class of '74 / Happy Days / Good Times / Mr. Bill / Dinah! / Maude / Doris Day Show / Pamelyn Ferdin Interview / The Bicentennial Minute / Jingles & Catch Phrases of the 1970s / Early Cable TV 1970s / TV commercials for Women / TV Moms / Red Skelton / George Lindsay / Country Music TV Shows of the 1960s & 1970s / Betty White Show / / Tom Bosley / Rodney Dangerfield / How Sanford & Son Ended / Sanford & Son Spin-Off Grady / Great Memoirs / Virginia Graham Show / The "N" Word on TV / 10 Classic Comedy Routines You Have To Laugh At Before You Die / Hollywood Squares / 1970's Teen Idols & The Hudson Brothers / TV Stars with 3 Hit Shows / The Rookies / Unsold Pilots / Jackie Cooper / The Good Guys / Match Game / Make Room For Granddaddy / Mannix & Gail Fisher / Bette Midler in the 1970s / Bonus 1970's Stuff: Silent Star Marion Mack / Biff Burger / 1970s Fast Food Chains / Latin Casino / Beverly Hills Supper Club Fire / 1970's Daytime Talk Shows / The Fess Parker Show / Brady Bunch Sex Dungeon? / Love, Loss & What I Watched
Amazon Prime - unlimited streaming
of your fave TV shows and movies!
Get your FREE 30 Day Trial!
PR4 & PR5 Pages for Advertising