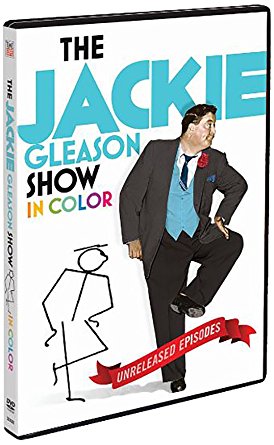 The Jackie Gleason Show In Color / Unreleased Seasons
"And away we go!" back to the 1968-69 season of The Jackie Gleason Show. What makes this new Time-Life release of 4 episodes of Gleason's variety hour so special are the three episodes featuring The Honeymooners - in color and unseen in fifty years.
These are not the hour-long musicals from earlier seasons (1966-68), which I absolutely love, but 20 minute (or so) segments that capped off an otherwise typical musical comedy program of the era.
Starring Gleason, Art Carney, Sheila MacRea and Jane Kean, these sketches are as sharp as ever, filled with the bluster and hilarity that inevitably ensue when Ralph Kramden and Ed Norton apply their innocently warped world view to ordinary circumstances, then are not-unexpectedly hoisted on their own petard.
All of the color Honeymooners are basically (and sometimes almost entirely) recycled scripts from the 1950s but that doesn't lessen the joy one bit. Ralph thinks he's going to die, Ralph forgets Alice's birthday, Ralph sues the bus company - the timeless and enthusiastic performances by these genius comedians make it sizzlingly fresh, even with well-worn plotlines like these. And having a different actress playing Alice offers a new perspective, MacRae has a more laid back persona but is every bit as acerbic as her domesticated predecessor.
From the bombastic opening theme shot from a boat skirting across the water, the lovely models introducing the program, Sammy Spear and his Orchestra, guest stars like Phil Silvers, George Carlin, Nipsey Russell, and Milton Berle - it's colorful entertainment from the golden age of variety television.
In addition to The Honeymooners there are musical numbers (Frankie Avalon, Florence Henderson) and comedy sketches with Red Buttons being featured in many. Sadly, the spectacular opening numbers by the June Taylor Dancers are not included; edited out for music rights I'm guessing? What a shame.
This may be one of the discs from a more comprehensive release of 27 episodes of The Jackie Gleason Show priced at over $100 - if so, I suggest you skip that, they don't have the June Taylor Dancers' numbers either and only 7 total Honeymooners sketches. This $7.00 collection will be the best of the lot, I suspect.
Don't miss this inexpensive collector's item
filled with laughs and love! (Order here!)