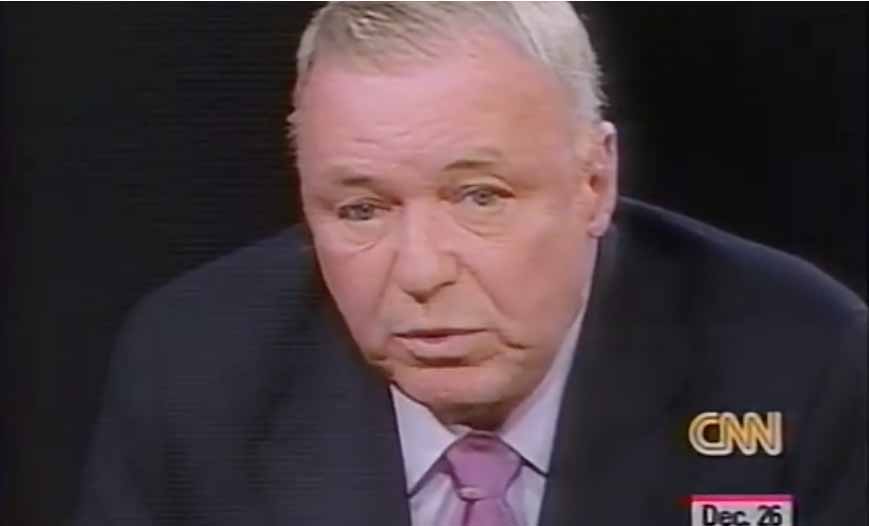 Sinatra's Final Major Interview - Larry King Live - May 13, 1988
by Billy Ingram
Frank Sinatra's last major interview occured March 13, 1988 on CNN's Larry King Live. Sinatra rarely gave interviews but he felt comfortable with King and opened up freely.
The stars always turned out in Las Vegas for Sinatra when he played the Sands or later at Caesars Palace from 1984 through 1987. "He was actually the king of Las Vegas, because the minute he stepped in town, money was here," veteran Las Vegas lounge singer Sonny King, a longtime friend of Sinatra, said. "He drew all the big money people. Every celebrity in Hollywood would come to Las Vegas to see him, one night or another."
In this 1988 interview with Larry King, The Chairman of the Board lays it out plainly as only Sinatra could. Kitty Kelley hadrecently published a scathing expose of Ol' Blue Eyes ('His Way: The Unauthorized Biography of Frank Sinatra') a few years earlier, Frank's take was, "Kiss and tell books, I have another name for people who write those kinds of books and they're pimps and they're whores. Because they can't [make] their own name to make a living properly, they gotta lean on somebody else. And they know nothing about the person for whom they've written, they really don't know, they just read newspaper clips and they write a story."
When asked why he didn't come out swinging after Kelley's book was released Sinatra replied, "With advice from family members and an attorney and so one and so forth... We didn't take a vote but if we had, answering that [book] we] would have lost. I wouldn't have answered it anyway. I hope she had a lot of fun with the money she made by writing a lot of crap that you she wrote about which most of it was anyway."
After Larry King calls him a legend Sinatra replied, "I don't know about legend, everybody's a legend, if everybody was really legend there'd be no normal people in the world, everybody would be be a legend."
"But you know... you're in another ballpark."
"Yeah, I agree with that and there's a very good chance I should've gotten out by now. But I enjoy it."
Asked about his so-called 'retirement' in 1971, Frank said, "I took a hiatus really is what I did, I took about a year and a half and just took it easy. I was tired, my throat was tired, I was tired, and I wasn't thinking clearly enough about what I was doing and I thought I need a lot of fresh air, just get out." A decade and a half later he was still going strong.
Sinatra's long-time drummer Gregg Field recalled what was the beginning of the end for the crooner's career: "It was a night during the December 1993 run at the MGM Grand, in Las Vegas, however, that seemed to spell the beginning of the end.
"Frank's memory and ability to read the teleprompter that evening were so impaired that he would stop mid-song, looking confused and unable to remember the lyrics. Frank knew as well as anyone he hadn't delivered and immediately after the concert summoned his manager, ordering him to give the patrons their money back."
After a concert in Japan in 1994, "That night was the last public performance of Frank Sinatra's career," Field told Vanity Fair. "None of us—not his pals, his musicians, his family, or 30,000 Japanese fans—had any idea we were all witnessing history. Not even Frank."
Frank Sinatra died May 14, 1998.
This interview with Frank Sinatra is 45 minutes of pure Rat Pack gold: