"Never use a big word when a little filthy one will do." - Johnny Carson
Frank Sinatra
with Dean Martin
Edgar Bergen & Charlie McCarthy
Steve Lawrence and Eydie Gorme
How Las Vegas Has Changed Since the 1970s
How Las Vegas Has Changed Since the 1960s
More on How Las Vegas Has Changed Over the Years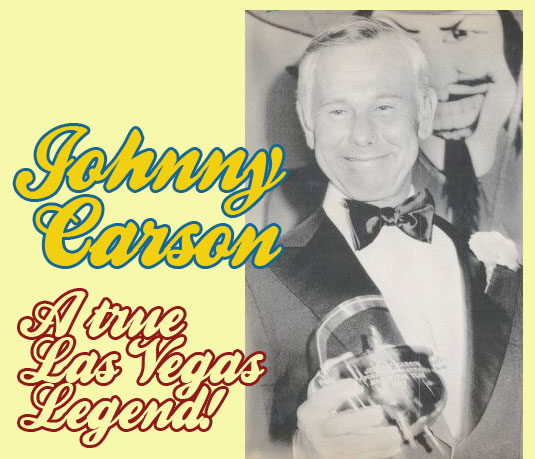 Johnny Carson didn't just rule late night television he was a dominant force on the Las Vegas Strip as well. He played Vegas often and the crowds, especially the folks from the midwest, adored Johnny.
The affable comic began playing Las Vegas in ernest in the 1960s at the Sahara hotel and continued to headline the big room there for 13 years. He liked the area so much he bought a TV station in Vegas.
Sahara Director of Marketing and Entertainment Ron Garrett said about Carson's appearances, "It was the toughest ticket in town. He always filled the room."
"I know a man who gave up smoking, drinking, sex, and rich food. He was healthy right up to the day he killed himself." - Johnny Carson
Here two Vegas giants Dean Martin and Johnny Carson wing it during one of the primetime Tonight show anniversary specials. Another Vegas biggie Buddy Hackett butts in at the end and Johnny seemed miffed but has to hide it.
When he headlined weekends at the Sahara, Carson's contract stated that he had to be in his own Malibu bed by Sunday morning. The Sahara chartered a jet and limo to make sure he got there.
Johnny was married four times leading him to quip, "If variety is the spice of life, marriage is the big can of leftover Spam."

Here's Johnny Carson performing with The Rat Pack, Sammy Davis, Jr., Frank Sinatra, and Dean Martin.
---
Did you know Paul Anka's theme for the Tonight show was based on his instrumental from 1960, Toot Sweet?



Great NEW Oral History about
the end of Las Vegas' golden age!
YOUR GO-GO HOST: Billy Ingram
"If life was fair, Elvis would be alive and all the impersonators would be dead." - Johnny Carson

Punk

- a look at the gay and Punk / post-Punk landscape in Los Angeles in 1980.