"In Vegas, I got into a long argument with the man at the roulette wheel over what I considered to be an odd number." ~Steven Wright
---
Frank Sinatra
with Dean Martin
John Oliver: Las Vegas Is the Worst Place on Earth!
Don Rickles' Last Carson Appearance
Edgar Bergen & Charlie McCarthy
Ernest Borgnine on Frank & Dean
Harlan Ellison vs Frank Sinatra
Demond Wilson on The Dean Martin Roasts, Las Vegas, and Walking Out on Sanford & Son
What Las Vegas Looked Like Under Lockdown
Sammy Davis Jr.'s Home Was Looted!
Very Revealing Interview with Sammy Davis Jr.
Frank Sinatra's Last Major Interview
Drummer Hal Blaine on Recording with The Rat Pack
Donny & Marie Are Calling It Quits
Sinatra's First Palm Springs Home
Phyllis Diller: An Appreciation
Steve Lawrence and Eydie Gorme
How Las Vegas Has Changed Since the 1970s
How Las Vegas Has Changed Since the 1960s
More on How Las Vegas Has Changed Over the Years
MY, HOW THE LAS VEGAS STRIP
HAS CHANGED SINCE THE 1960s
Take a tour of Las Vegas during the Go-Go era!
Las Vegas in the 1960s - a desert boom town, a destination not just for roulette and card games, it was an era of class where everyone dressed to impress on the casino floor, by the pool, or in the glittering showrooms.
This video shows the lovely ladies of the day by the pool and offers a ride down the fabled Las Vegas Strip, home of the world's greatest casinos.
You couldn't help but feel like a winner in the Vegas of the 1960s. Those flashy neon signs and the spectacular architecture was one of the lures. And everything in the city that Blackjack built was affordable, buffets were practically free.
This video is a bit blurry but the Strip can be seen in all its 1960s glory.
TV party loves competitions to win fantastic trips to casino city Las Vegas!... We have found a great online slots website playuk.com which runs monthly competitions for their online casino players.
It wasn't just gambling that attracted the crowds, with the greatest entertainers in the showrooms tourists flocked to see Sinatra, Dean Martin, Elvis and the others superstars that frequented Vegas. In fact, that was the whole idea behind having first rate entertainment... it brought in people in that wouldn't otherwise be in a gambling town.
In 1964 the city saw a boost in attendance when the hit movie 'Viva Las Vegas' sent a single by Elvis Presley to the top of the pop charts. The song was on everybody's lips in the sixties and is still the unofficial theme song of Sin City.
Of course, the sixties was also the heyday of the Rat Pack - Frank Sinatra, Dean Martin, Sammy Davis Jr. and a few others on the side who came and went like Peter Lawford and Judy Garland.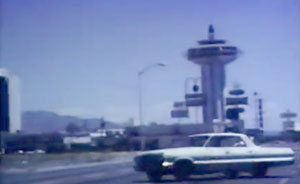 YOUR GO-GO HOST: Billy Ingram
DID YOU KNOW: Las Vegas was first coined by Raphael Rivera, a scout for a New Mexican trading party.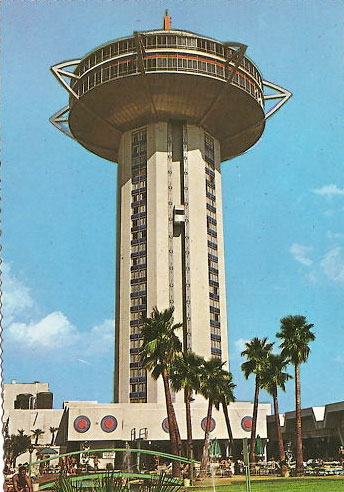 The visually stunning Landmark hotel & casino
---
"A man only appreciates happiness when he gets married, but by then it is too late." - Frank Sinatra