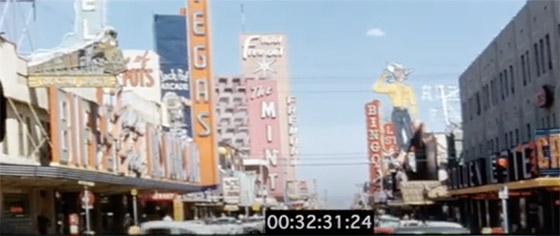 Home Movies of Las Vegas During The Strip's Golden Age
"Good girls go to Heaven, bad girls go to Vegas."
by Billy Ingram
I didn't have the pleasure to visit Las Vegas until the mid-1980s but what I liked about the town was that there were so many recognizable landmarks that existed in the 1950s and 1960s, the heyday of The Rat Pack ruling Sin City. While Dean Martin, Sammy Davis, Jr., and Frank Sinatra still performed in Vegas in the 1980s, it just wasn't quite the same vibe but the echoes were there.
A frequent visitor to Las Vegas in the 1950s would easily know their way around The Strip thirty years later.
That is certainly not the case today, I miss the quaintness of the Vegas Strip that stood in stark contrast to the fast paced world of roulette wheels and high stakes card games.
So here are some home movies shot by various tourist visiting the glamorous Las Vegas Strip in earlier years. When Linette Lopez said, "Las Vegas is like being inside a trashy-fun snow globe" this is what she was referring to.
The Vegas Strip in 1955:
Las Vegas in 1957:
Another look at the Strip a few years later in 1964:
Beautiful 16mm footage of Las Vegas during the golden years of the 1960s both during the day and at night: