"I knew I was an unwanted baby when I saw that my bath toys were a toaster and a radio."
- Joan Rivers

MORE LAS
VEGAS LEGENDS:
Frank Sinatra
with Dean Martin
Edgar Bergen & Charlie McCarthy
Donny & Marie Are Calling It Quits
Phyllis Diller: An Appreciation
Steve Lawrence and Eydie Gorme
How Las Vegas Has Changed Since the 1970s
How Las Vegas Has Changed Since the 1960s
More on How Las Vegas Has Changed Over the Years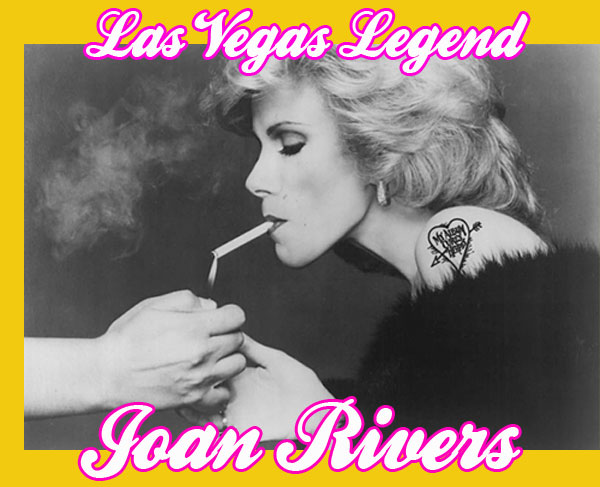 Pioneering Female Comic!
by Billy Ingram

"I hate housework! You make the beds, you do the dishes and six months later you have to start all over again."
- Joan Rivers
Joan Rivers was the first of the female comedians to break through and earn worldwide acclaim. She made her reputation on TV talk shows like Tonight starring Johnny Carson but it was in Las Vegas that she ruled the roost. Here are some great Joan Rivers routines to start you laughing!
Joan got a big break when she was asked to do The Ed Sullivan Show, here's a 1967 appearance:
Here is more early Joan Rivers standup from The Hollywood Palace:
By the 1970s Joan Rivers had honed a tight and hilarious act. Thanks to nighty appearances in Las Vegas she could show up for a TV show taping with her own material ready to go.
"I don't excercise.
If God had wanted me to bend over,
he would have put diamonds on the floor."
-Joan Rivers
JOAN RIVERS
YOUR GO-GO HOST: Billy Ingram

Punk

- a look at the gay and Punk / post-Punk landscape in Los Angeles in 1980.