Flip Wilson: "Lola, do you have a boyfriend?"
Lola Falana: "No."
Flip:" Maybe it's because you use too many four letter words. Like don't, can't, won't."

MORE LAS
VEGAS LEGENDS:
Frank Sinatra
with Dean Martin
Edgar Bergen & Charlie McCarthy
Steve Lawrence and Eydie Gorme
How Las Vegas Has Changed Since the 1970s
How Las Vegas Has Changed Since the 1960s
More on How Las Vegas Has Changed Over the Years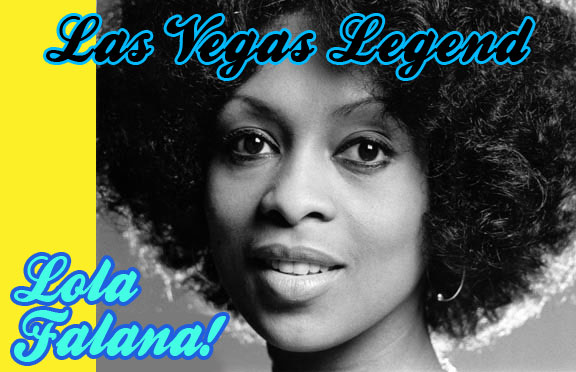 Pioneering Vegas Female Triple Threat Entertainer!
by Billy Ingram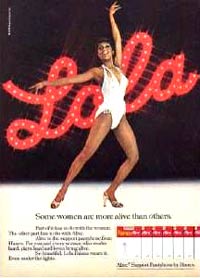 Lola Falana. This one woman blast of dynamite ignited the stages in Las Vegas and Lake Tahoe, a multi-talented beauty that attracted high rollers searching for entertainment of the highest order. So much so she was billed as "Miss Las Vegas" on the casino marquees
A protege of Vegas legend Sammy Davis Jr., Lola got her start on Broadway, later migrating with Sammy to the West Coast where she found success on television.
But it was her electrifying Las Vegas show that really set the public's heart afire. She danced as well as she sang... and her voice was soulful and sexy. Her sleek look was crafted by Bob Mackie, famous for his gowns for Cher.
Here is the lady singing 'Sunny' in Spanish:
Las Vegas, and gambling centric entertainment in general, has changed drastically since the 1970s. It used to be a person had to travel to one of just a very few locations to participate. No more! Canadian flash casino download is one example of a modern alternative. Sure, the live entertainment in that case is all about the games. But that's why most folks migrate to online locales like Vegas Palms online casino. In fact, with a few execeptions, most big name enteertainers no longer feel at home in Las Vegas, Lake Tahoe or even Monte Carlo. Television instead became their refuge.
Lola was a popular guest star on network and syndicated variety shows. Here she is from Sha Na Na in the 1970s.
Lola! was a series of four ABC specials seen during January and March of 1976, produced by Allan Blye and Bob Einstein of Sonny & Cher and Smothers Brothers Comedy Hour fame.
LOLA FALANA
One of the greatest entertainers
to electrify the Las Vegas Strip!
YOUR GO-GO HOST: Billy Ingram
June 22, 2017