"I have to be a star like another man has to breathe." - Sammy Davis, Jr.

Frank Sinatra
with Dean Martin
John Oliver: Las Vegas Is the Worst Place on Earth!
Don Rickles' Last Carson Appearance
Edgar Bergen & Charlie McCarthy
Ernest Borgnine on Frank & Dean
Harlan Ellison vs Frank Sinatra
Demond Wilson on The Dean Martin Roasts, Las Vegas, and Walking Out on Sanford & Son
What Las Vegas Looked Like Under Lockdown
Sammy Davis Jr.'s Home Was Looted!
Very Revealing Interview with Sammy Davis Jr.
Frank Sinatra's Last Major Interview
Drummer Hal Blaine on Recording with The Rat Pack
Donny & Marie Are Calling It Quits
Sinatra's First Palm Springs Home
Phyllis Diller: An Appreciation
Steve Lawrence and Eydie Gorme
How Las Vegas Has Changed Since the 1970s
How Las Vegas Has Changed Since the 1960s
More on How Las Vegas Has Changed Over the Years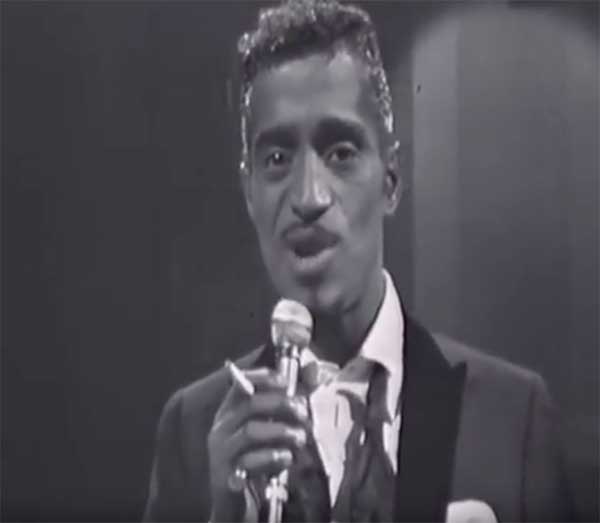 Sammy Davis Jr. Story
Sammy Davis, Jr. earned millions of dollars as a recording artist and Vegas headliner yet he died broke, lived most of his life supporting family members and gambling away his fortune. He had to be working and earning constantly to satisfy his creditors.
He got his start as an entertainer as a toddler and never stopped singing and dancing, all the way up into the upper echelons of show business, as a member of the legendary Rat Pack with Dean Martin and Frank Sinatra (see the 1960 original Ocean's 11).
Some say Sammy was the greatest all around entertainer of all time, he could do it all, and I agree.
What a lot of people don't know is that Sammy carried a briefcase with him at all times filled with cash, drugs, and porn. He was a complicated guy. Involved in the Civil Rights movement and yet palled around with Richard Nixon, its fiercest foe.
After reuniting with Frank Sinatra and Dean Martin for one final performance in 1987, Davis toured with Frank and Liza Minnelli internationally. He died in 1990 after doctors found a cancerous tumor on Davis's throat.
Sammy was the recipient of the Kennedy Center Honors in both 1987 and in 2001, he was posthumously awarded a Grammy Lifetime Achievement Award.
On May 18, 1990, 2 days following his passing, neon lights on the Las Vegas Strip were darkened for 10 minutes as a tribute. No star shown so bright.
This documentary, Sammy Davis Jr. - The Kid In The Middle, is one of the best on the subject:
Sammy Davis Jr.'s 60th Anniversary Celebration won the Emmy in 1990 for Outstanding Variety, Music or Comedy.

On Saturday Night Live, Sammy Davis Jr. has been portrayed by Garrett Morris, Eddie Murphy, Billy Crystal and Tim Meadows.
YOUR GO-GO HOST: Billy Ingram
"The success of the Rat Pack or the Clan was due to the camaraderie, the three guys who work together and kid each other and love each other." - Sammy Davis, Jr.