YOUR GO-GO HOST:
Billy Ingram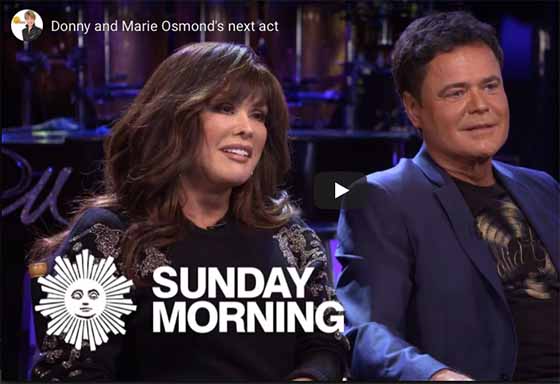 Donny & Marie Are Calling It Quits
Teamed together for a variety show on ABC in the 1970s, Donny and Marie Osmond have been performing together ever since. In fact, they are one of the top draws in Las Vegas. They've starred on Broadway, as talk show hosts together, and recorded LPs. But after forty years they are each going forward as solo acts.
After an appearance Thursday on "Good Morning America," Donny and Marie took to social media to officially announce that their long running Las Vegas engagement is ending in November. "We never expected our 6-week run to turn into 11 years, but we're so glad that it did. This is a very bittersweet decision for us, and it's difficult to adequately express my gratitude for our Vegas chapter."
Marie tweeted: "Thank you from the bottom of our hearts. Come see us @FlamingoVegas before the year is up!" You may purchase tickets to the remaining shows at the Flamingo Las Vegas.
The siblings haven't announced why they're ending the show, The Los Angeles Times reported. "Donny and Marie have made an incredible impact at Flamingo Las Vegas," said Damian Costa, vice president of entertainment operations at Caesars Entertainment. "We are honored to have been the home to such an iconic duo and their unwavering talent on stage night after night for more than 10 years."
In the meantime, Donny, who turns 62 in December, will focus on a new solo album with all original songs he's writing while Marie joins the daytime gabfest 'The Talk' on CBS.
Here Donny & Marie discuss why they're ending the act, at least for now:
Tickets for the final 2019 performances are on sale now:
• April 9 – 13, 16 – 20, 23 – 27, 30
• May 1 – 4, 7 – 11, 14 – 18, 21 – 25
• June 4 – 8, 11 – 15
• July 1 – 3, 5 – 6
• Aug. 20 – 24, 27 – 31
• Sept. 2 – 5, 7, 10 – 14, 17 – 21, 24 – 28
• Oct. 1 – 5, 8 – 12, 15 – 19, 29 – 31
• Nov. 1 – 2, 5 – 9, 12 – 16