Jerry Vale Studio albums
I Remember Buddy (1958)
I Remember Russ (1958)
The Same Old Moon (1959)
Jerry Vale's Greatest Hits (1961)
I Have But One Heart (1962)
Arrivederci, Roma (1962)
The Language of Love (1963)
Be My Love (1964)
Till the End of Time (1964)
Christmas Greetings from Jerry Vale (1964)
Have You Looked Into Your Heart (1965)
There Goes My Heart (1965)
It's Magic (1966)
The Impossible Dream (1967)
Time Alone Will Tell and Other Great Hits of Today (1967)
I Hear a Rhapsody (1968)
You Don't Have to Say You Love Me (1968)
This Guy's In Love with You (1968)
Till (1969)
As Long As She Needs Me (1969)
Where's the Playground Susie? (1969)
We've Only Just Begun (1971)
The Jerry Vale Italian Album (1971)
I Don't Know How to Love Her (1971)
Sings the Great Hits of Nat King Cole (1972)
Alone Again (Naturally) (1972)
Love Is a Many-Splendored Thing (1973)
What a Wonderful World (1973)
Jerry Vale's World (1974)
Free as the Wind (1974)
---
Frank Sinatra
Frank Sinatra
with Dean Martin
Edgar Bergen & Charlie McCarthy
Steve Lawrence and Eydie Gorme
How Las Vegas Has Changed Since the 1970s
How Las Vegas Has Changed Since the 1960s
More on How Las Vegas Has Changed Over the Years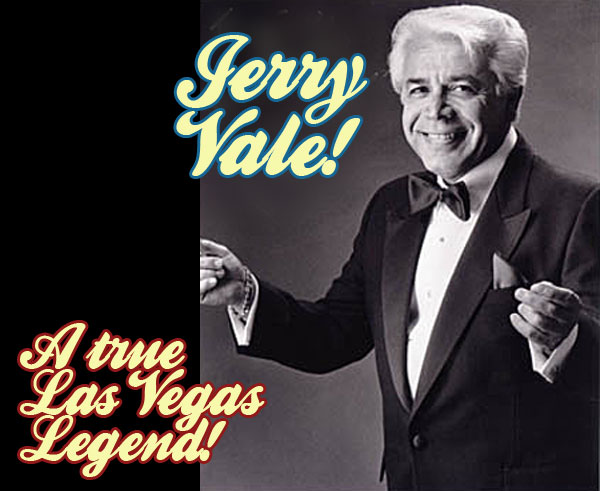 One of the titans of the strip, crooner Jerry Vale packed the houses in Vegas and on the road. He's considered one of the finest Italians singers of all time, his rich tenor bathed each and every song he sang with an authenticity other singers lacked.
Known for his distinctive high-tenor voice, wide vocal range, and romantic crooning, he was most popular in the 1950s and early 1960s. His speciality were Italian love songs and no one sang them better, like this classic Al-Di-La:
Jerry Vale had his own acclaimed TV series in 1972, Jerry's World, which brought Las Vegas entertainment to the small screen. Here's an interview from 1986:
He also made stellar cameo appearances as himself in the 1990 film Goodfellas and the 1995 film Casino, both directed by Martin Scorsese, lending the film an added layer of authenticity.
Jerry Vale passed away in 2014 after many years of retirement in Palm Springs & Las Vegas.

Great NEW Oral History about
the end of Las Vegas' golden age
by Billy Ingram!
YOUR GO-GO HOST: Billy Ingram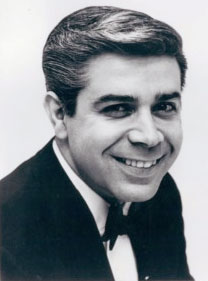 Tony Horowitz, trumpet player for Louis Prima's band 1974-1975: So we hooked up wih various acts when we were doing the summer theater curcuit, whether it was Sergio Franchi, or Jerry Vale or The Golddiggers. It was a wonderful experience being with The Golddiggers. They held forth like nobody's business, they sang, they danced, they were terrific. You're talking the major leagues here.