Edgar Bergen: "Nobody seems to know yet how television is going to affect the radio, movies, love, housekeeping or the church, but it has definitely revived vaudeville."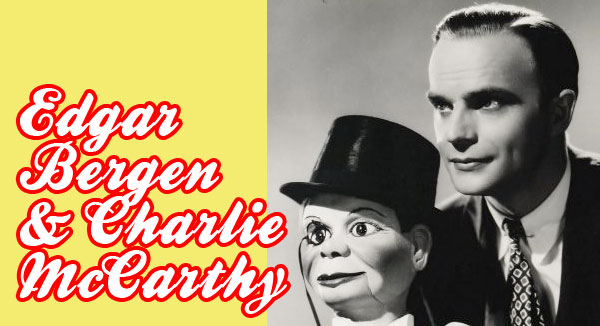 From Vaudeville to radio to motion pictures to the Las Vegas stage!
by Billy Ingram

Edgar Bergen & Charlie McCarthy were a hot commodity on network radio in the 1940s and also starred in a series of motion pictures that did very well at the box office. Having come out of Vaudeville it was only natural that the ventriloquist would take to the Las Vegas stage, which he did for the first time in 1950 when they headlined opening night of the Painted Desert Room at The Desert Inn.
While there are no known filmed Las Vegas performances by Edgar Bergen & Charlie McCarthy, this 1960s Hollywood Palace performance gives us an idea of what the Sin City act might have been like. It was common for performers during that period to use a portion of their stage act for TV appearances.
From Bergen's first network TV guest star turn in 1950...
From a 1960s appearance on The Dean Martin Show...
Here's a TV guest shot from the 1970s to give you an idea of what his characters were like toward the end of Bergen's career and life. He opened at Caesar's Palace in Las Vegas on September 27, 1978, a special farewell-to-show-business engagement. He died three days after the two week run.
And Edgar Bergen's last Tonight Show spot:

EDGAR BERGEN & CHARLIE McCARTHY
---
YOUR GO-GO HOST:
Billy Ingram
"You find out your mistakes from an audience that pays admission."
- Edgar Bergen
---
W.C. Fields: "Well, Charlie McCarthy, the woodpecker's pinup boy!"
Charlie: "Well, if it isn't W.C. Fields, the man who keeps Seagram's in business!"
W.C. Fields: "I love children. I can remember when, with my own little unsteady legs, I toddled from room to room."
Charlie: "When was that? Last night?"
W.C. Fields: "Quiet, Wormwood, or I'll whittle you into a venetian blind."
Charlie: "Ooh, that makes me shutter!"


Punk

- a look at the gay and Punk / post-Punk landscape in Los Angeles in 1980.