LAS VEGAS LEGEND
ELVIS PRESLEY
---
"A live concert to me is exciting because of all the electricity that is generated in the crowd and on stage. It's my favorite part of the business - live concerts." - Elvis
---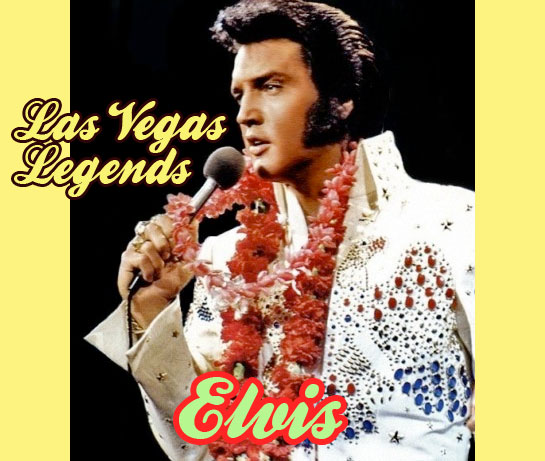 "Man, I really like Vegas." - Elvis
No one pulled the tourist from the hinterlands the way Elvis Presley could. Even in a city as highly charged and lit up like Vegas exploded with a fresh excitement when 'The King' was on the Hilton casino marquee.
Not at first, however. Elvis first hit Las Vegas in 1956 when he played in the Venus Room at the New Frontier hotel. He was just 21 years old. It was another 13 years before he returned to the Sin City, this time at The International hotel in 1969. The response was phenomenal, leading to 837 consecutive sold-out performances over the next 7 years.
Watch this Elvis standard 'Poke Salad Annie' as performed in Vegas in 1970.
More from Elvis' electric live show in 1970, 'That's All right', an audience favorite.
From 2 years later the opening to Elvis' show.
Gospel music was an important element of the Elvis experience, as in this 1973 clip featuring Elvis at his lounge-singing best.
By 1977 Elvis was awash in drugs, though his fans refused to believe it. Compare this version of 'Poke Salad Annie' with the earlier performance.
Another example of Elvis being high on stage:
When Elvis passed away in 1977 one of Las Vegas' native sons was gone... and no one has brought that level of excitement back to the Strip.
"I have no use for bodyguards, but I have very specific use for two highly trained certified public accountants."
- Elvis Presley


ELVIS PRESLEY
LIVE IN LAS VEGAS
YOUR GO-GO HOST: Billy Ingram
---
"People ask me where I got my singing style. I didn't copy my style from anybody."
- Elvis Presley


Punk

- a look at the gay and Punk / post-Punk landscape in Los Angeles in 1980.