'TVparty is hands down the best site on the Web for classic TV.'
- Discovery Channel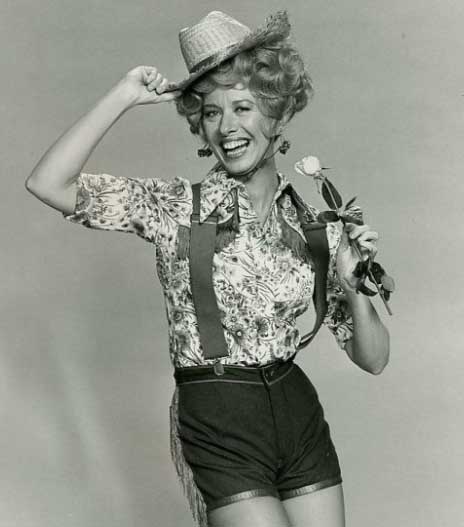 "Kiss my grits" Flo had her own show?
by Billy Ingram
'Flo,' a spinoff of 'Alice' (1976-85), aired on CBS from March 24, 1980, to July 21, 1981 with Polly Holliday reprising her role as sassy Mel's Diner waitress Florence Jean "Flo" Castleberry.
Polly Holiday immediately became the breakout star of 'Alice,' in 1976, much like Fonzie on 'Happy Days,' with her catch phrase "Kiss my grits!" So naturally, after 4 seasons on 'Alice,' CBS decided in 1980 that she could carry her own sitcom
After Polly Holliday left 'Alice' she was replaced by one of the greatest character actresses of all time, Diane Ladd, who played Flo in the motion picture 'Alice' was based on, 'Alice Doesn't Live Here Anymore,' directed by Martin Scorsese.
Ladd was nominated for an Academy Award for her performance in that film so it was somewhat surprising that she chose to basically return to that role on the small screen, her character renamed Isabelle "Belle" Dupree. The actress won a Golden Globe for her performance on 'Alice' but Diane Ladd was dropped from the cast before the end of the 1980-81 season, allegedly due to clashes with other cast members.
Instead of portraying a hash house waitress, as she did on 'Alice,' in this new series Flo was the proprietor of Flo's Yellow Rose, a country-western bar, all the rage in 1980. This was the period of time when 'Urban Cowboy' rocked the box office, suddenly everybody in America was a cowboy/girl, wearing Stetson hats, boots, and tight jeans. 'Dallas,' also on CBS, was hugely popular on TV as well.

The not-very-catchy theme song was sung by Hoyt Axton. One of the recurring elements of the show was the celebrities who entered the diner playing either themselves or some other character including Victor Buono, Robert Goulet, Art Carney, Martha Raye, George Burns, and Jerry Reed.
While 'Alice' was a generally humorous show with hints of pathos, 'Flo' was thoroughly unfunny, with the actors employing annoying nasal twangs that they associated with Southern hicks. Another advantage 'Alice' had was the writing team responsible for Lucy's best shows, from 'I Love Lucy,' 'The Lucy Show,' and 'Here's Lucy.' Which would explain why Desi Arnaz, pretty much retired from TV, appeared in one of the better episodes of 'Alice.'
In one storyline, Sorrell Booke of 'The Dukes of Hazzard' guest starred as Boss Hogg, along with fellow Dukes character Enos (Sonny Shroyer). Vic Tayback made a guest appearance as Mel from 'Alice' but Polly Holliday never returned the favor and didn't appear again on the series that made her famous.
'Flo' was a highly rated program - at first - finishing the 1979-80 season at number 7. But the poor quality of the scripts and atrocious acting drove viewers away. With the entire show centered on her, Flo came off as an unsympathetic character. As a result, the series didn't crack the top 30 for season 2, after which it was canceled.
To this day, Polly Holliday refuses to repeat her catch phrase, "Kiss my grits!"
Theme song to 'Flo'
An episode of 'Flo'
THE EIGHTIES: EARLY EIGHTIES NETWORK PROMOS / TV 1986 / WOODY HARRELSON AS WOODY ON CHEERS / FALCON'S GOLD: CABLE TV'S FIRST MOVIE / BILL & TED'S EXCELLENT ADVENTURES SITCOM / CREATORS & CAST OF IT'S A LIVING THAT HAVE PASSED AWAY / MOST UNEXPECTED MOMENT IN TV HISTORY / NORMAN LLOYD TRIBUTE / ORSON WELLES INTERVIEWS ANDY KAUFMAN / FALCON CREST / 1981 CHARLES GRODIN INTERVIEW / THERE ARE FUNNY EPISODES OF MAMA'S FAMILY - HONEST! / HANGING WITH SEAN PENN 1986 / 1985 GEORGE CLOONEY INTERVIEW! / IT'S A LIVING / EDDIE MURPHY AS JAMES BOND? IT ALMOST HAPPENED! / AUNT BEE'S DYING WORDS TO ANDY GRIFFITH / THE GOLDEN PALACE / MARRIED WITH CHILDREN'S ED O'NEILL & AMANDA BEARSE'S LONGTIME FEUD / PAUL McCARTNEY vs MICHAEL JACKSON / HOW NBC GOT ITS GROOVE BACK / 1980's WCW WRESTLING / ALAN ALDA DISCUSSES THE M*A*S*H FINALE / I WAS ALMOST CUJO IN THE STEPHEN KING MOVIE / 1986-87 TV SEASON / 1988-89 TV SEASON / 1990-91 TV SEASON / 1991-92 TV SEASON / WHY SHELLEY LONG LEFT CHEERS? / JASON ALEXANDER BEFORE SEINFELD / PEOPLE vs JEAN HARRIS / TROUBLED 1980-81 TV SEASON / "KISS MY GRITS" FLO HAD HER OWN SHOW? / CULLY HOLLAND / ONE SEASON WONDERS... THAT GOT RENEWED! / DWIGHT SCHULTZ ON WORKING WITH GEORGE PEPPARD / DEMPSEY & MAKEPEACE / THE BAXTERS / G.L.O.W. / FRIDAYS / GREATEST AMERICAN HERO / Great 1983 Carson Tonight Show / EARLY '80s TV COMMERCIALS / LOST MOVIE POSTERS /RICH HALL /FILTHY RICH/1980's TV WRESTLING STARS / TV DADS / FOX'S JOAN RIVERS / CHEVY CHASE DEBACLES
Flo:
Starring Polly Holliday
Geoffrey Lewis
Jim B. Baker
Stephen Keep
Sudie Bond
Lucy Lee Flippin