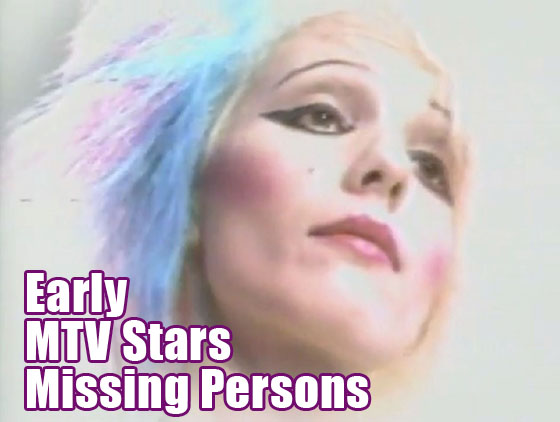 PART ONE : The Beginning
by Billy Ingram
In July of 1981 I watched in horror as Dale Bozzio, lead singer of Missing Persons, stumbled off the stage at the New Florentine Gardens in tears having just endured what no performer ever wants to face and few ever have to—a hostile crowd of punks that booed, hissed, spit and threw pennies.
Before the set I told Chuck Wild, the group's keyboardist, I was worried something of the sort might occur. That was what happened when you sent a power pop band out to open for one of the UK's hardest of the Hardcore, Stiff Little Fingers. Backstage Dale remained inconsolable so Chuck asked if I'd go over to speak to her, tell her what I'd told him. I understood the untrusting look she shot me through a melted mascara rainbow. We'd only met a few weeks earlier when Missing Persons opened for The Suburban Lawns at The Country Club in Reseda. She knew me only as someone who'd written an article about the group's EP and reviewed a show at the Topanga Corral. The guy Chuck was probably fucking (not true).
I told her she had been doomed from the start then accentuated the positive aspects of the night—by the end they'd won over a good portion of the audience, the band's musicianship was undeniable.
Neophytes to the local music scene, Missing Persons didn't want to play these dumps in the first place but it was decided then and there to be more selective about what groups to open for in the future. They needn't have worried. After less than a dozen gigs, with rare and wonderful exceptions, they would never again be the opening act for anyone.
Terry Bozzio, Dale Bozzio and Warren Cuccurullo were all former session and tour musicians for Frank Zappa, heard on classic albums Baby Snakes, Joe's Garage and Shut Up 'n Play Yer Guitar, on songs like 'I Don't Wanna Get Drafted' and 'Catholic Girls.' In 1980 they recorded a four song EP in Zappa's brand new home studio with Ken Scott at the controls. Scott was co-producer of Bowie's seminal works Ziggy Stardust and Aladdin Sane not to mention producing Supertramp, Devo, and The Tubes. Ken was working on spec so he managed Missing Persons as well.
Dale Bozzio's early performances were tinged with a tender vulnerability at odds with her provocative attire, but then the audience wasn't there to see her. The disparate few who turned up to the first gigs were devoted Zappa fans who recognized Terry Bozzio as, arguably, the greatest rock drummer in the world not just for his jams with Zappa but his playing with supergroup U.K. Warren's guitar work on those Zappa LPs was legendary as well. Having Mary from Canoga Park from 'Wet T-Shirt Contest' out front was just icing on the cake.
Dale's bleached blond cotton candy coif with shocks of neon pink and blue had a whip of a braided ponytail that fell in the back. She possessed an oddball taste that proved to be a tremendous influence on eighties' fashion, a decade known for its kooky juxtapositions and startling color schemes. For her early shows she constructed a bikini top with two Plexiglas bowls connected by clear tubing, a silver sliver covering her tits. She had a chic Halston-style bubble wrap jacket to wear over it for those chilly nights, futuristic get ups fashioned from clear plastic and black polyethylene. Her outfits attracted almost as much attention as the music.
Terry Bozzio didn't play the drums he attacked them, magic wands moving in all directions producing the most ferocious roar one can imagine coming from a single human being and his skins. Intensely consumed with performing he was a sincerely friendly guy off stage, never giving off a phony vibe even when glad handing. Terry's hair was reddened and teased, his face pancaked and rouged for an androgenous look, especially when he took his shirt off revealing a hairless swimmer's build. Was he intentionally blurring the lines?
Warren Cuccurullo was every inch a rock star and I say that knowing full well that he posed for Playgirl magazine in 1983. He didn't have to assume the Rock Star Pose, it came pre-installed. Other rocker's eyes pleaded to draw you in, Warren's asked only, "Do you want it? Because if you do, I have it." He was the very embodiment of the new era rocker, giving off a quiet confidence that allowed him to tease the audience, like he could play his modified Vox and fuck you at the same time. That was in direct contrast to the style of the day, lead guitarists desperate to convince you just how hard they were working, like the instrument was robbing them of spinal fluid, with facial contortions more appropriate for silent movie stars. Serious about the music, reservedly cool, Warren was always effusive with a big hug for me backstage. He invented a wild dual necked guitar he played in later shows and his fashion sense was forward—outfits with long coats and tight leather pants that strained against the flesh in all the right places.
The trio recruited seasoned keyboardist Chuck Wild in the fall of 1980 to fill out the group's sound ahead of playing the live clubs. Musically, logistically and spiritually Chuck Wild was key to Missing Persons' initial success in so many ways. Chuck drove the van the equipment rode in as well as being integral to the sound, furiously playing bass lines on one hand and synth melodies on the other. Who does that? Chuck was blessed with a thick mane he could tease to unreal dimensions with a distinctive blond streak slicing through one side. With a stoic nature, master of the machines, Chuck was by far the butchest guy on stage. Ironically.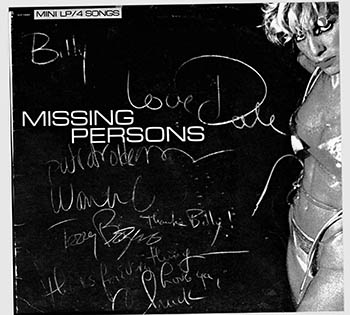 It was Chuck that dropped Missing Persons' EP off at Data-Boy in April of 1981 along with a note inviting me to their show at the Topanga Corral. I thought: "How good could they be playing a Tuesday night at that out of the way hole in the wall?" Then I listened to the record.
Besides contacting me Chuck buzzed the back door of the KROQ studios while Jed the Fish was on the air, he played 'I Like Boys' and 'Mental Hopscotch' from the 45 that night. Within weeks Missing Persons was the most requested group on the station's playlist. 'I Like Boys' was the perfect coda for the gay clubs in the summer of 1981 with lyrics like "People like this, people like that, but I like boys. And boys. like. me. too."
With generous airplay on LA's hottest radio station, K-Rock, Missing Persons' following grew steadily as the summer of 1981 dawned and set. I developed a close friendship with Chuck, both Virgos we had a lot in common. I was fascinated with the process he used to make music. One Christmas I gave him a punch bowl that greatly excited him, he had been looking for the right sound to program into his OBX for a recording session, the ding of the crystal proved to be it. Having served in the Navy Chuck was a great deal more centered than I was. Than any of us, really.
After seeing the group live in the Spring of 1981 in that hilltop shitkicker I was hooked. When Missing Persons took the stage time froze, that level of professionalism and musicianship I'd never witnessed before up close. Thanks to Chuck affixing me to the guest list I followed the group from one decrepit joint to another. It was too good to miss, this supergroup playing rundown 300 capacity dives. I watched as Dale bloomed into a confident performer, evolving from wood nymph into Phaedra.
The band had yet to draw much of an audience but for some reason Terry became obsessed with filming one of their tunes in the spring of 1981 to show club owners and record companies what they were capable of. His drive for perfection in every aspect of the band's production and execution caused him to reject what had been filmed for 'I Like Boys' so they tried again with 'Mental Hopscotch.' His idea was to shoot something as cheaply as possible, then use every out-of-the-box special effects 'filter' available to make it look interesting. This at a time when video special effects ranged from cheesy to headache inducing; basically all you could do was dial up or down the colors, brightness, and contrast.
Captain Ahab with his silly idea that a music video could help an unknown, unsigned band. There was no consumer market for that kind of thing, not while video tape players were in the thousand dollar range. What were they going to do, deliver a VCR with the tapes? Ludicrous.
For the 'Mental Hopscotch' shoot the band constructed a set made from black plastic draped around pylons surrounding the group, accented with scattered offset neon lights. Terry told me they didn't want to come on like any other band so they needed a distinctive stage presence that they could put together quickly, for as little money as possible. This became Missing Persons' new stage setting beginning with four sold out shows over two nights at The Roxy on Sunset Boulevard in November of 1981. A feat they replicated the next month when hundreds had to be turned away at the box office.
Dale's tentative coyness was gone by then, she pushed her way to the front at those Roxy dates, establishing a rapport with an eager audience that reached out like hungry seals. For opening night she was adorned in a mini-skirt made up of four album covers, with two 45s covering her breasts. It was clear from the Roxy stage the band had hit its stride and found their muse.
Standing outside in the enormous loading area behind The Roxy on that drizzly Saturday night, two days after Christmas, I could tell everyone involved was thoroughly exhausted after months of non-stop gigs. Missing Persons was the top nightclub draw in the city now. They burned through places like Perkin's
Palace, The Country Club, and Dillons in Westwood like Sherman's last tour of the South. The group recently undertook a trip to Boston and New York where they taped a live radio concert mixed by Ken Scott and wowed a packed mob on a Tuesday night at The Ritz. I thought back to that disastrous Florentine Gardens debacle—it had been less than six months earlier.
Chuck and I headed out for some late night dinner, Terry even lent us his car and offered to take the equipment home with him. Why Chuck wasn't out tomcatting with groupies was a mystery, I guess he preferred to unwind rather than rewind at times. Although I'm sure we got up to some mischief on occasion, knowing how I was. We used to like to eat at out-of-the way places, my favorite was Numbers on Sunset directly above The Comedy Store, a dimly lit, Fernando's Hideaway type place. It was an upscale hustler hangout where B-level television and movie stars like Merv Griffin, Paul Lynde and Richard Deacon could carouse and be openly gay. (Rumor was Merv got caught in flagrante delicto in the Numbers bathroom with one of the younger tricks.) The food was always excellent. If we were lucky enough to get a coveted seat in the booths around the bar area we could watch the rent boys ply their trade, always entertaining.
The week after the Roxy gigs it was announced that Missing Persons was booked for the Santa Monica Civic, by far the biggest venue they'd attempted. U2 failed to sell out in May but with Persons on the bill three thousand tickets were snatched up within days. At that point the band's upward momentum, however localized, could not be ignored. Still record companies were making meager offers. We'd all witnessed bands being signed then sidelined—The Nobodys, The Pop, The Plimsouls. When I expressed surprise that they hadn't gotten a serious offer Ken confided in me, "It's the only band I spent a year and a half on considering they don't have a deal. The record companies come out and see the band about eight times then they say, 'Yeah but can we hear another tape?' I'm waiting for the band to reach number one then I'll do interviews everywhere slamming record companies. I've been waiting for this for years."
COMING SOON: Part Two
Fame At Last… But At What Cost?