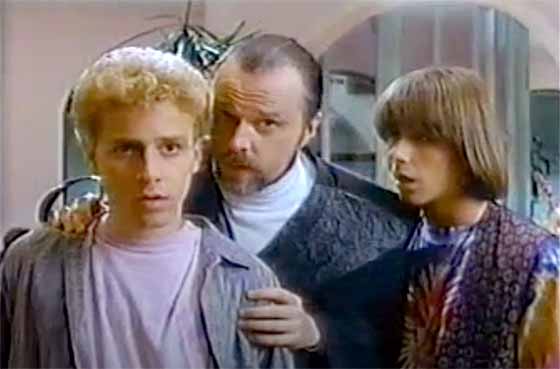 FOX's Awful Bill & Ted Sitcom
by Billy Ingram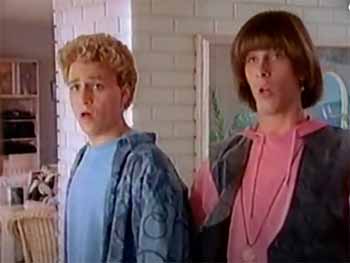 Start with a bad idea. Then seriously miscast the actors, hire the worst writers and producers possible and you've got Bill & Ted's Excellent Adventures, a flop 1992 sitcom on FOX based on the hit movie of the almost the same name.
Not to be confused with the animated Bill & Ted's Excellent Adventures from 1990-92 that featured the original cast voices. Produced by Orion Television, this sitcom was originally announced to be part of Fox's 1991-92 fall schedule. Nelson Entertainment, which produced the "Bill & Ted" movies, keeping it off the airwaves until Bill & Ted's Bogus Journey finished its run at the movie theaters.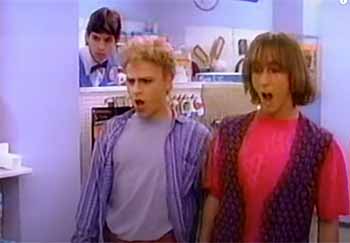 This half-hour comedy was centered around the two slack jawed teens living in San Dimas traveling through time and inevitably messing things up, changing past and future with their bumbling.
Of course, what the "two great ones" are most interesting in is promoting their band, Wild Stallions.
A creepy majordomo type named Rufus (Rick Overton) was sent by phone booth by The Holy Ones to watch over the teens and guide them through their 'most excellent adventures.' Curiously, Rufus is completely the opposite of George Carlin's portrayal in the 1989 movie, not at all humorous.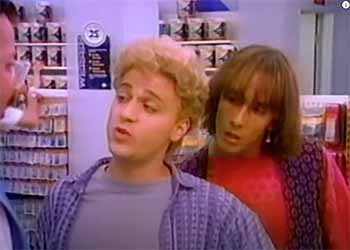 When they aren't time shifting, Bill and Ted are incompetent clerks at Nail World, a hardware store with a stereotypical highly-strung boss.
The original pilot (seen below but never aired) was shot from a teleplay by Darren Star, based on a story by Savage Steve Holland & Darren Star and directed by Andy Tennant. The pilots has its moments, that's some top flight talent, too bad the series doesn't reflect that.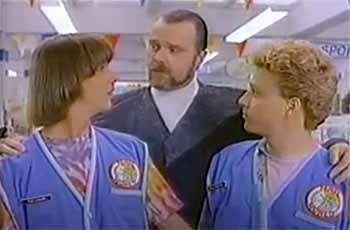 A constant barrage of "Excellent!" and the numerous air guitar poses every episode gets old real quick. No wonder Bill & Ted's Excellent Adventures wasn't picked up in the fall, ending after 7 episodes.
San Dimas High Principal Colleen Gaynes was "not bothered at all" by the depiction of her school in the show. "Their message is not a negative message," Gaynes said. "Their message is that you should be kind to each other.".
Variety said of the Bill & Ted TV series: "Taking two-dimensional teen time travelers and making a movie was a good idea and it made lots of money. Taking one-dimensional teen time travelers and making a weekly series is not a good idea and it's not a compelling enough reason for parents to let their youngsters take over the TV from 60 Minutes reruns." Ouch.
Pretty much sums it up though, see for yourself...
THE EIGHTIES: EARLY EIGHTIES NETWORK PROMOS / TV 1986 / WOODY HARRELSON AS WOODY ON CHEERS / FALCON'S GOLD: CABLE TV'S FIRST MOVIE / BILL & TED'S EXCELLENT ADVENTURES SITCOM / MOST UNEXPECTED MOMENT IN TV HISTORY / FALCON CREST / THERE ARE FUNNY EPISODES OF MAMA'S FAMILY - HONEST! / IT'S A LIVING / THE GOLDEN PALACE / HOW NBC GOT ITS GROOVE BACK / 1980's WCW WRESTLING / I WAS ALMOST CUJO IN THE STEPHEN KING MOVIE / 1986-87 TV SEASON / 1988-89 TV SEASON / 1990-91 TV SEASON / 1991-92 TV SEASON / WHY SHELLEY LONG LEFT CHEERS? / JASON ALEXANDER BEFORE SEINFELD / PEOPLE vs JEAN HARRIS / TROUBLED 1980-81 TV SEASON / "KISS MY GRITS" FLO HAD HER OWN SHOW? / CULLY HOLLAND / ONE SEASON WONDERS... THAT GOT RENEWED! / DWIGHT SCHULTZ ON WORKING WITH GEORGE PEPPARD / DEMPSEY & MAKEPEACE / THE BAXTERS / G.L.O.W. / FRIDAYS / GREATEST AMERICAN HERO / Great 1983 Carson Tonight Show / EARLY '80s TV COMMERCIALS / LOST MOVIE POSTERS /RICH HALL / FILTHY RICH / 1980's TV WRESTLING STARS / TV DADS / FOX'S JOAN RIVERS / CHEVY CHASE DEBACLES