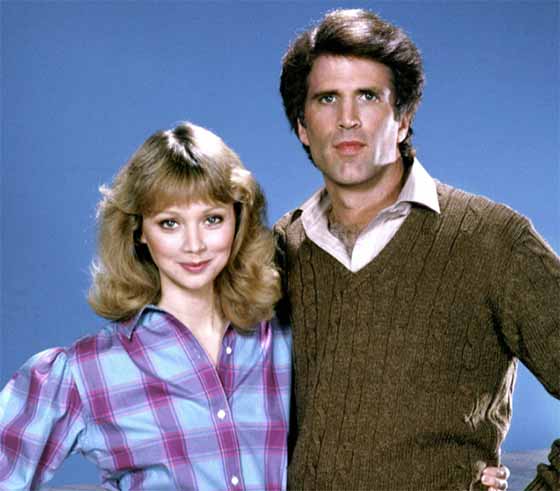 Why Shelley Long Left Cheers?
by Billy Ingram
When Shelley Long announced she was leaving Cheers in 1987, the news sent shock waves around the television community. It's very rare that a leading actor exits a top ten television show when the payoff for staying as long as possible can be huge.
By her fifth season on the hit sitcom Cheers, Shelley Long had won two Golden Globes and an Emmy in 1983:
I was working in Hollywood in 1987, in the motion picture business, as a designer on the posters for her films The Money Pit, Outrageous Fortune, and Troop Beverly Hills. Rumor around town was that the cast of Cheers stroked her ego in order to get her to leave the show in 1987 and pursue a movie career full time (after all, 1986's The Money Pit with another sitcom actor, Tom Hanks, was an unexpected box office smash) because they didn't enjoy working with her.
Is there evidence of that?
Co-star Rea Perlman was asked about friction on the set she said smiling, "Yeah. There was a little but, you know, she left and then we had Kirstie [Alley] and life moved on.
"Doing a sitcom was hard for Shelley," Cheers writer Les Charles remarked. "She's a perfectionist and works really hard on getting a performance down right, as opposed to Ted who enjoys going with it on an instinctive level." When an episode came along that had Sam and Carla in a playful kiss, Shelley broke down in tears in Charles' office. "She said Diane would be destroyed by this. We said Diane isn't in the scene and never hears about it and Shelley said, 'Yes, but I know.' We'd never confronted anything like that before."
On working with Shelley Long, Cheers producer David Lee said, "We would always try to listen to the actors if they were having trouble with something in a script and Shelly was very articulate about what it was that she may have been having trouble with in the script, and she could express herself very well and very clearly and sometimes at length. (Love you Shelly.)"
Lee looks back on the consternation that came after Shelley Long made her decision to leave the NBC hit. "We didn't know what we were going to do," he told the Television Academy. "We didn't know if that relationship [Sam & Diane] was so essential to the success of the show that it just might slip away. We knew we had to find another relationship at the core of the show but we didn't know what it was.
Long's follow-up film to The Money Pit, Outrageous Fortune in 1987, was another hit. Her co-star in that production, Bette Midler, found the Cheers star difficult to work with. Asked on Oprah in 1998 if she would work with Long again, Midler stated, "I don't think so. No, I don't think so. It was pretty rough, it was pretty rough. But she did a good job I think, and it turned out it was a very, very successful film for both of us."
That same year Hello Again did well enough but her next project, Troop Beverly Hills, lost millions. Shelly Long's subsequent motion picture releases tanked so she returned to television for TV movies and a short-lived sitcom Good Advice (1993-94) where she played a marriage counselor.
Shelley Long always insisted she never regretted her discussion to leave Cheers but, tragically, attempted suicide on November 16, 2004 by taking an overdose of painkillers.
THE EIGHTIES: EARLY EIGHTIES NETWORK PROMOS / TV 1986 / WOODY HARRELSON AS WOODY ON CHEERS / FALCON'S GOLD: CABLE TV'S FIRST MOVIE / BILL & TED'S EXCELLENT ADVENTURES SITCOM / CREATORS & CAST OF IT'S A LIVING THAT HAVE PASSED AWAY / MOST UNEXPECTED MOMENT IN TV HISTORY / NORMAN LLOYD TRIBUTE / ORSON WELLES INTERVIEWS ANDY KAUFMAN / EARLY MTV STARS MISSING PERSONS / FALCON CREST / PEE-WEE HERMAN / 1981 CHARLES GRODIN INTERVIEW / THERE ARE FUNNY EPISODES OF MAMA'S FAMILY - HONEST! / HANGING WITH SEAN PENN 1986 / 1985 GEORGE CLOONEY INTERVIEW! / IT'S A LIVING / EDDIE MURPHY AS JAMES BOND? IT ALMOST HAPPENED! / AUNT BEE'S DYING WORDS TO ANDY GRIFFITH / THE GOLDEN PALACE / MARRIED WITH CHILDREN'S ED O'NEILL & AMANDA BEARSE'S LONGTIME FEUD / PAUL McCARTNEY vs MICHAEL JACKSON / HOW NBC GOT ITS GROOVE BACK / 1980's WCW WRESTLING / ALAN ALDA DISCUSSES THE M*A*S*H FINALE / I WAS ALMOST CUJO IN THE STEPHEN KING MOVIE / 1986-87 TV SEASON / 1988-89 TV SEASON / 1990-91 TV SEASON / 1991-92 TV SEASON / WHY SHELLEY LONG LEFT CHEERS? / JASON ALEXANDER BEFORE SEINFELD / PEOPLE vs JEAN HARRIS / TROUBLED 1980-81 TV SEASON / "KISS MY GRITS" FLO HAD HER OWN SHOW? / CULLY HOLLAND / ONE SEASON WONDERS... THAT GOT RENEWED! / DWIGHT SCHULTZ ON WORKING WITH GEORGE PEPPARD / DEMPSEY & MAKEPEACE / THE BAXTERS / G.L.O.W. / FRIDAYS / GREATEST AMERICAN HERO / Great 1983 Carson Tonight Show / EARLY '80s TV COMMERCIALS / LOST MOVIE POSTERS /RICH HALL /FILTHY RICH/1980's TV WRESTLING STARS / TV DADS / FOX'S JOAN RIVERS / CHEVY CHASE DEBACLES