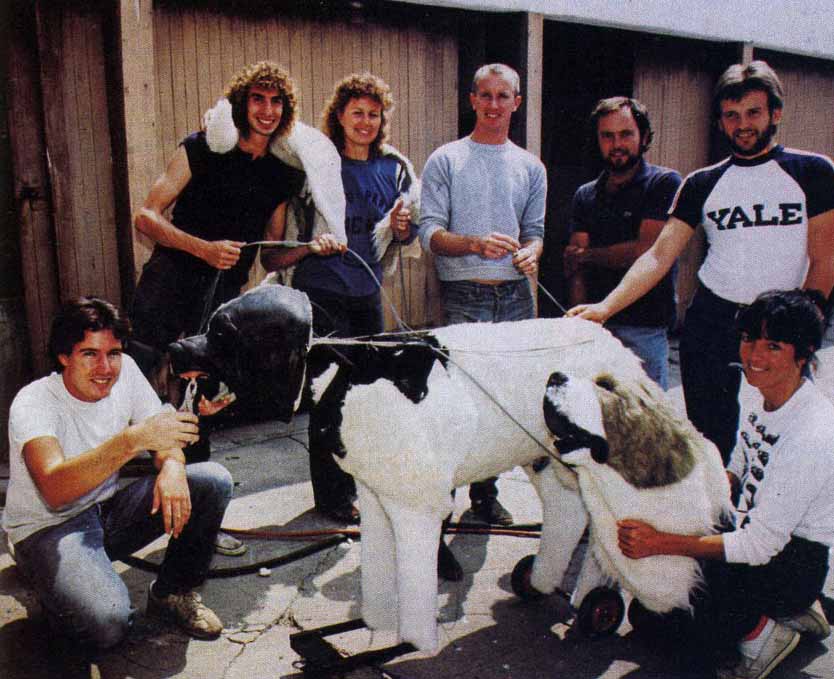 I Was Almost Cujo in the Stephen King Movie
by Billy Ingram
"Once upon a time, not so long ago, a monster
came to the small town of Castle Rock, Maine."
I took a few weeks off work in the summer of 1983 to work with the special effects team on the movie 'Cujo' based on the book by Stephen King. The team was led by Peter Knowlton and the crew consisted of Robert Clark, his wife Kathie Clark, Dave Nelson, Rick Josephsen and G. Lynn Maughan.
I was just their assistant, my main duty was to find the fur that would look like a St. Bernard. And pick up the eyeballs that were made by the folks who make prosthetic eyes, from Cujo's clear eyes in the beginning of the film to diseased and bloody towards the end.
In the photo above I'm the one top left with the over-permed hair. The members of the team have been misidentified elsewhere, Peter Knowlton is actually the guy with the beard in the blue polo shirt. We were cose friends at the time, he was a very funny and talented guy who's personal demons got the best of him.
This was pre-CGI of course, so most of the action scenes of the dog were actually a fully articulated mechanical device made from bicycle parts and plastic coverings over which a fur and rubber mockup of the dog was fitted. In other cases it's a person in a dog suit.
Practically the only time you see a real St. Bernard in the movie were the running scenes, and elsewhere when it was obvious that was an actual canine.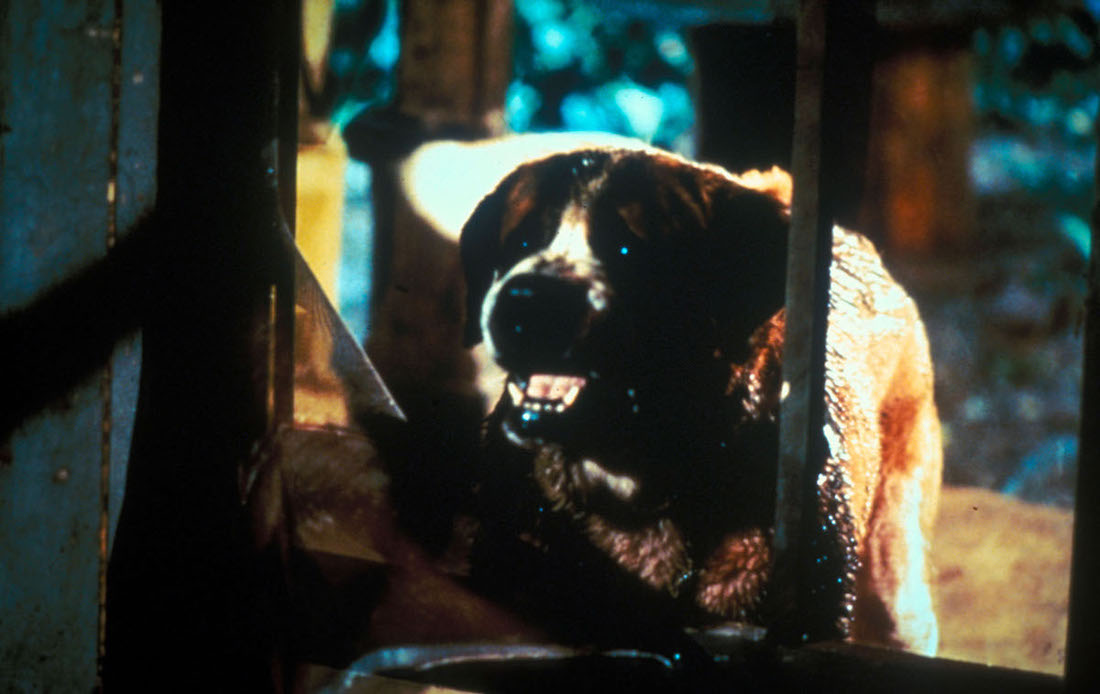 This is fur over bicycle parts. Neat effect huh?
Because that breed of dog are so top heavy they can't stand on their back legs, that's why a suit was made for a person to fit into for those scenes when Cujo attacks the car. They measured one of my shoulders and it was a perfect fit for the furry costume. It was decided that I would accompany the crew to Utah where the movie was to be filmed.
Unfortunately, some time later when they measured both of my shoulders it was discovered I had one wider that the other - so I was out as Cujo. Too bad, as a puppeteer (wearing the outfit and acting was considered operating a puppet I was told) I would have gotten my SAG card and been eligible to act in other motion pictures. Que sera, right?
Peter Knowlton went on to be mechanical effects supervisor for the first 2 'Beethoven' movies and performed a similar function on 'Prince of Tides' in 1991 and 'Flipper,' the aquatic movie adapted from the TV series.
The last time I saw Peter Knowlton was at a private party at the Chateau Marmont around 1991, his brother was managing the place at the time. If I'm not mistaken it was held in the same room where John Belushi died. I designed a web site for Peter in the mid-1990s but, according to IMDB, he hasn't worked since 'Flipper' in 1996.
Peter was doing a lot of coke back when I knew him and it definitely affected his career. Subsequently, I haven't been able to locate him, he may not be alive. There was a new interview with special effects designer Robert Clark [12 mins] included in the Limited Edition Box Set of 'Cujo.'
Stephen King admitted to being in an alcoholic and drugged up stupor while writing his tenth novel 'Cujo' but it is unmistakably one of the better film adaptations from his works.
"It's not a bad book, I just wish I could remember more about writing it," King stated in his non-fiction releae 'On Writing: A Memoir of the Craft'. The story was inspired by a real life event, when King took his motorcycle to a mechanic that lived in the middle of nowhere that owned an enormous St. Bernard.
Janet Maslin in the NY Times wrote about 'Cujo' the movie: "As directed by Lewis Teague, 'Cujo' is by no means a horror classic, but it's suspenseful and scary. The performances are simple and effective, particularly Miss Wallace's. And Danny Pintauro does a good job as the frightened child. All three of the principals have done either commercials or soap-opera work in the past, which perhaps accounts for the all- American blandness that, in a film like this, is almost an advantage."
It was great fun working with that terrific team on 'Cujo' in Peter Knowlton's garage in Silver Lake during that golden summer of 1983, even if I didn't get to portray the lead character in the motion picture. Oh, and I was promised screen credit but that didn't happen either!
Original 1983 trailer for Cujo:
New HD trailer:
THE EIGHTIES: EARLY EIGHTIES NETWORK PROMOS / TV 1986 / WOODY HARRELSON AS WOODY ON CHEERS / FALCON'S GOLD: CABLE TV'S FIRST MOVIE / BILL & TED'S EXCELLENT ADVENTURES SITCOM / CREATORS & CAST OF IT'S A LIVING THAT HAVE PASSED AWAY / MOST UNEXPECTED MOMENT IN TV HISTORY / NORMAN LLOYD TRIBUTE / FALCON CREST / 1981 CHARLES GRODIN INTERVIEW / THERE ARE FUNNY EPISODES OF MAMA'S FAMILY - HONEST! / HANGING WITH SEAN PENN 1986 / 1985 GEORGE CLOONEY INTERVIEW! / IT'S A LIVING / EDDIE MURPHY AS JAMES BOND? IT ALMOST HAPPENED! / AUNT BEE'S DYING WORDS TO ANDY GRIFFITH / THE GOLDEN PALACE / MARRIED WITH CHILDREN'S ED O'NEILL & AMANDA BEARSE'S LONGTIME FEUD / PAUL McCARTNEY vs MICHAEL JACKSON / HOW NBC GOT ITS GROOVE BACK / 1980's WCW WRESTLING / ALAN ALDA DISCUSSES THE M*A*S*H FINALE / I WAS ALMOST CUJO IN THE STEPHEN KING MOVIE / 1986-87 TV SEASON / 1988-89 TV SEASON / 1990-91 TV SEASON / 1991-92 TV SEASON / WHY SHELLEY LONG LEFT CHEERS? / JASON ALEXANDER BEFORE SEINFELD / PEOPLE vs JEAN HARRIS / TROUBLED 1980-81 TV SEASON / "KISS MY GRITS" FLO HAD HER OWN SHOW? / CULLY HOLLAND / ONE SEASON WONDERS... THAT GOT RENEWED! / DWIGHT SCHULTZ ON WORKING WITH GEORGE PEPPARD / DEMPSEY & MAKEPEACE / THE BAXTERS / G.L.O.W. / FRIDAYS / GREATEST AMERICAN HERO / Great 1983 Carson Tonight Show / EARLY '80s TV COMMERCIALS / LOST MOVIE POSTERS /RICH HALL / FILTHY RICH / 1980's TV WRESTLING STARS / TV DADS / FOX'S JOAN RIVERS / CHEVY CHASE DEBACLES