'TVparty is hands down the best site on the Web for classic TV.'
- Discovery Channel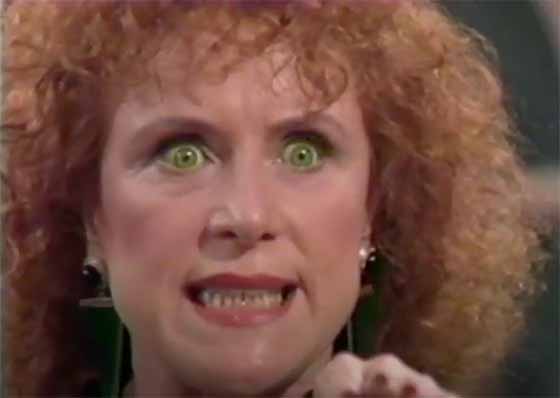 1986-87 TV Season Overview
by Billy Ingram
ABC's Weird 1986-87 Season
A season populated with mega-flops for ABC, both in terms of audience numbers and critical acceptance. Life With Lucy, The Charmings, and Starman being just a few examples.
A science fiction series starring Robert Hays and Christopher Daniel Barnes, Starman was a continuation of John Carpenter's 1984 film of the same name, only set 15 years later. The series aired from September 19, 1986 to May 2, 1987. Very much like Quantum Leap in that the duo meet different people in crisis each week but not as well realized.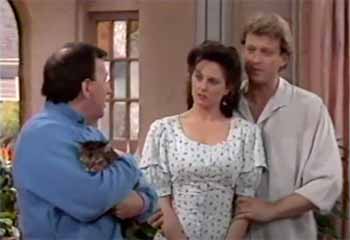 Debuting mid-season, The Charmings was an attempt to take Snow White and Prince Charming and build a domestic comedy around them as a suburban San Fernando Valley husband and wife, complete with wicked stepmother.
Think the last season of Bewitched without the stellar cast and once clever writing. TV Guide called it, "A twisted sitcom take on the Grimm fairy tale." That's being generous.
Our World was a news format type show using archival film and television footage to focus on one period in American history. Anchored by Linda Ellerbee and Ray Gandolf, Our World was created by ABC News president Roone Arledge. ABC hired Ellerbee away from NBC to co-anchor this program. The set resembled a corner news stand, which had mostly disappeared from most cities by 1986. Scheduled against the hugely popular Cosby Show, this hour long production never had a chance but it was an excellent presentation. The first episode examined the summer of 1969 which includes the moon landing, Woodstock, Manson murders, and the Amazing Mets.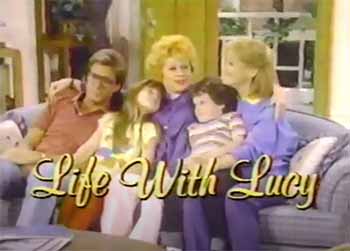 Life With Lucy was a very sad attempt to bring Lucille Ball back to television after her three back-to-back hit shows ended in 1974. It was ill-timed, poorly written, badly cast, and just plain wrong on every level. Ratings for the first episode were great but quickly evaporated when people saw how bad the show was.
Not that it didn't have its moments but the series was built entirely around some calamity happening to Lucy at the end of the episode and she was too old for stunt work. A shame they didn't build a Golden Girls type ensemble show around Lucy. The best episodes of Life With Lucy co-starred John Ritter (as 'Himself') and Audrey Meadows (The Honeymooners) as Lucy's sister.
Debuting mid-season in 1987, Max Headroom is the only American TV show based on a series of ads for Coca-Cola in 1986 which themselves were based on a British TV film called Max Headroom: 20 Minutes into the Future. Renewed for a second term, the series was put on hiatus (basically cancelled) early in the fall season of 1987, returning in May of 1988 for a short time. There were six episodes in the first season and eight for season two.
Harry was a mid-season flop, a sitcom with a great cast though - Alan Arkin, Thom Bray, Matt Craven, Richard Lewis and Holland Taylor. Aired from March 4, 1987 to March 25, 1987.
Commercials from March 4, 1987:
The only show that clicked that was introduced this season on ABC was Head of the Class (1986 to 1991) but the network had many returning dynamos like Dynasty, Webster, Mr. Belevedere, Spenser For Hire, MacGyver, Monday Night Football, Who's The Boss, Moonlighting, Growing Pains, Perfect Strangers, Hotel, 20/20, The ABC Sunday Night Movie, and The Disney Sunday Movie.

CBS's Very Successful 1986-87 Season
Hit shows returning this year on CBS: Cagney & Lacey, a revival of The Twilight Zone, Scarecrow and Mrs. King, Dallas, Falcon Crest, Simon & Simon, Magnum P.I., West 57th, Newhart, Kate & Allie, 60 Minutes, Murder, She Wrote, and Designing Women.
After a hiatus, The New Mike Hammer returned starring Stacy Keach, fresh from his release from prison on drug charges.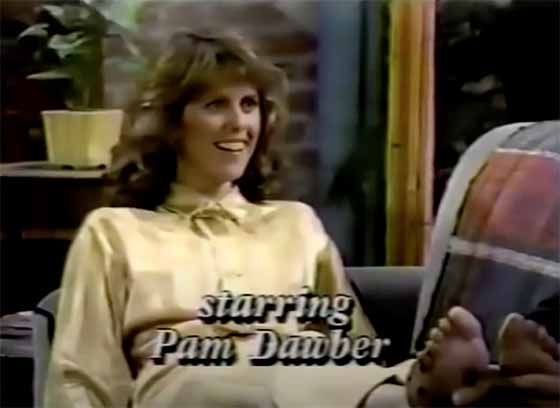 My Sister Sam scored well for CBS, a sitcom starring Pam Dawber from Mork & Mindy. The NY Times wrote: TOP-HEAVY with parent-child generation differences, television sitcoms are now exploring the demographic potential of sibling gaps. CBS's ''My Sister Sam,'' Mondays at 8:30 P.M., offers preppy-ish Samantha Russell, whose comfortable life as a photographer in San Francisco is disrupted -charmingly, of course - when her kid sister, Patti, suddenly arrives from Oregon wanting to become a rock star. Irrepressible, pretty Patti is 16. Finicky, pretty Sam (the juices in her refrigerator are arranged alphabetically) is 29. The difference of 13 years is enough, the producers hope, for a world of laugh-provoking age collisions.
The Cavanaughs starred the very likable Barnard Hughes (Doc) and Christine Ebersole in a heart-warming family comedy where the great Art Carney had a recurring role as The Weasel.
Mid-season cop buddy show that ended in 1988, The Chicago Tribune described Houston Knights as, "another tiresome example of odd-coupled partners-in-peril."
Most of the programs that debuted on CBS during the 1986-87 season were failures: Together We Stand, Better Days, Roxie, Take Five, Kay O'Brien, Nothing Is Easy, The Popcorn Kid, Downtown, Outlaws, The Wizard, and Spies.

NBC's Boffo 1986-87 Season
NBC was sitting on a number of big hits carried over from the previous season like The Golden Girls, The Facts of Life, Hunter, The A-Team, The Cosby Show, Family Ties, Night Court, Hill Street Blues, Highway To Heaven, Gimme A Break, St. Elsewhere, and Remington Steele.
Amazing Stories, a half-hour anthology sci-fi series, returned for a second season despite so-so ratings (ranking 35th during Season 1 and 52nd in Season 2) because NBC promised producer Steven Spielberg a solid two season pickup. Batteries Not Included, a 1987 smash motion picture, was originally developed as a segment for Amazing Stories, but Spielberg decided it had box office potential as a theatrical release instead.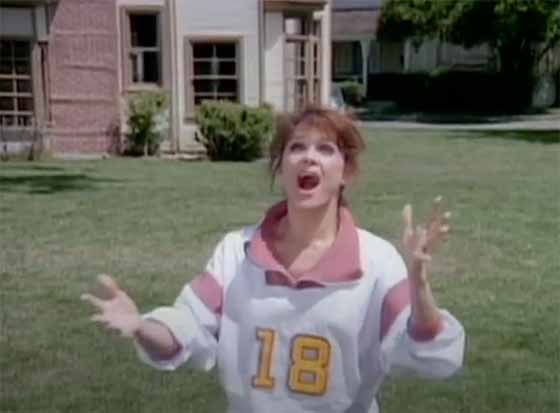 At the end of the 1985-86 season, Valerie brought Valerie Harper back to prime time as a career gal and mother of three. The series was a minor hit but contract disputes between the star and producers led to her character getting killed off after the 1986-87 season.
The first time the word "condom" was spoken on a prime time TV program happened on a 'Very Special Episode' of Valerie this season. The show was renamed Valerie's Family then The Hogan Family when Sandy Duncan took over as Valerie's aunt raising the kids. This sitcom aired for 6 seasons, 5 on NBC before moving to CBS for one term in 1990-91.
Matlock starring Andy Griffith was the hit the actor had been looking for since The Andy Griffith Show left the air in 1968, following a long string of failed series attempts in the 1970s that included Headmaster (1970), The New Andy Griffith Show (1971), Adams of Eagle Lake (1975), Salvage 1 (1979) and The Yeagers (1980). Matlock aired from 1986 to 1992 on NBC then from 1992 until 1995 on ABC.
NBC scored new ratings winners this year including Crime Story, L.A. Law, The Days and Nights of Molly Dodd, Crime Story, Alf, and Amen.Bombs this season on NBC: Our House, Easy Street, Rags to Riches, You Again?, The Tortillas, Nothing In Common (based on the Tom Hanks / Jackie Gleason movie), Roomies, and Sweet Surrender.
-- - -
FOX debuted as a primetime channel in April of 1987 with a single Sunday night lineup featuring 21 Jump Street, Married... with Children, The Tracy Ullman Show, Mr. President starring George C. Scott, and Duet. The night was considered a big hit.
Not nearly as successful was their Saturday night lineup beginning in the summer of '87: Down and Out in Beverly Hills based on the movie (something FOX liked to do), The New Adventures of Baxter Bean, Werewolf, and Karen's Song, all bombs.
---
THE EIGHTIES: EARLY EIGHTIES NETWORK PROMOS / TV 1986 / WOODY HARRELSON AS WOODY ON CHEERS / FALCON'S GOLD: CABLE TV'S FIRST MOVIE / BILL & TED'S EXCELLENT ADVENTURES SITCOM / CREATORS & CAST OF IT'S A LIVING THAT HAVE PASSED AWAY / MOST UNEXPECTED MOMENT IN TV HISTORY / NORMAN LLOYD TRIBUTE / FALCON CREST / 1981 CHARLES GRODIN INTERVIEW / THERE ARE FUNNY EPISODES OF MAMA'S FAMILY - HONEST! / HANGING WITH SEAN PENN 1986 / 1985 GEORGE CLOONEY INTERVIEW! / IT'S A LIVING / EDDIE MURPHY AS JAMES BOND? IT ALMOST HAPPENED! / AUNT BEE'S DYING WORDS TO ANDY GRIFFITH / THE GOLDEN PALACE / MARRIED WITH CHILDREN'S ED O'NEILL & AMANDA BEARSE'S LONGTIME FEUD / PAUL McCARTNEY vs MICHAEL JACKSON / HOW NBC GOT ITS GROOVE BACK / 1980's WCW WRESTLING / ALAN ALDA DISCUSSES THE M*A*S*H FINALE / I WAS ALMOST CUJO IN THE STEPHEN KING MOVIE / 1986-87 TV SEASON / 1988-89 TV SEASON / 1990-91 TV SEASON / 1991-92 TV SEASON / WHY SHELLEY LONG LEFT CHEERS? / JASON ALEXANDER BEFORE SEINFELD / PEOPLE vs JEAN HARRIS / TROUBLED 1980-81 TV SEASON / "KISS MY GRITS" FLO HAD HER OWN SHOW? / CULLY HOLLAND / ONE SEASON WONDERS... THAT GOT RENEWED! / DWIGHT SCHULTZ ON WORKING WITH GEORGE PEPPARD / DEMPSEY & MAKEPEACE / THE BAXTERS / G.L.O.W. / FRIDAYS / GREATEST AMERICAN HERO / Great 1983 Carson Tonight Show / EARLY '80s TV COMMERCIALS / LOST MOVIE POSTERS /
RICH HALL /
FILTHY RICH/
1980's TV WRESTLING STARS
/ TV DADS / FOX'S JOAN RIVERS / CHEVY CHASE DEBACLES
Not Returning on ABC From 1985-86:
Benson
Diff'rent Strokes
The Fall Guy
Hardcastle and McCormick
Hollywood Beat
Lady Blue
Life's Most Embarrassing Moments
Lime Street
The Love Boat
Our Family Honor
Ripley's Believe It or Not!
Shadow Chasers
The Insiders
Not Returning on CBS From 1985-86:
Airwolf
Bridges to Cross
Charlie & Co.
Crazy Like a Fox
Fast Times
Foley Square
George Burns Comedy Week
Hometown
Leo & Liz in Beverly Hills
Mary
Melba
Morningstar/Eveningstar
Stir Crazy
Tough Cookies
Trapper John, M.D.
Not Returning on NBC From 1985-86:
Alfred Hitchcock Presents
All Is Forgiven
Blacke's Magic
Fathers and Sons
Hell Town
Knight Rider
The Last Precinct
Misfits of Science
Punky Brewster
Riptide
Silver Spoons
TV's Bloopers & Practical Jokes