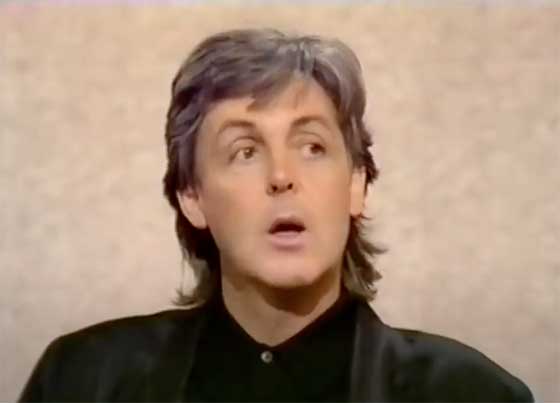 Paul McCartney's Feud With Michael Jackson
Here's a great video mashup, a veritable timeline of Paul McCartney's 2 musical collaborations with Michael Jackson and how a bit of advice from the former Beatle led to Jackson buying the publishing rights to Lennon & McCartney's 250 song catalog right out from under him.
Naturally, McCartney felt betrayed, especially after Beatle songs like 'Revolution' ended up in TV commercials, something he was very much not in favor of.
Jackson paid close to $50 million for the catalog that also included tracks by Elvis Presley, the Rolling Stones, and Bruce Springsteen among others.
McCartney often complained of "having to pay" every time he performed one of his own songs. "Some time ago, the media came up with the idea that Michael Jackson was going to leave his share in the Beatles' songs to me in his will," McCartney wrote on his website in 2009. "[That] was completely made up."
Because of a loophole in the copyright laws, Sir Paul McCartney finally regained the Lennon-McCartney catalog, now worth 1 billion dollars, just a few days before his 75th birthday in 2017.

THE EIGHTIES: EARLY EIGHTIES NETWORK PROMOS / TV 1986 / WOODY HARRELSON AS WOODY ON CHEERS / FALCON'S GOLD: CABLE TV'S FIRST MOVIE / BILL & TED'S EXCELLENT ADVENTURES SITCOM / CREATORS & CAST OF IT'S A LIVING THAT HAVE PASSED AWAY / MOST UNEXPECTED MOMENT IN TV HISTORY / NORMAN LLOYD TRIBUTE / ORSON WELLES INTERVIEWS ANDY KAUFMAN / EARLY MTV STARS MISSING PERSONS / FALCON CREST / PEE-WEE HERMAN / 1981 CHARLES GRODIN INTERVIEW / THERE ARE FUNNY EPISODES OF MAMA'S FAMILY - HONEST! / HANGING WITH SEAN PENN 1986 / 1985 GEORGE CLOONEY INTERVIEW! / IT'S A LIVING / EDDIE MURPHY AS JAMES BOND? IT ALMOST HAPPENED! / AUNT BEE'S DYING WORDS TO ANDY GRIFFITH / THE GOLDEN PALACE / MARRIED WITH CHILDREN'S ED O'NEILL & AMANDA BEARSE'S LONGTIME FEUD / PAUL McCARTNEY vs MICHAEL JACKSON / HOW NBC GOT ITS GROOVE BACK / 1980's WCW WRESTLING / ALAN ALDA DISCUSSES THE M*A*S*H FINALE / I WAS ALMOST CUJO IN THE STEPHEN KING MOVIE / 1986-87 TV SEASON / 1988-89 TV SEASON / 1990-91 TV SEASON / 1991-92 TV SEASON / WHY SHELLEY LONG LEFT CHEERS? / JASON ALEXANDER BEFORE SEINFELD / PEOPLE vs JEAN HARRIS / TROUBLED 1980-81 TV SEASON / "KISS MY GRITS" FLO HAD HER OWN SHOW? / CULLY HOLLAND / ONE SEASON WONDERS... THAT GOT RENEWED! / DWIGHT SCHULTZ ON WORKING WITH GEORGE PEPPARD / DEMPSEY & MAKEPEACE / THE BAXTERS / G.L.O.W. / FRIDAYS / GREATEST AMERICAN HERO / Great 1983 Carson Tonight Show / EARLY '80s TV COMMERCIALS / LOST MOVIE POSTERS /RICH HALL / FILTHY RICH / 1980's TV WRESTLING STARS / TV DADS / FOX'S JOAN RIVERS / CHEVY CHASE DEBACLES