SHIRLEY BOOTH'S LAST TV SERIES
by Billy Ingram
A Touch of Grace was a half-season wonder on ABC that starred Shirley Booth (Hazel) and J. Pat O'Malley as Grace Simpson and Herbert Morrison, an older couple falling in love - much to the consternation of her family (played by Marian Mercer and Warren Berlinger).
A Touch of Grace aired from January to June in 1973 and was produced and written by the guys who gave us Sanford and Son and The New Dick Van Dyke Show. It was also up against All in the Family, this underappreciated sitcom didn't stand a chance. A shame, because it truly was a mold breaker.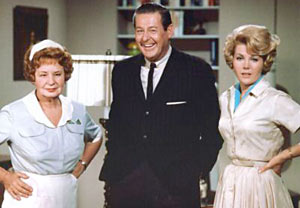 Shirley Booth was a highly acclaimed Broadway actress, considered one of the greatest of all time, who found great success on television in the 1960s as Hazel, the caustic maid who ran the Baxter household for 4 years on NBC and another season on CBS.
Reruns of Hazel were still very popular in syndication in 1973 when A Touch of Grace aired.
Having won an Academy Award, three Tony Awards, and two Emmys, the star was one of only eight actors to have bagged both the Oscar and the Tony for the same role. Aside from her roles as Amanda Wingfield in The Glass Menagerie and as Heloise Michaud in Do Not Go Gentle Into That Good Night, Booth did very little television between Hazel and A Touch of Grace.
Based on the British series For the Love of Ada, this was a well-written and acted series although the supporting cast was saddled with mostly one dimensional roles.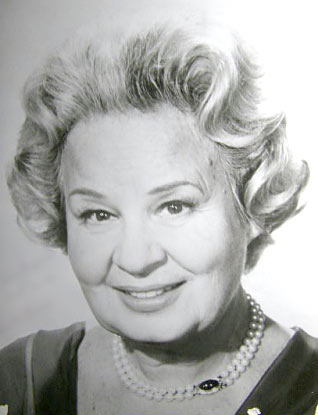 A Touch of Grace was an oddball show in many ways, not the least of which was that it focused on elderly people at a time when the networks were all vigorously chasing a younger and younger demographic.
The production was an instant hit with the critics, worthy of an actress of her stature, stripped of the silliness that plagued her earlier series.
Herbert and Grace became engaged on the final episode, here's audio of the closing few minutes of that broadcast (the sock refers to an earlier event in the episode wherein the couple went away for the weekend and stayed in the same cabin. O'Malley's character lost one sock and this was scandalous to Grace's family).
The show was buried by CBS's powerhouse Monday night line-up that kicked off with All in the Family. ABC could ill afford to gamble on a show like this, the network had no programs in the top ten that season and only three in the top twenty.
J. Pat O'Malley continued to play old guys on dozens of TV shows like Barney Miller, Fantasy Island and Taxi. He died in 1985.
Shirley Booth did very little TV after A Touch of Grace but took on the role in 1974 she's most famous for today - as the voice Mrs. Santa in The Year Without a Santa Claus. She passed away in 1992.