---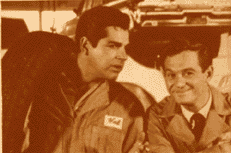 THE MR. TERRIFIC
THEME SONG:
A scientist both wise and bold
Set out to cure the common cold
Instead he found a power pill
Which he said most certainly will
Change a lamb into a lion
Like an eagle he'll be flyin
Solid steel will be like putty
It'll work on anybody.
Then it was found this power pill
Made the strongest men quite ill
So the secret search began
To find the one and only man
Who can take this power pill specific
And turn into the most prolific, terrific, Mr. Terrific!
What they found made them squeamish
For only Stanley Beamish
A weak and droopy daffodil
Can take this potent power pill
That sent him soaring through the skies
Fighting foes and fighting spies.
When he took the pill specific,
He became the most prolific, Hydrolific, MR. TERRIFIC!!!
For the record, the recitation of these immortal words was performed by the late, great cartoon voicemaster, Paul Frees.
- Michael Scholl
---
"I saw them both and frankly can't believe your comments about Mr. Terrific. I found it to be about as cornball as any TV sitcom could possible be. Perhaps production values were high but quality of writing and comedy was not!

"On the other hand, Captain Nice was an outstanding program, particularly the comedy writing and situations. In my opinion, Captain Nice was quite a bit funnier than Buck Henry's own Get Smart.

"It is sad if you can actually occasionally see reruns or snippets of Mr. Terrific (what a bore) and I have never seen anything of Captain Nice after it went off the air. Is there any video anywhere of any episode?"
- David Gortner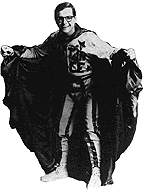 William Daniels
borrows Lilly Munster's cape
to become Captain Nice
---
"In Germany 'Mr. Terrific' was a "must view" when we were kids...

"Indelible impression... it was called 'Immer wenn er Pillen nahm' (Whenever he took pills) and ran together with 'MaxwellSmart', 'Moonbase Alpha', and 'Raumpatroille'."

- norb
---
"Mr. Terrific", "Run Buddy Run" and Mel Brooks' "When things Were Rotten" are among my fondest TV show memories from my early childhood.
"Since you have the original song from Mr. Terrific on your site, here's the German version (I was living in Germany at the time):
"The show was titled "Immer wenn ER Pillen nahm" (sort of "Whenever he was taking pills"):
Ein Wissenschaftler um die Natur zu verbiegen
wollte schlichtweg den Schnupfen besiegen.
ER rührte, quirlte und mixte.
ER fand eine Pille,
doch eine verflixte:
Denn ein Schœfchen das sie zufœllig schluckte
sich kurz darauf als Löwe entpuppte.
Kein Stahlgerüst hielt seiner Schlagkraft stand.
DAs war der Tag an dem man die Superpille erfand.
Doch Menschen schienen nicht empfœnglich; die Pille machte sie eher krœnklich.
Mit grossen Computern stark und klug suchte man einen der sie vertrug.
Es dauerte monatelang bis man ihn endlich fand:
Tankwart Stanley Beamish war der einzige im Land.
Und seine grosse Stunde kam
immer wenn ER Pillen nahm!
- B'rgds, Rolf
---
TV Guide's Captain Nice Page, with TV Listings, Photos, Videos, Exclusive News and More.
TV Guide's Mr. Terrific Page, with TV Listings, Photos, Videos, Exclusive News and More.
---
The illustration at the top of this page was done for the promotion of NBC's Captain Nice by comic book legend Jack Kirby.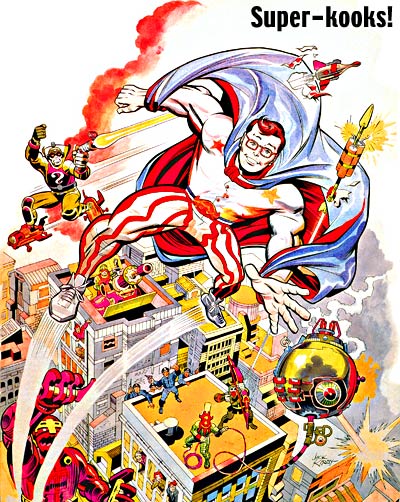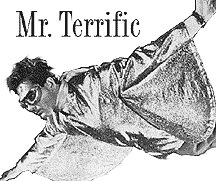 "About your forgotten shows, I remember liking the TV show "Mr. Terrific" with Wally Cox. I always believed this to be the forerunner of the "Underdog" cartoon series. I don't know this as a fact, but always enjoyed thinking this." - Tom Ludwick
Mr. Terrific debuted on CBS January 9, 1967 and ran until August 28 of that same year - but it was Stephen Stimpell that starred as gas station geek turned superhero Stanley Beamish, not Wally Cox.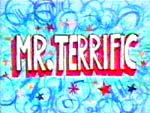 Wally Cox actually starred in a show called Mr. Peepers fifteen years earlier, and no doubt served as the meek and mild model for the Beamish character. He was also the voice of TV's Underdog.
In fact, Alan Young (Mr. Ed) was originally slated to play the bumbling Mr. Teriffic, an unaired pilot was shot with him in the role.

Batman was the number one show in the nation at the beginning of 1967; two shows debuted mid-season to try to cash in on the 'camp' superhero craze but both Mr. Terrific and Captain Nice were gone by fall.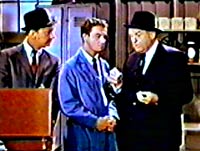 Mr. Terrific told the story of nerdy Stanley Beamish, who, as part of his job with the Bureau of Special Projects in Washington DC, swallows an enormous jawbreaker sized "Power Pill" that turns him (and only him) into a superhero with tremendous powers - for one hour.
Trouble comes when the pill wears off and timid Stanley Beamish is forced to face the crooks without his mighty powers. Mr. Terrific can even fly during his brief hour of power - but he has to flap his arms to do it!

Also appearing on the series were Dick Gautier ('Hymie the Robot' from Get Smart) as Beamish's partner in the gas station Hal and John McGiver as the head of the government Bureau.

Typical plots: Stanley finds himself with a miniature transmitter implanted in his tooth when he visits a spy dentist, while the president's plane flashes an SOS. In another tale, Stanley Beamish is busy seeing a psychiatrist about his inability to fly and in another episode he impersonates a safe cracker that is his exact double. (I told you they were typical plots!)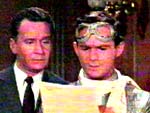 You can still see Mr. Terrific occasionally - several episodes of the show were combined to make a TV-movie currently offered in syndication called 'The Pill Caper.'
The episodes are generally entertaining and the production values are far and above even some of the best shows on television today. Unfortunately, because the main character gets his powers by taking drugs, this show has never been offered by the studio for syndication.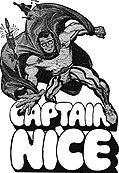 The very same night that Mr. Terrific debuted (right after it went off the air in fact), Captain Nice hit the airwaves over on NBC, brought to you by the creators of Get Smart.
This show starred William Daniels (St. Elsewhere) as Carter Nash, a police chemist that develops a serum giving him basically the same powers as Mr. Terrific, except Captain Nice didn't have to flap his arms to maneuver the friendly skies. Oh, and it was Carter's mom who made his dopey-looking costume.
The pilot was written by creator Buck Henry. Alice Ghostley co-starred as Nash's mother and Ann Prentiss portrayed policewoman Candy Kane, the Lois Lane type.
In a bizarre twist, Ann Prentiss (sister of star Paula from He & She) was convicted by a Santa Monica, CA court of battery in 1998 - for assaulting her 86 year old father, solicitation of murder, assault with a firearm and making terrorists threats toward Richard Benjamin, Paula Prentiss' husband and TV co-star.
Typical plots for Captain Nice: a psychotic doctor kidnaps Candy Cane, injecting her with a lethal tropical poison and Carter tries to become Captain Nice, only to find his mother drank all of the formula.
Captain Nice went off the air on August 28, 1967, the same night Mr. Terrific flapped his last.
---
Here's how viewers
remember the show:
"A regular gimmick on Mr. Terrific was the photographic and sound effects used when Stanley took the power pill. His face would turn various colors and smoke would come from his mouth/ears (a la Mr. Drysdale drinking Granny's moonshine).
"When MT's buddy Hal or anyone else would take the pill, instead of becoming super-powered, lens effects were used to make their head shots briefly become wider/thinner. Very clever for 1967 TV.
"Another running gag was the "jet blast" effects with unfortunate results whenever MT took off. It was corny, yes, but very amusing all the same. Captain Nice had very few scenes of the cap flying. The producers must have had budget or production problems. When he did fly, usually shown in very short spurts, there was a good sound effect, a bit like that of Hanna-Barbera/Alex Toth's Mighty Mightor.
"The movie Boogie Nights had a scene in which an extra was dressed in a Captain Nice costume! This little homage blew me away when I saw it, that anyone would remember and care enough to do that, knowing that very few viewers would 'get it'."
- David Kaufman
---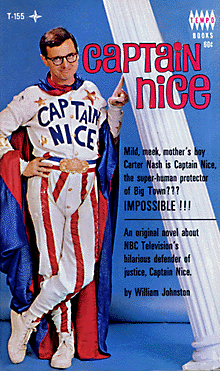 "Do you know how Captain Nice/Carter Nash got his super hero name? The initial chemical explosion conveniently ripped Carter's business suit down to cutoff pants over long johns (that his overbearing mother made him wear) and his suit coat was reduced to a swatch of cloth hanging down his back. A witness to his first adventure pointed out and asked him about his monogrammed 'C.N.' belt buckle.
"Carter made up the name Captain Nice off the top of his head (and almost immediately regretted doing so). His mom made his dorky costume and made him wear it before letting him go on his next mission."
- d.j.
The original 1970s Dark Shadows movies