Alan Zweibel on SNL,
Garry Shandling, and new projects
by John Stahl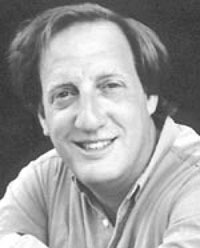 The release of the complete series of "It's Garry Shandling's Show" (The Shandling Show) on DVD, which I am reviewing separately, provided an opportunity to speak with veteran comedy writer Alan Zweibel. Zweibel was an original writer for "Saturday Night Live" (SNL), a co-creator and writer of The Shandling Show, and the author of several books and plays.
I first asked Zweibel about his experiences on SNL. When asked if the dramedy "Studio 60 on the Sunset Strip" accurately portrayed the production of SNL, Zweibel stated that it was good but made things look more corporate than they were. He added that "30 Rock" portrayed the behind-the-scenes of SNL more accurately.
Knowing from Zweibel's interview for the DVD set of The Shandling Show that he was close to SNL star Gilda Radner, I asked if he wrote Radner's famous line "Jane, you ignorant slut." He replied that he thought that Al Franken had written that one and commented that Radner delivered it perfectly.
In speaking about Radner, Zweibel stated that she was "a rare talent that could improve with age." He added: "She was a smart enough to know that she would have had to play her age" if passing away from cancer had not cut her career short.
When I asked if Zweibel could speculate what Radner would be doing professionally if she was still alive, he said that doing so would be very difficult. He did predict that she would be doing more television than movies.
Zweibel referred as well to Radner's last performance being appearing as herself on The Shandling Show. This second season episode, which was titled "Mr. Smith Goes to Nam," is one that I have not watch yet on DVD.
The discussion about Radner's appearance on The Shandling Show led to a discussion of that show, which Zweibel stated "wasn't a classic sitcom; it was a half hour comedy." He added that it went against sitcom conventions.
I commented next that The Shandling Show, on which "The Simpsons" writers Al Jean and Mike Reiss worked, reminded me of "The Simpsons" in that the plots would go in far different directions than the premise that was introduced at the beginning of the show. Zweibel responded that he and Garry Shandling purposefully wrote the show that way so that it would "make surprises."
I asked as well why The Shandling Show gave the character Lewis what I referred to the Chuck Cunningham treatment of having him disappear after a few appearances during the first few episodes of the series. Zweibel stated that Geoffrey Blake was a great actor but "we [Zweibel and Shandling] could not understand why he was playing the character that way." This seemingly referred to Lewis being a bit spacey and goofy.
Zweibel said too that Lewis was supposed to be Richard Lewis as Shandling's best friend. Zweibel also shared that Shandling was unhappy with the on-camera relationship between his character and that of Lewis.
I next commented that Judd Apatow had written in an essay for the DVD set that the living room set on The Shandling Show looked like the real home of Shandling. Zweibel confirmed this and said that set designers photographed Shandling's Sherman Oaks, California home.
Zweibel and I also discussed censorship on the premium cable channel Showtime on which The Shandling Show aired. Zweibel responded affirmatively when I asked if they could say the "seven dirty words" that you cannot say on television. He said too that any bleeping was in the context of a joke.
Perhaps the most revealing information of our discussion came next when I asked Zweibel if Shandling had pitched the idea for "The Larry Sanders Show," in which Shandling played a talk show host, to Showtime before HBO. Zweibel stated that he had not; he also shared the origins of the idea for the show.
Zweibel told me that he, Shandling, and Radner had worked on the idea that Radner would star in a show that had her playing the host of a variety show and that would depict the behind-the-scenes activity of that show within a show. Zweibel added too that Shandling talked to him about an offer from Fox to host a talk show, and that Zweibel told Shandling that he did not host talk shows and that he made fun of them.
An embarrassing moment came when I asked Zweibel if his work on the current Larry David comedy series "Curb Your Enthusiasm" stemmed from the similarities between The Shandling Show and "Seinfeld." He said "Larry David has been my best friend since 1974; of course, I worked on 'Curb.'" He added that he and David were sharing offices when "Curb" started but was polite enough to not call me an ignorant slut.
Bringing things to the present, I commented that I had read on Zweibel's website, alanzweibel.com, that he was working on a pilot with Bob Newhart. He told me that the recent writer's strike derailed that project but provided the sense that it was still alive. Zweibel was reluctant to discuss the series but said that it would be an anthology series that Newhart would host.
Zweibel also mentioned the play "Sundays at 8:00," which he is finishing writing and plans to produce for Broadway. He said that it was too early to talk about the play and shared that it needed reading and casting.
This conversation with Zweibel reminded me of what I consider the second golden age of television in which comedy broke barriers, literally knocked down the wall that separates the performers from the audience, and revealed how the sausage was made.