"How about the Persuaders with Roger Moore and Tony Curtis?
"I enjoyed your website. Brought back some memories." - Michael Scholl
The Persuaders was produced in England and broadcast in the U.S. on ABC Saturday nights for one season (71-72).
The series follows the adventures of Danny Wilde and Brett Sinclair, a wealthy playboy and English Lord who travel the world investigating delicate matters. All I remember about the show is that it was a first class ATV production, the same people responsible for 'The Prisoner' series, and that it had a killer theme song.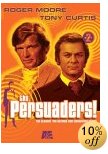 ORDER NOW!
TV Guide's Persuaders Page, with TV Listings, Photos, Videos, Exclusive News and More.
---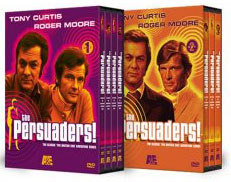 Despite lavish production values and two world class stars, this marvelous British ATV production didn't make much of a splash in the U.S.A. for some reason, airing on ABC Saturday nights for only one season during 1971-72 (there were 2 British years).
Roger Moore and Tony Curtis star as playboys who, mostly because they have too much time and money on their hands, fall unwittingly into the center of one international criminal conspiracy after another.
Tony Curtis has never been better than as the cowardly lady's man he portrays in The Persuaders while Roger Moore, who also starred as TV's The Saint, adopts the detached swagger he employed so effectively a couple of years later as James Bond. Together they form a reluctant alliance; it's the abrasive chemistry between the two that results in a pleasing mix of comedy and action.