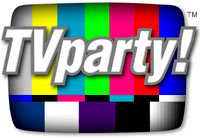 FAMILY AFFAIR
September 1966 -
September 1971 / CBS
---
NOW ON DVD!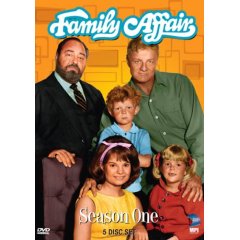 Family Affair on DVD!
---
The photos below (rooms inspired by the TV show 'Family Affair') are from a decorating spread in House Beautiful Magazine, Dec. 1970 edition.
There were presented to show mom's how they could perk up their kid's rooms and make them more modern.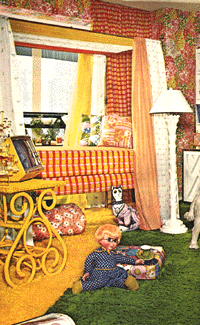 The headline:
Just made for Buffy...
or any little girl!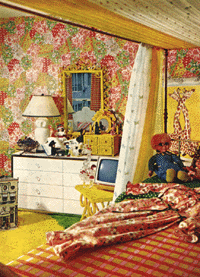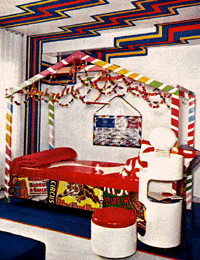 Headline: Jody's room -
where a boy can be a boy!
---
TV Guide's Family Affair Page,
with TV Listings, Photos, Videos,
Exclusive News and More.
---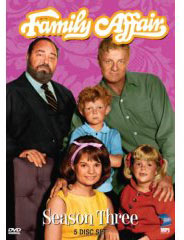 Family Affair Season Three
This is one of those shows that was requested for DVD release for years, and now the third season turns up from MPI. From the press release: "A highly paid consulting engineer, Bill Davis' carefree existence as a swinging bachelor was just about perfect. Maintaining an elegant apartment off Fifth Avenue in Manhattan, he had his domestic needs cared for by a very English gentleman's gentleman, Mr. French. Into this life of independence came three young orphans, whose parents, Davis' relatives, had died in an accident."
It's amazing that this old-fashioned, sweet family program lasted 5 seasons on CBS, from 1966-1971 - and the characters never lost their simple innocence even as they grew older. A can imagine a large number of parents out there that will purchase this so their kids can experience one of the seminal shows of their youth.
Guests this season included Joe Flynn, Butch Patrick, Eve Plumb, Jamie Farr and a host of other studio supporting players who went on to do other TV shows. All 28 episodes are here from the 1968-69 season on five discs along with a Family Affair reunion special as a bonus. Fans will be very pleased!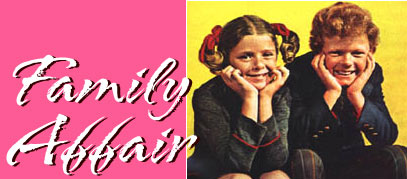 by Elizabeth G. Melillo, PhD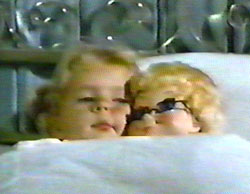 I find the 1960s memories extremely enjoyable, though most of us would blush to admit that we ever watched, let alone enjoyed, shows that were of such flimsy quality.
Remember Family Affair, with Brian Keith and Sebastian Cabot? Perhaps part of its appeal, to parents at least, is that its totally unrealistic depiction of family life was every parent's dream in some aspects.
The kids not only unfailingly obeyed but idolized Uncle Bill ... the "bachelor father" who always knew best. Though the children had tragically been orphaned, and never met Bill until uncaring aunts dropped them on his doorstep, there was perfect harmony after the first episode.
The apartment was not only enormous and luxurious, but contained the only kids' rooms in history which invariably looked like magazine layouts ... Jody's carefully displayed tools and toys were never used, unless one counts the time when he and Buffy created Uncle Bill's trophy from contraband modeling clay.
Usually, the show bore no resemblance to reality - but it was neither "ideal" in the mold of 'Father Knows Best' nor a farce such as the 'Brady Bunch' was to become. Oddly enough, for a basically silly show with little substance, there were occasional episodes which had realistic, even powerful, premises.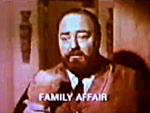 One episode, Old Birdie, should be required watching for all of my generation .. considering the intrusions into others' privacy which pop psychology has legitimized. Cissy, who has a school assignment to write about another person, chooses Mr. French as her topic, yet admits she knows little of his life. Her teacher (and don't we all know some of this sort?) encourages her to explore Mr. French's past, assuring her that he may be wanting to "open up" to another. His insistence on wanting his privacy is therefore not taken at face value.
When Cissy questions Mr. French's friends, one mentions a reference to "Old Birdie", and she pursues this mystery all too avidly. In the end, the viewer learns that Old Birdie was a toy dog, which belonged to a girl Mr French had deeply loved, but who was killed during the blitz. Unlike many today who are at least twice her age, the teenaged Cissy comes to realize how much one can hurt another by bringing up references to, or prying about, his past life.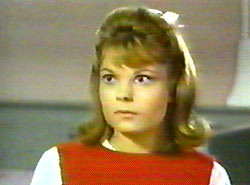 Who can forget when Cissy, following attendance at a party in the East Village, nearly became a hippie ... albeit one who had no involvement with drugs or sex? Or when the same character nearly married a young man who shared her liking for chili sauce? When Jody had an imaginary bear companion ... or sang "Every Little Boy Can Be President" in a voice so horrible that only those who saw his later performance in Reader's Digest version of "Tom Sawyer" could believe any singing could be worse? Or the trendy Buffy building a clubhouse for the "Mod Maidens", through Bill's generosity? (Actually, Anissa Jones's tragic death was not the only sad part about this character. Unlike the others, the character of Buffy was never allowed to mature, and the pigtails, doll, and squeaky voice that was appealing in a 6 year old was bizarre in an adolescent.)
It undoubtedly has crossed many minds that, this being the era long before strange names were the norm, for the kids to bear the names Buffy, Jody, and Cissy (though Cissy, at least, had the respectable true name of Catherine) was something bordering on disgustingly cute. It was equally peculiar that, in a New York setting, the kid's friends, Buffy's in particular, tended to have names such as Sue Evelyn and Laura Ruth ... those types of double names seemed more appropriate to the South. (Cute names did not end at those given to people. Cissy attended "Lexy High.")
Aside from one episode, in which memories of the parents are strong enough for the twins to sadly recall events involving mom and dad, the children seemed to have no recollection whatever - and this sometimes bordered on the bizarre.
In one episode, Jody develops a strong affection for a substitute teacher (played by June Lockhart) for reasons no one can imagine... until a photograph which Cissy had reveals that she is the absolute image of his mother. Neither Jody nor Bill realize that this nice lady could be the twin of, respectively, their mother and sister-in-law.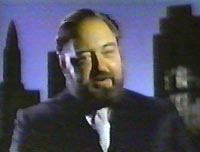 Mr. French and his friends were the ultimate respectable servants in a proud tradition - yet, speaking as one who spends as much time in England as possible, I was to regret that their depictions always tended to the caricature. The women, in particular, tended to favor clothing more suited to the time of King Edward than Queen Elizabeth II.
Poor "Uncle Bee-yol", for all that the kids' held him on a pedestal, did tend to be unjustly judged now and then. The handsome bachelor had no lack of gorgeous companions (some noted film stars), yet his obvious devotion to the kids did not prevent them or Mr. French from believing, in one episode where Bill falls in love with a titled Italian lady, that he intended to abandon them in New York.
While one could speculate that kids who had lost their parents at a very young age would have a certain degree of insecurity, the highly intelligent Mr French actually seeks employment as a valet elsewhere, thinking he may be left with the abandoned children to care for.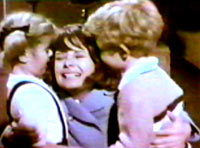 I regret only that my memory is clouded after 30 years, because Cissy's constant romances could be a book in themselves...
TV on DVD
Holiday Specials on DVD
TV Commercials on DVD