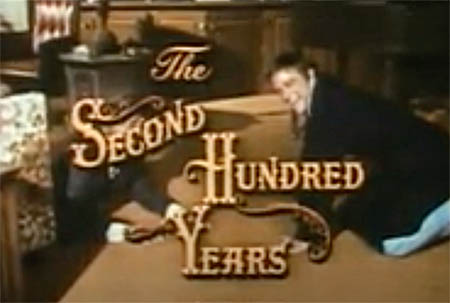 The Second Hundred Years starred Monte Markham in a dual role as grandfather and grandson . . . with Arthur O'Connell in the middle.
Luke Carpenter (grandfather) had been a gold miner and fell into a fissure . . . frozen. Years later he is found and thawed - then returned to his home.
It was a funny series actually. As Luke he's a Hellraiser... as his grandson he's the conservative yuppie. Authur O'Connor as the grown son was always trying to keep Luke out of trouble.
It played only one season - 1967-68.
Regards,
Sue Gorrindo
- Thanks Sue! The Second Hundred Years was brought to you by the executive producer of 'Gidget' and 'Bewitched.'
I never found this show particularly funny or charming, decide for yourself.
Markham went on a few years later to be the unsuccessful 'New Perry Mason'. When I lived in Hollywood in the 1980s I noticed that he had his own acting school.