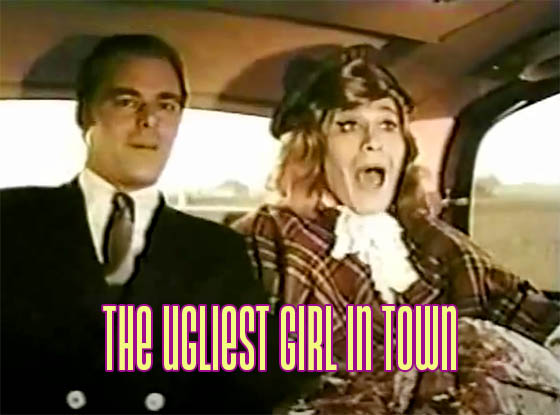 The Ugliest Girl in Town
Thursday nights at 7:30
ABC / 1968-1969
In 1968, 'gimmick' shows were hot - funny thing is, most of them never caught on. The gimmick here is that the main character is running around in really bad drag.
You see, Timothy Blair (Peter Kastner) has a photographer brother named Gene (Garry Marshal) and Gene lost some important photo shoot pics - so he dresses Timothy up in Hippie chick garb and submits these shots to his London publisher. The publishers think they've found the new 'Twiggy', and 'Timmie' becomes a hot fashion model. As a girl, of course.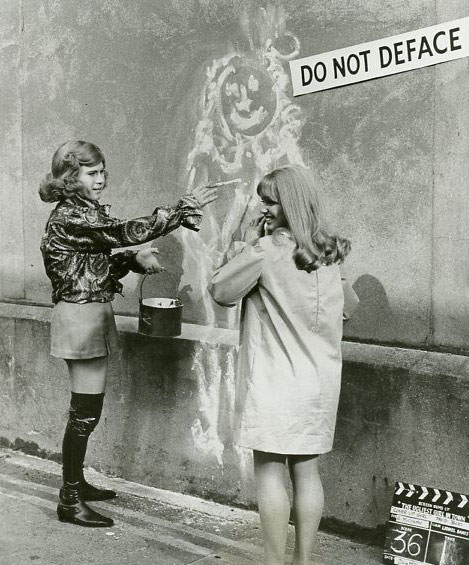 This works out great for Timothy - he gets to fly back and forth to London where his girlfriend Julie Renfield (Patricia Brake) lives. And he gets to be a supermodel, prancing around go-go London in all the latest mod fashions. Sixties' audiences were not amused.
READER RESPONSES:
"A couple of episodes that stand out in my mind are one where s/he was ordered to pose as a nude model (he covered up his lack of feminine allure by posing in a bubble bath) and one where he had to sing in falsetto, but because he couldn't sing in key, a male janitor sang for him. The clothes were at their silliest Austin Powerish best. Very 60's airline stewardess-style clothing, puffy hats, go-go boots, big round sunglasses."
- Laura
"Here are some lines from the theme song of "The Ugliest Girl in Town". I've been carrying them around in my head for 30 years, and I'll be relieved to unload them on you:
Who Owns That Fabulous Face?
The Ugliest Girl in Town
Who's Styles are Setting the Pace?
The Ugliest Girl in Town
You don't have to be a
Mia or Sofia
This is the year of the clown
Be the eekiest, creepiest, UGLIEST GIRL IN TOWN!"
- Megafrim
Linda Gillies alerts us to an inflamatory obituary of Peter Kastner, his death was mentioned in an earlier post. The Toronto Star obit states:
But after starring in a disastrous ABC sitcom, The Ugliest Girl in Town, in which he played a young man disguised as a young woman, his career tanked, and his life story turned into a bizarre twist on Sunset Boulevard, with Kastner turning into an updated Canadian male incarnation of Norma Desmond, the deluded former star of silent movies.
After moving back to Toronto from the U.S. a few years ago, Kastner played coffee houses (including Free Times Café) and comedy clubs (including Yuk Yuks) with a one-man show. He not only milked the irony of his own career crash but attacked his mother, the late Rose Kastner, resulting in a bitter estrangement from his three siblings and other members of the family.
It goes on to quote family members about how troubled the actor was.
But Kastner's wife is crying fowl and tells another story. She states in part, "After he left acting he became a high school English teacher. He became a maker of quirky and interesting videos on a wide range of subjects. He mentored many teenagers, helped raise his step-daughter and was the constant delight of his grandchildren. Not only is the article inaccurate on a factual basis, it is also a gross misrepresentation of Peter's life after he left acting. The Peter I knew was actively engaged in the world, through his video work, his songwriting, his political activism and his many friendships. It would have been nice if Knelman had mentioned his first wife Wendy Miller, who also mourns him. The incomplete view presented by Knelman fails to capture the sweetness and soul of the good man who died in his parked car on September 18th, 2008."
Jenny Kastner, Peter's wife, has more to say: There were many other self-serving distortions in the Kastner siblings' attack on their brother, Peter. Among them, Peter's estrangement from his family began in 1976, following his father's death, not following his return to Toronto in 2005 as the article suggests. Peter's mother, Rose Kastner had long engaged in sexual aggression against Peter and when he decided to return to his home in California she cut him off saying it would be "too painful" to have anything further to do with him if he would not live in her home. His siblings joined in this rejection and refused to listen to his reasons for needing several thousand miles between himself and his incestuous mother, putting the lie to their exclamations of innocence and dismay. In 1991 he was hospitalized with a breakdown; they knew of this but continued to ostracize him. By 1999 he had begun working on a series of videos, some publicly aired in clubs in Boston and Toronto, dealing with the problem of incest in his life. These are what his siblings refer to as "attacks" on their mother. Families where incest occurs most often go straight into denial, and where an inheritance is involved, that denial can become deeply entrenched. Such was the sad case with Peter, a victim, but also through his enormous creativity, a survivor. His siblings wouldn't hear of his experience so he bravely made it into art and took it to the public square. He refused to be silenced in spite of their retaliation. Good for him.