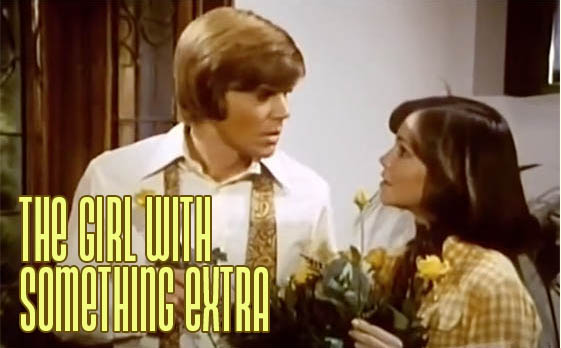 The Girl with
Something Extra
September 14, 1973 - May 24, 1974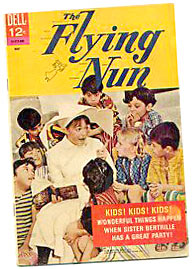 Take the elements of two hit shows - 'Bewitched' and 'The Flying Nun', mix well and serve. That was the idea in 1973 when Sally Field and John Davidson starred as a young married couple in The Girl with Something Extra.
The "something extra" in 'The Girl with Something Extra' was extra sensory perception (ESP) - but that "something extra" could also refer to an inflated libido, because the couple were kissing and cooing incessantly throughout each episode. Bleeeeech! NBC was having trouble finding a show to follow it's break-out hit 'Sanford and Son,' and Sally Field's previous series 'The Flying Nun' was still a respectable ratings grabber when the star decided to end the show after a three-year run in 1970.
In the way-out 1973 sitcom, Sally Burton (Field) informs her new husband that she has ESP - for some reason, this causes struggling attorney John Burton (Davidson) a great deal of consternation. I never understood why Darren had such a problem with Samantha's magical powers, but still I could believe that it could be a problem for some men that their wife was far more powerful than he could ever hope to be. But ESP is innocuous enough, handy to have actually - especially for a young couple just starting out in life. In fact, reading minds was an unspoken prerequisite for employment at every company I ever worked for.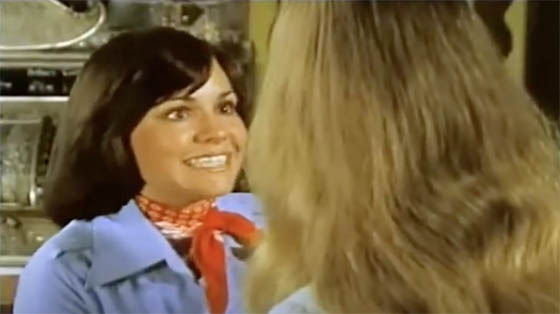 Most of the show's stories centered around Sally trying not to use the information that came to her naturally in whatever situation she was in. This made for a shaky concept for a series. It didn't help that Sally Field was trying to break her cutesy image while John Davidson was trying to solidify his. Davidson became a favorite of the teen mags of the time, even though he seemed a little old for that kind of thing by that point - after all, he started his television career ten years earlier on a little known variety show with Carol Burnett and Bob Newhart called 'The Entertainers'.
The supporting cast of 'The Girl with Something Extra' was first rate. Zohra Lampert ('Doctor's Hospital') as Sally's pal Anne - Henry Jones (Judge Dexter on 'Phyllis') as Owen Metcalf and William Windom ('My World And Welcome To It') as Stuart Kline, John's bosses - Stephanie Edwards as Angela, and Teri Garr ('Sonny and Cher Comedy Hour') as Amber. But the most inspired casting was bringing in brilliant jazz musician cum comedian Jack Sheldon ('Run, Buddy, Run') as John's irresponsible, irrepressible musician brother Jerry.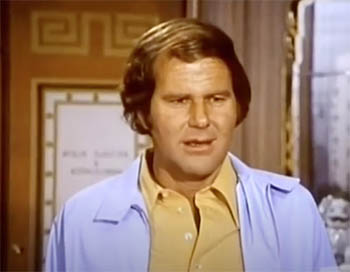 Jack Sheldon was a trumpet player with raspy vocals that often appeared on 'The Merv Griffin Show' during the Seventies as part of the band.
Merv would call on him to stand up and talk about whatever he liked and these exchanges were inspired bits. Jack Sheldon appeared to be tipsy during some of these afternoon exchanges with Merv, and they both joked about it freely. These were very funny ephemeral television moments.
A well-respected and genuinely brilliant artist, Jack Sheldon has admitted to being a world-class party-er as well, going on legendary drug and booze fests. Most of you will know Jack Sheldon's voice from the mega-popular 'Schoolhouse/ Multiplication/ America Rocks' segments that ran on ABC Saturday Mornings throughout the seventies. Sheldon did the vocals for "Conjunction Junction" and "Bill" from 'America Rocks' in 1976 (a role he reprised on 'The Simpsons' in 1996). Today you can hear him singing "Everybody eats when it's Pepcid AC" in commercials and he released a well-received CD a few years ago.
One stand-out episode ("How Green was Las Vegas") had the newlywed couple traveling to Las Vegas to see Jerry (Sheldon) perform. Sally uses her ESP to win a bunch of money so that Jerry can afford to start his own band, but wet-rag John insists that they return the money. So they go back to the tables to lose, but they keep on winning. When the casino boss (Mark Lenard) and his cronies threaten them unless they reveal their secret, they explain what happened to a skeptical audience - and are forced to return the loot anyway. Farrah Fawcett (pre-Majors) also appears in a cameo role.
What makes this episode great (besides the cool guest-stars) were the rousing musical numbers by Jack Sheldon and his jazz band. It sounds like he was performing his own compositions and the results are wonderful.
'The Girl with Something Extra' didn't pull the kind of numbers that NBC wanted in spite of the ratings-challenged competition on the other two networks. The series was cancelled after one season and replaced with the winner NBC was looking for - 'Chico and the Man'.
Sally Field went on to a career in motion pictures that most television actors only dream of, and John Davidson hit the game show and dinner theater circuit before hosting 'That's Incredible' (1980-84, 1988-89) on ABC and ''The Hollywood Squares' in syndication.