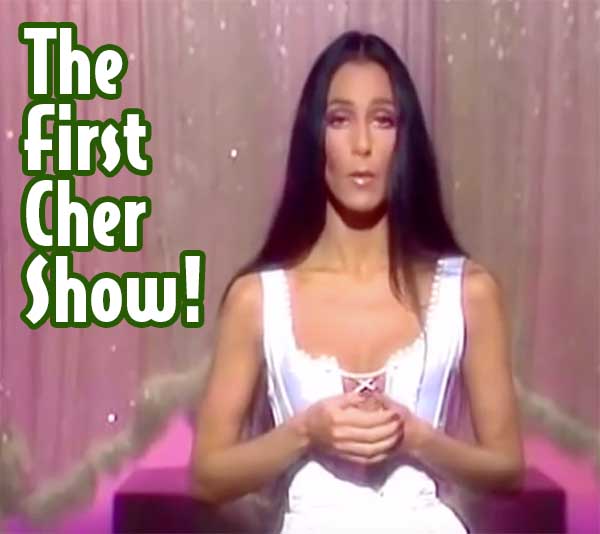 First Episode of Cher in 1975!
by Billy Ingram
Complete Cher show from 1975 with guest stars Elton John, Bette Midler, and Flip Wilson.
I was a huge fan of The Sonny & Cher Comedy Hour (1971-74) - the musical arrangements, the comedy segments, everything about the production.
Future comic superstar Steve Martin was a writer on this variety hour and likely would have been a regular performer the next season as well, he turned up a few times as wacky characters during the 1973-74 season.
I was devastated when The Sonny & Cher Comedy Hour ended due to the stars breaking up both the act and their marriage in 1974.
Truth was, the marriage had been a sham for some time, both were living in separate wings of their Bel Air home. CBS warned Sonny Bono that, if the public found out they were estranged and he was seeing other women, the network would cancel the show.
As a result of the series ending, both Sonny and Cher locked down weekly series of their own. Sonny Comedy Revue debuted in the fall of 1974 on ABC, with same producers and regular cast as the Sonny & Cher Comedy Hour. It was cancelled before Christmas.
Cher, on the other hand, waited until mid-season 1975 to debut her series Cher, a Sunday night variety hour with producer George Schlatter (Laugh-In, Judy Garland Show) at the helm. Cher kept the Comedy Hour's musical director, Jimmy Dale, and director Art Fisher.
The first episode of Cher was presented as a special broadcast on February 16, 1975, with guest stars Elton John, Bette Midler, and Flip Wilson. Ratings were boffo!
And I couldn't watch that first show due to my involvement in a college play. Cher and Bette were two of my favorite stars, a chance to see them together for the first time and miss it? Huge disappointment.
Cher created tabloid headlines immediately with her navel-exposing Bob Mackie outfits. "There were so many things that were censored - ideas and words."
Cher remarked looking back on her show in 1980, "All I know is I got in trouble for showing my belly button, and every time I turned around, after I went off the air, all you saw were Cheryl Ladd's boobs."
Before the end of Cher's second season, the star decided she didn't enjoy having the entire production resting on her shoulders so she asked Sonny to rejoin her. It's widely assumed Cher would have been cancelled at the end of the 1975 season anyway so this was a Hail Mary play.
The Sonny & Cher Show, with a new production and writing team, debuted on February of 1975, lasting until 1977. In my opinion, this new production just didn't have the magic of the original series.
Here is the complete first episode of Cher from 1975 with guest stars Elton John, Bette Midler, and Flip Wilson. The quality isn't great but there you go…
Another season 1 episode of Cher with guests Dennis Weaver, Cher's second husband Greg Allman, and Carol Burnett.