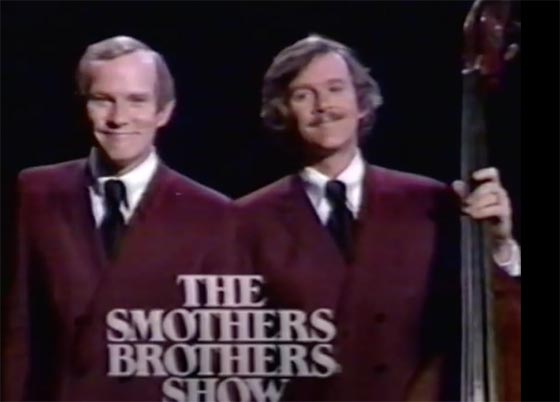 The Smothers Brothers Show (1975)
by Billy Ingram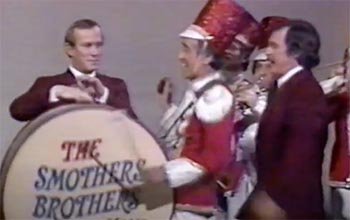 "Just brilliant. So close to the best shows we ever did." - Tom and Dick Smothers
After CBS fired the Smothers Brothers from their primetime variety series The Smothers Brothers Comedy Hour in 1969 the Brothers actually went their separate ways for a while.
"The primetime access rule had been invented then," Tom Smothers says. "We did the [Tom Smothers' Organic Prime Time Space Ride] that I did with some other people." That was a 1971 syndicated half-hour lasting only one season. A big fan of the Smothers, I never saw that show, it wasn't carried in the market I lived in.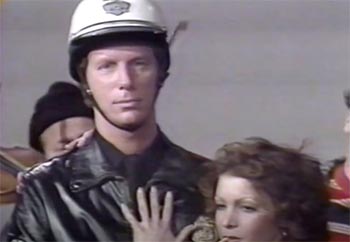 It wasn't until January of 1975 that NBC offered the boys another variety series, produced by Joe Hamilton (The Carol Burnett Show). In an interview with the Television Academy the Smothers Brother remembered that frustrating project that ended after 13 episodes. "I didn't have creative control," Tom Smothers laments. "We gave it away." The result was a lousy variety hour devoid of laughs.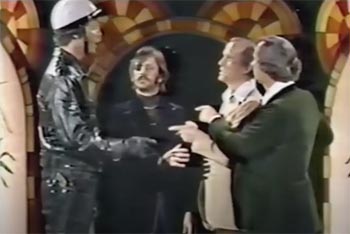 "I feel really bad," Dick Smothers says. "I forced Tommy into it, well, let's give it a shot." Tom didn't want to do it. "He really instinctively didn't want to do it." Producer Joe Hamilton was a bad match for the Smothers from the start, "He had no taste at all."
Known for being hands on, "Part of the deal was, if I asked for a retake," Tom Smothers says. "They took it out of my pay. I couldn't meet with the writers separately. We were not allowed to talk to the press."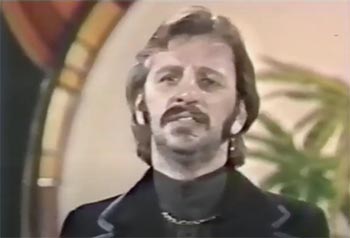 Ratings for the first episode were massive, the number 5 show in the nation with a 50 ratings share.
"A 50 share. Man," Tom Smothers says. "They were ready for us and the show." Over the next couple of weeks, the Smothers' show went from one of the highest rated shows on TV to become one of the very lowest rated programs in primetime. "We told him [Hamilton] from the start, that's what it is gonna do. And he [Hamilton] says, 'Oh yeah, look at those ratings!"
"I just embarrassed him [Hamilton] so much, he finally walked off the show," Tom Smothers noted. "When he walked away, NBC gave me control over the last four shows. They were brilliant, brilliant."
A portion of this rarely seen Smothers Brothers Show on NBC in 1975. This was the first Tommy Smothers produced episode, he assembled all of the Comedy Hour writers and performers to return for one last 4 episode hurrah:
Steve Martin was a writer / performer on the series, as he had been on the previous variety hour:
George Carlin appeared on one of the four Tommy Smothers produced episodes:
Ringo Starr guested on a particularly trippy episode, one of Tommy's last four. Possibly the first time cocaine was referenced on a primetime variety show. Bob Einstein reprises his Officer Judy character at the end:
- Smothers Brothers Comedy Hour