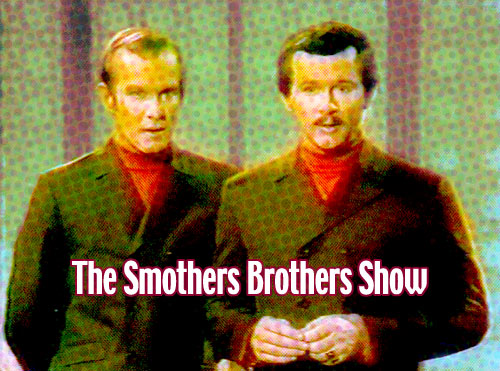 part three: THE EIGHTIES AND NINETIES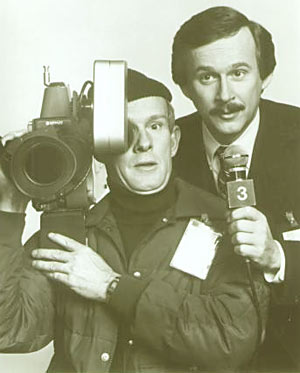 The Smothers Brothers returned to NBC in 1981 with Fitz and Bones an hour-long comedy/drama show about a mis-matched TV news team that lasted just a few weeks.
In 1988, The Smothers Brothers got another shot at a variety series when their 20th anniversary reunion special in February of that year scored big ratings for CBS. That sensational special brought back John Hartford, Glen Campbell, Pat Paulsen, Leigh French, Bob Einstein, Mason Williams, and other Smothers regulars, it was as if they'd never left.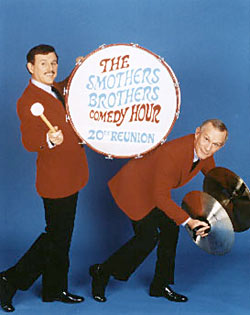 In a surprise move, The Smothers Brothers Comedy Hour was brought back into production in March of 1988 when a bitter writers strike shut down every television show in Hollywood. As writers, producers and performers, the Smothers were allowed to work as such and the guests did their own material as well - it was the only prime-time television show in production during that long strike.
This effort had Tom Smothers again at the helm - regulars included Pat Paulsen (running for President again) and Jim Stafford, with many of the original show's supporting players like Bob Einstein, Leigh French and Jennifer Warnes making guest appearances.
Other guests included Harry Belafonte, Billy ("You doesn't have to call me Johnson") Saluga, Toni Basil, Gallagher, Billy Vera, K.D. Lang, and Dianne Shure. The focus of this series was more on the outstanding roster of guests, many of which were relatively (or completely) unknown to television audiences at that time.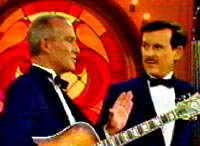 One of the most refreshing aspects of this revival was seeing how Dick Smothers had matured as a performer, with a warm confidence that smoothed over the new, unnaturally faster pace of the 1980's shows.
The sets were minimal and reminiscent of the old series, thankfully gone were the bombastic musical numbers that were forced on most variety shows of the Sixties and Seventies. This entertaining series only lasted a few months, but then audiences rejected every attempt to launch a variety show in the Eighties.
That wasn't the end. The 'Smothers Brothers Comedy Hour' was brought back yet again in January of 1989. The show took on an almost circus-like feel, complete with clever seamless transitions from one segment to the next. Gallagher was a regular now, and former Smothers' regulars Glen Campbell and Jennifer Warnes (who had a hit song in 1989) were seen as guests.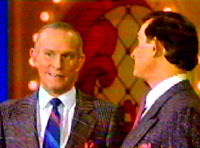 This run lasted only a couple of months, but the series was brought back yet again for four weeks in August of 1989, making it the last hour-long network summer variety series to date.
After decades of touring the Smothers Brothers retired recently.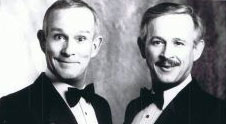 Smothers Brothers Comedy Hour
Smothers Brothers 1970's Show
Smothers Brothers Show - 1980s & '90s
CBS Censor notes for The Smothers Brothers Comedy Hour