GREAT VARIETY SHOW MOMENTS
Here's the opening of the first Edgar Bergen TV Special in the early-1950s.
Carol Burnett's program wasn't that big a ratings hit. Sure, it ran for 11 years, but it never finished in the top 20 any season except the 1969-70 season and only landed in the top 25 four times. Here's a portion of one of the Burnett show's most memorable - and funny - sketches:
Here's a clip from the new Smothers Brothers Comedy Hour DVD: 'Big Fat Crime,' a timely tune (from 1968) about Wall Street.
Lily Tomlin as Ernestine gossips with Cher from the Cher show.
Cher takes questions from the audience on The Mike Douglas Show.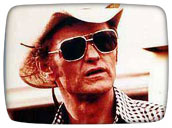 Jerry Reed passed away in 2008 from complications due to emphysema, he was 71.
Reed was a major talent who had a short burst of hit songs in the early-1970s that were outasite, songs like 'Amos Moses,' 'She Got the Goldmine (I Got the Shaft),' and 'When 'You're Hot You're Hot.' He was even animated on an episode of The New Scooby Doo Movies and hosted his own summer replacement variety show. Then he shot to movie stardom as the Snowman in Smokey & the Bandit and his biggest hit tune (I'm guessing) 'East Bound and Down.' He later went on to co-star in two short-lived primetime dramas, Nashville 99 in 1977 and Concrete Cowboys in 1981.
Here's Jerry with Chet Atkins with 'I'll Say She Does' on The Jerry Reed When You're Hot You're Hot Hour from 1972.
Finally, Jerry with Glen Campbell on Tom Jones' show doing 'In the Pines' and 'Muddy Water.'
/ / / Classic TV Blog / / / TV Shows on DVD / // / TV on BLU-RAY