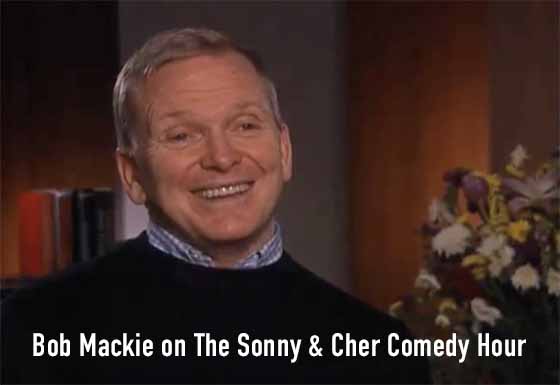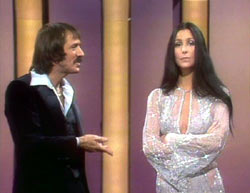 When The Sonny & Cher Comedy Hour ended due to the stars breaking up both the act and their marriage in 1974, Sonny got the producers, writers, and cast, all but Cher of course, to continue on for his ABC variety hour debuting in that fall. The Sonny Comedy Revue was cancelled before Christmas, considered one of the worst shows of all time.
Cher waited until mid-season 1975 to debut her series, Cher, a Sunday night musical variety hour with producer George Schlatter (Laugh-In, Judy Garland Show) at the helm. Cher snatched up the Comedy Hour's musical director Jimmy Dale, director Art Fisher and, of course, Bob Mackie would stay on board to design her gowns and costumes.
The first episode of Cher was presented as a special broadcast on February 16, 1975 with guest stars Elton John, Bette Midler, and Flip Wilson. Ratings were big at first then slowly began to fall.
In this interview excerpt, Bob Mackie talks about working on Cher's fashions on The Sonny and Cher Comedy Hour.
"I met the two of them on The Carol Burnett Show, the first year, the first season." Mackie says. He was responsible for all of the costumes for Burnett's entire production. "They were guests. "Every week we'd have a guest that supposedly appealed to the 'younger group.' So they bring on some kind of pop star of some sort and they were on one week. And I got to know her and like her and realize how attractive she was because some of the early shots of Sonny & Cher she looked kind of scary."
Years later, when it came time to start production on Sonny & Cher's show in 1971, Cher requested Bob Mackie for the costume designer. Mackie was too busy with the Burnett show to do that.
"You can never say no to Cher if she decides to talk you into something. She was in the hospital for some reason, she'd been ill, so there she is in the hospital begging me to do the show. So what was I going to do?"
Instead, Bob Mackie offered to dress Cher whenever she appeared on camera. The television audience loved The Sonny and Cher Comedy Hour, ratings were huge, a good number of viewers tuning in just to gander at Mackie's way out fashions.
Referring to Rett Turner, who designed all the other costumes, Mackie says, "We did the Sonny and Cher show, and then we did the Cher show, and then we did the Cher and Sonny show, and then they finally went off the air."
Bob Mackie goes on to tell the story of how the 'Vamp' sketches came to be…
Mitzi Gaynor on working with Bob Mackie


Sonny & Cher Comedy Hour
Sonny Comedy Revue
the Cher show
Sonny & Cher Show