Let's trip back in time and enjoy some comedy and musical moments from classic 1970's variety shows with stars like Carol Burnett, Lola Falana, Sonny & Cher and more!
THAT'S TRUTH IN ADVERTISING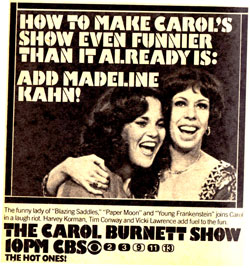 There were few shows on television that I enjoyed more than The Carol Burnett Show. I remember in the mid-'80s sneaking away for lunch at the Shakeys on Santa Monica Blvd in Hollywood because they not only had a killer buffet but the TV above the bar was tuned to reruns of Burnett's show (Carol Burnett & Friends). Man, I'd like to have some of those fried potatoes now - and I was always fond of their pizza as well. Not as god as Round Table's but I'm digressing heavily.
Anyhow, my very favorite Burnett show skit is this one with guest star Madeline Kahn. Too bad it's edited and my favorite moment from the skit is snipped ("In our circles, in our circles, in our circles...").
LOLA!
The Lola Falana specials from 1976 are coming to DVD, here's part of a skit featuring Willie Tyler & Lester.
SONNY & CHER & MICHAEL
Michael Jackson and the Jackson 5 guest starred on the Sonny and Cher Show, this was before the couple divorced and later reunited on TV. Michael and his brothers guest starred on the Cher show a couple of years later.
AWAY WE GO
In the 1970s The Jackie Gleason Show would occasionally feature an hour-long Honeymooners musical sketch. For one season the Cramdens and Norton take a European cruise with a different city highlighted on different weeks. Here's one of the better musical numbers (they were mostly pretty weak), "Buying Up Paree".
Still in a seventies' mood? Here's a prime-time commercial break from WFLD in Chicago circa 1972, a broadcast of one of the Honeymooners specials. Seems really primitive doesn't it?
DEAN & WAYNE
Dean Martin and screen legend John Wayne made friends working together on their films. That made it easy for the Duke to drop in and guest on Deano's very popular musical-variety program.
The Carol Burnett Show
The Carol Burnett Show - Part Two
The Carol Burnett Show - Part Three
The Carol Burnett Show on DVD